I have been, or can be if you click on a link and make a purchase, compensated via a cash payment, gift, or something else of value for writing this post. Regardless, I only recommend products or services I use personally and believe will be good for my readers.
We're back again to share about another resource for teaching your child math. For many, this particular subject is scary for them to teach, yet parents know just how important it is to learn for pretty much any career option out there. High school level math is where it typically gets scarier for the homeschool parent.
Math Essentials, the brain child of Rick Fisher, has a product to take the sting out of math at the high school level, No-Nonsense Algebra.
Each lesson in this book is presented in a straight forward manner. Users of the book also have access to online video lessons, which is a boon for many students who need to see someone work through problems. The lessons also include exercises for the student to practice similar problems as well as review problems. The chapters are wrapped up with a review to assess mastery of the material.
Unlike some books out there, No-Nonsense Algebra does not add fluff to distract or pile on busy work for the student. They even offer a money back guarantee that states using this product 20 minutes per day will give you improvements in test scores.
I have to admit that I had a hard time having my high school student spend much time on this over the past few weeks. He was more focused upon finishing his main algebra program for this recent school year. So, rather than relying mostly upon his feedback of the material, I spent a bit of time refreshing my own algebra skills. The video lessons have audio explanation with a handwritten white board look to them. I appreciate how straight forward his approach to presenting the material is in the book as well as being able to cover all essential topics for an algebra I level course.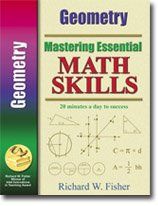 The other product we were sent to review is Mastering Essential Math Skills: Geometry. This series of smaller booklets focus upon specific skill sets and offer further practice with the concepts previously introduced. These books are aimed at upper elementary/ middle school levels to lay a firm foundation for high school math.
Geometry is one area that the boys seem to be weak with regard to the annual state tests. Each page in this book is designed to be used within 20 minutes and should help shore up any deficiencies in the individual topics presented. Rather than instruction, there are 'helpful hints' meant to refresh their memory on what is required to work the problems.
You can pick and choose just the areas that need refreshing for your student or work through the entire book. I suspect spending a bit more time with this title will better acquaint them with the vocabulary and skills they need to boost that area of their scores come next spring.
No Nonsense Algebra sells for $27.95 for the print book plus online video lesson access. The Mastering Essential Math Skills book series titles retail for $11.95. You can find these and other products at the Math Essentials website which includes sample pages for perusal.
Disclaimer ~ We were sent the materials referenced in the above post to facilitate a review as a member of the Schoolhouse Review Crew. No monetary compensation occurred and all opinions are my own. You can see what other Crewmates had to say about this product and others by visiting the Schoolhouse Review Crew website.