I have been, or can be if you click on a link and make a purchase, compensated via a cash payment, gift, or something else of value for writing this post. Regardless, I only recommend products or services I use personally and believe will be good for my readers.
I have to admit that we try to include a foreign language in our homeschool plans. We have tried to incorporate Latin and we've made a little better progress with Spanish. However, we often end up setting them aside to focus on the basics when the going gets tough. Thanks to the opportunity to review Fiestas by Spanish for You! while on our big RV trip across the country, the boys and I have been making time for Spanish again.
About Spanish For You
Spanish for You is set up to have the students learn HOW the language works with key language components (i.e. vocabulary, pronunciation, syntax, verb conjugation, and grammar)forming the building blocks of communication. And, it is done through interesting themes (e.g. Fiestas and Estaciones) instead of levels where they learn to speak, read and write Spanish. Some basics overlap between the different themes, but otherwise there is no order for completing them.
Multiple grade levels can work in the same book with activity sheets available for different levels. The lesson guide is just that, a guide to follow at your own pace. With the ability to utilize the program for multiple members of the family, it becomes quite affordable compared to some other programs.
Inside each package you will find:
Spanish for you! soft cover book (allow up to 2 weeks for delivery) or E-book (trial pkgs.)

Plus the following downloads:

Audio download (MP3) of the entire book. You use these as the lesson guide instructs.

A free bonus audio of the entire book recorded by a native speaker from Mexico. (MP3)

24-30 Week Lesson Guide (PDF) – The student (and parent if needed) follows this guide step-by-step to know what to do, at whatever pace works for you.

Self-checking worksheets (PDF) – You just print these as you need them. The lesson guide will tell you what you need to print and when.

Free set of pictures for making flashcards and other activity materials. (PDF)

Each Spanish for You! book provides new material as well as overlapping of some material from other Spanish for You! books for reinforcement of concepts.

This curriculum prepares students to excel in any high school Spanish curriculum.
Purchasing Spanish For You is easy, with options for a shorter term program or a full one like the Fiestas which our family has been using. The package covering 2 grade levels is $39.95 while the package covering grades 3 – 8 costs $64.95.
Our Experience Using Spanish For You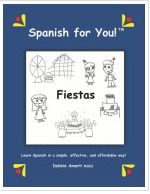 When given a choice of themes, the boys opted for Fiestas. I guess they could envision the 'need' to have a lot of parties while learning Spanish with the materials. And, in a way, they did have several celebrations as we were learning. Only they were while traveling across the US to see family members.
We had the print book for reading, but the audio files were put onto the school iPad for boys to listen. R preferred to use a headset when doing his work instead of letting everyone else hear the audio files. I did try to do them as a bigger group, though.
What I love about the program is that each boy has their own set of worksheets based on their grade level. D's a younger grade than R and has 'simpler' worksheets to complete. When traveling, I even gave the boys their own copy of the lesson guides by week to then check off as they completed the different tasks. Rather than have them make individual sets of flashcards, we have been putting together a group set. Taking just a few minutes each day to review vocabulary with the flash cards is quite helpful in cementing the new words in their brains.
I did discover that during our long drive days, they were more than happy to do the audio files or read from the book. However, the bouncing roads made it too challenging to complete worksheets. So, the lessons have taken a bit longer to complete than I anticipated. They were able to stay on track by day while at Grandma's house, but then it seemed like a hover pattern of primarily listening once we hit the road. Now that we are back in our own home, I plan to keep them moving along so we can maintain what's been learned and add to it.
Overall, Spanish for You has been well received by our family. My high schooler will begin his 2 years of Spanish soon and this program is helping to 'warm him up' for the high school program. Readers curious about the program can find sample pages for Fiestas on the Spanish for You Website.