I have been, or can be if you click on a link and make a purchase, compensated via a cash payment, gift, or something else of value for writing this post. Regardless, I only recommend products or services I use personally and believe will be good for my readers.
We were provided with a copy of Knowledge Quest's Time Trek Collection for PC for review with the Schoolhouse Review Crew. All opinions are our own. Affiliate links to the company are present.
History is one subject that I've thoroughly enjoyed learning more about alongside the boys over the past few years. One component that I felt I had little knowledge of from my youth is the related subject of geography. So, I am constantly striving to include geography in our social studies for the boys.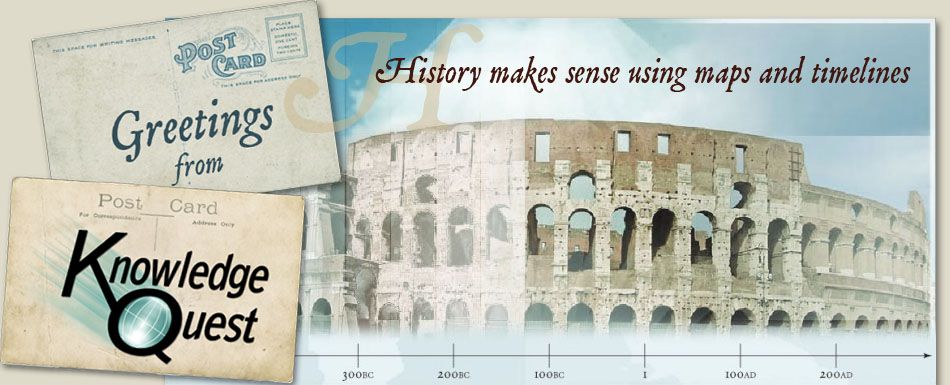 Knowledge Quest has provided some wonderful map collections that we've tapped into over the years of homeschooling. Now they are taking it up a notch for select time periods of history with Time Trek.

About Time Trek From Knowledge Quest:
The goal of Time Trek is to communicate history in a truly engaging way.
Timelines, historical maps and encyclopedic entries are merged together. The end result is authoritative content in a format the is easily enjoyed and internalized.
Time Trek is a grouping of computer software files that use Flash – a free program from Adobe.
The computer maps are presented in chronological order at the click of a button and progress at your timing. You can see how civilizations, countries, and continents have changed over time.
Quizzes and encyclopedic entries are available with the ability to be turned on or off for visibility.
Units Available in the Time Trek Collection:
Ancient China
Rise of Rome
Fall of Rome
Rise of Islam
The Black Death
European Exploration
Atlantic Slave Trade
Our Thoughts About Time Trek
When I asked the boys which time period they wanted to delve into for this review, there was a stalemate. The two finalists fit together, though, as it was all about the Romans! D enjoyed heading to the library to pick out some books about the Romans, especially anything to do with soldiers.
D was all about the rise of the Romans while his older brothers had a greater interest in the fall. So, we dabbled a bit with both starting with me printing out the teacher notes to get ideas of how we could utilize the software.
There are some neat activity ideas for each unit in the notes. We were in dabble mode which meant more clicking and exploring the program rather than fleshing out a true study of the time period.
What I really appreciate in the notes is the commentary so that I have plenty of information to share as appropriate with each child.
Timeline pages and printable maps to label are other bonuses from the notes that allow for the creation of a notebook documenting their studies.
Here is a sample page for during the Rise of the Romans.
See those little 'i' buttons? Clicking on one of them will bring up more information as will holding the mouse over an illustration as shown with the information on the Roman Galleon.
You can even have them check via a quiz what they are remembering from their exploration. Really, the software is fairly intuitive for use to the point of my feeling comfortable letting the kids do some exploring on their own.
Check out Time Trek in action
I'm happy to have this resource here for our next pass through world history or even to be an outlet for delight driven learning for my younger boys. By the time we wrap up our American History studies next year, there could be several other units available in this fun, interactive format.
Knowledge Quest's Time Trek collection is available for $44.95 for the download, and $49.95, plus shipping, for CD-ROM. You can also opt to purchase just the particular unit you need for $9.95.
Do you use mapping for your history studies?
Which resources do you find most helpful?
Disclaimer ~ We were sent the materials referenced in the above post to facilitate a review as a member of the Schoolhouse Review Crew. No monetary compensation occurred and all opinions are my own. You can see what other Crewmates had to say about this product and others by visiting the Schoolhouse Review Crew website.