I have been, or can be if you click on a link and make a purchase, compensated via a cash payment, gift, or something else of value for writing this post. Regardless, I only recommend products or services I use personally and believe will be good for my readers.
This post on Kitchen Clean Up Made Easier has been compensated by Collective Bias, Inc. and its advertiser. All opinions are mine alone. #PowerfulFusionClean #CollectiveBias
Home life can be a drag at times. It isn't that I don't love my home. Its just that I have yet to find magic cleaning fairies to do the grunt work for me leaving the house sparkling clean. That's a big reason why I love RVing with the family. It is a lot easier to put things to rights in the RV compared to our house.
One problem area for our family full of growing boys is the kitchen. They say the kitchen is the heart of the home. For us, we definitely spend a lot of time in it fixing meals and trying to stay on top of keeping things clean.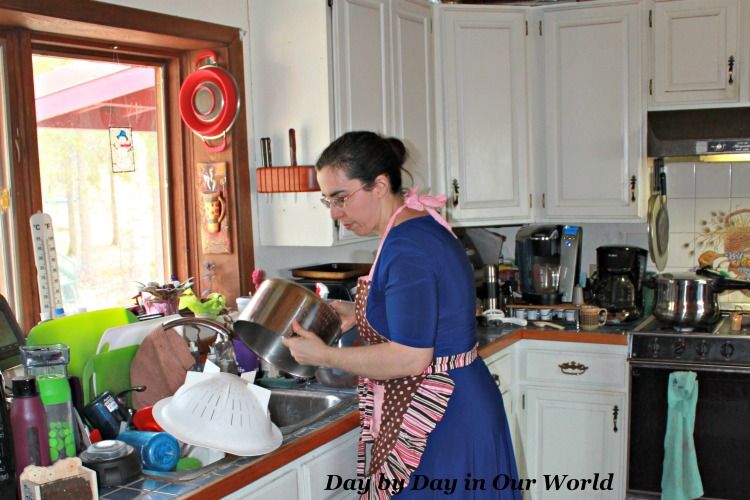 However, we often fail miserably at it.
Looking back at life in a previous house when there were only 3 boys and not 4, I realized that I had been actively training the boys to do chores in the kitchen. Everyone had a task. The youngest had to set and help clear the table for meals. Older boys started learning to make basic dishes and would often have dish patrol. And, all of them took turns sweeping up the floor.
Somehow, having that fourth boy and moving to Alaska where we have a true open concept living space led to a serious deterioration of cleaning duties.
I could make a long list of 'reasons' why our kitchen is never as clean as I'd like it to be.
Our open concept space doesn't fit my brain which likes distinct divisions for things.
We don't have enough storage space in the house so things pile near where they are used.
The tile counter top is ugly and impossible to clean anyways.
The kitchen cabinets are worn and make me want to cry even when they are clean.
You can hardly see the counter tops for all the small appliances and other stuff.
Yet, those are all just excuses. The boys want to eat and fixing food means messes are created. Without staying on top of things, it is easy to go from calm to chaos. Or, in our case, looking like we are preparing to audition for a show about hoarders.
I hate living like that and sometimes want to run away from this mess and start over. Moving across the country just to toss the excess and start a new has its appeal. But, I know that without reinstating good habits in the boys and myself, a new home could quickly start looking like our current place.
Rather, I decided it is time to press the reset button and get the house set for success. Clutter is being banished in bits and pieces. (TIP: Set the timer for 10 minute de-cluttering sprees so you don't get overwhelmed.) More importantly, I am back at training the boys on what is entailed in kitchen clean up. My youngest son might not be able to do it all, but the older boys can.
Amazingly (to me), knowing HOW to wash the dishes is not an innate skill. My almost 13 year old is still working on doing a better job of getting stuck on food off the pots and pans. As there are some places lacking a dishwasher to automate things and the electricity can sometimes go out, washing by hand is an important skill to have.
Kitchen Clean Up: Focus on Dishes
I had my younger boys observing as I tested out the new Palmolive® Fusion Clean™ dish liquid I found on the shelf of our local Fred Meyer store. Until June 25, 2016 there is a coupon for $0.50 off 22oz+ (includes NEW Palmolive® Fusion Clean™) with more to come later this summer.
We go through a lot of dish liquid, so I picked up both the Fusion Clean™ Baking Soda & Lime and Fusion Clean™ Baking Soda & Grapefruit to see if I'd have a preference in scent. I believe in tools that make work easier and this dish liquid has a unique formula which can remove 24 hour stuck-on food. A bonus for me is that both varieties have a wonderful fresh scent which leaves me feeling a little happier when dish washing is done.
There are 2 approaches I show them: fill the sink with the dirties if you have just a handful to wash or stack everything to the side of your empty sink so the cleaned items can sit in the sink waiting to be rinsed. (TIP: Make sure really sharp objects are NOT in the sink so there are no surprises.)
Once you are ready, you need to get your cleaning cloth or sponge wet. I always remind them that the water does not have to be running the entire time they are doing dishes. You just need enough water for the cleaning process to work. (TIP: If you have the counter space to hold your drying rack, then let the kids have more fun by using one sink to fill with soapy water and the other to rinse.)
Then add a small amount of dish liquid to your cleaning cloth or sponge. I found that with the new Palmolive® Fusion Clean™ I only needed a small amount to do a lot of dishes. My boys do not always believe me that less is sometimes more. However, in this case it definitely is.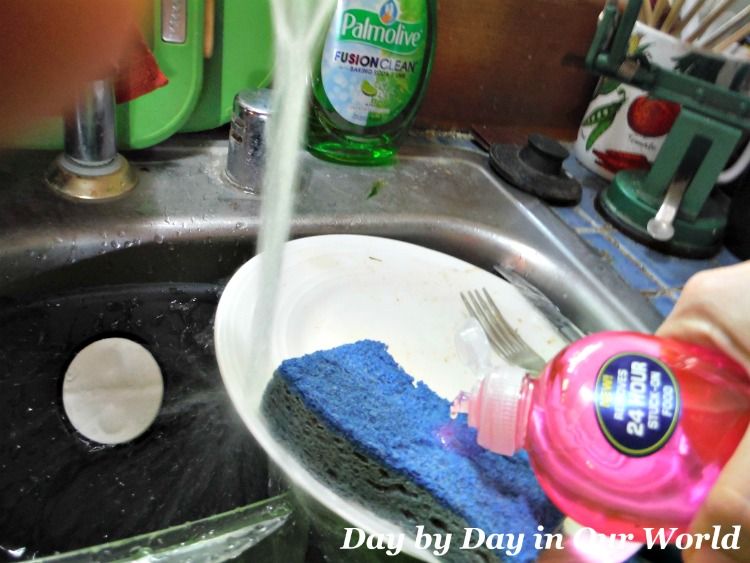 Use pressure while rubbing the dirty dishes, pans and utensils with the soapy cloth/sponge. This is where my boys often 'fail' at dish washing. The new Palmolive® Fusion Clean™ ultra concentrated formula is made to loosen and dissolve stuck on food and removes even unseen food residue. I am looking forward to cleaner dishes now! (TIP: If you find a pan left sitting overnight, let it soak for a few minutes in hot water to help the soap work even better.)
Rinse off the clean items and place them in a dish rack to start drying. If we have a lot of dishes to dry, I will sometimes put the clean pots and pans upside down on the stove top or on a clean towel on the counter top.
A Modern Twist on Cleaning™ is what the New Palmolive® Fusion Clean™ dish liquid provides.
Kitchen Clean Up: Regular Steps for a Tidier Space
I sat down this past weekend and made up a Kitchen Clean Up checklist of all the main things that should be done after every meal. Washing the dishes is a cornerstone of that checklist, but there are several other steps which are taken to keep things clean and ready for the next round of kitchen adventures.

I know from experience that those short steps do not take so long in the moment while letting things mount up can lead to a mess which seems impossible to tackle. When we do everything on the list after each meal, the kitchen is in much better shape. And, we often feel more inspired to bake and cook when the kitchen is clean.
I've seen some families assign KP duties to one child for the day or week and then rotate the responsibility around to the others over time. If you have younger kids, split the duties based on their abilities.
What are some ways you keep the kitchen clean and functional?
How long did it take the kids to learn their kitchen chores, including washing dishes, and be able to do them well?