I have been, or can be if you click on a link and make a purchase, compensated via a cash payment, gift, or something else of value for writing this post. Regardless, I only recommend products or services I use personally and believe will be good for my readers.
I've found that my boys tend to gravitate more towards hands on learning and science is one subject that really lends itself to that approach. Aurora Lipper at Supercharged Science has created a great venue for igniting a child's interest in learning more about the world around them with e-Science. My boys were thrilled that we would be 'officially' reviewing this product for the Schoolhouse Review Crew as the fun science had not been happening in our house much this school year.
About eScience by Supercharged Science

Unlike the approach often used in brick and mortar schools, eScience is all about learning through doing. There are short reading segments that hit the main points of each topic and act as a jumping point for further research. However, the heart of the program are the 1,000+ activities, experiments and projects with video explanations of HOW to do experiments including common mistakes that can happen which prevent the expected result.
Material can be used by students from K – 8th grade with additional materials available for high school students. As I pen this review, there are currently 19 units available, the most recent additions being in the life science arena. Over time, all of the units open up to subscribers at the rate of 1 to 2 units.
Membership benefits:

Videos of teaching real science to your kids, just like I do in an actual classroom
Text-book type reading to support the material in the videos
Hands-on activities and experiments, with videos that guide your kids through them. These activities and experiments are what really ignite a passion for science in most kids.
Homework exercises/quizzes so you can see what your kids are really learning, and tips for how to keep track of your progress in a real a science journal
A live science class in difference science areas every few weeks where you can connect with me personally
Parent resources for helping you give your kids the best science education they can get

A place to ask Aurora questions (lots of them!)

Recordings of everything so your kids can do the program on whatever schedule AND at whatever pace suits them.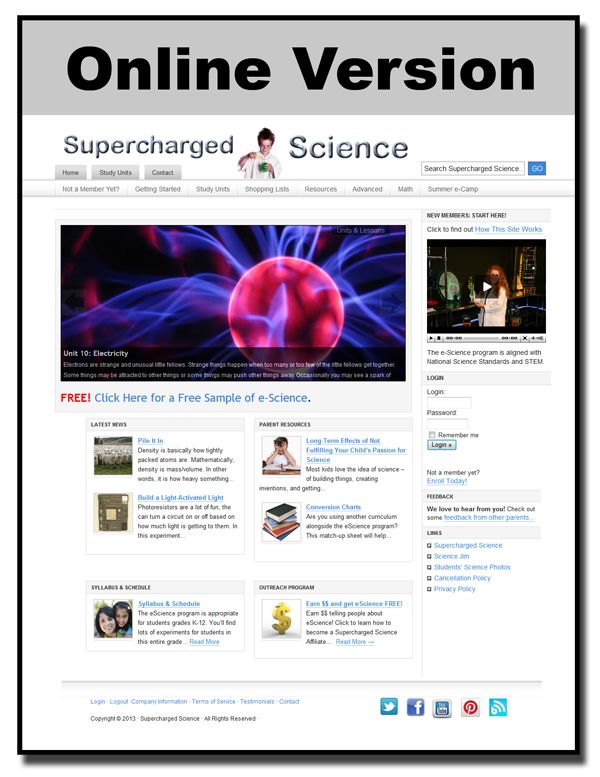 eScience is purchased as a monthly or yearly subscription. Unlike some subscription services, Aurora so convinced you'll love eScience that there is a 30 day money back guarantee!
Our Experience with eScience by Supercharged Science
I should start off by saying that this is NOT the first time we've used eScience by Supercharged Science. A few years back, I purchased her eScience camp for some summertime fun. Here's a short video of one experiment we did then:
The boys and I had a blast doing experiments in short bursts at the time and decided to buy her BIG kit through our charter school. We did a little exploration of the rest of eScience, but had not been on in a while to see the newer units.
My primary focus for this review was to be the K-8 grade level. I polled the boys about which topics they wanted to learn and then planned which experiments for which I could easily pull supplies together. Electricity was the topic they both wanted to tackle and I guess it is so appealing that a magnetic effect happened so that others (e.g. my teen ager and preschooler) want to join in on the fun.
The collage below was from D's exploration of circuits and he had a blast following instructions and then trying a few things on his own under careful supervision.
Now, I should say that there are a few key points for using the fantastic resource which I have learned over time.
First off, take time to familiarize yourself with the program and the unit the kids will be studying. Aurora has a lovely introduction video to the program (Unit 0) that is perfect for the home educating parent. And, for kids who either need a refresher or haven't heard about the Scientific Method, take some time at the beginning to walk through her Scientific Method unit.
Secondly, do NOT let the younger kids just take it and run. While some kids might think they can do it on their own, I highly recommend being IN the room with them. Not only will that ensure a safe learning environment, it will also allow you to assist them when something doesn't work exactly the way it was expected to work. Even my high school student had either dad or me in the room when he was doing the chemistry experiments from eScience a while ago.
Thirdly, a little bit of preparation makes for a far more enjoyable learning experience. Look at the upcoming experiments and gather up your supplies ahead of time. Print out any pages you might need (or worksheets if you want them to answer unit questions.) If you need something like batteries, make sure they are working or that you have more than what is needed.
Finally, remember to let the kids have FUN with this learning. Some times that means creating a mess. Just step back and enjoy the enthusiasm that may begin permeating the environment around you and worry about the clean up afterward.
Now that I've reignited their appetite for learning with eScience by Supercharged Science, I think we'll have a full plate of science experiments in our near future. I'm looking forward to wrapping up my teen's biology studies with experiments and projects from the Life Science and Biology units.