I have been, or can be if you click on a link and make a purchase, compensated via a cash payment, gift, or something else of value for writing this post. Regardless, I only recommend products or services I use personally and believe will be good for my readers.
Homeschool Math On the Go with Demme Learning was made possible with access to the Geometry course of their new Digital Packs for review as part of the Schoolhouse Review Crew.
In the past, we've had to take our homeschool on the road whether it was moving between states or making a long RV trip to visit family. It usually meant switching programs for a while to avoid carting a ton of materials, though. Math was one of those subjects where we usually switched to online options for the boys' math. Math-U-See is our typical at home program, but the idea of carting around the DVDs, teacher manual and student books for multiple kids seemed like a lot of baggage.
Demme Learning ~ How Math-U-See Works
Math-U-See is a program which takes a mastery approach. The different books for elementary school are given Greek names and have no tie to a particular grade level. Instead, the material is presented in a logical order which allows the student to have each skill set fully acquired before moving on to the next skill. Once you reach the high school level, the material is aligned with what you expect to find in each class (algebra, geometry, algebra II, pre-calculus which includes trigonometry, and calculus.)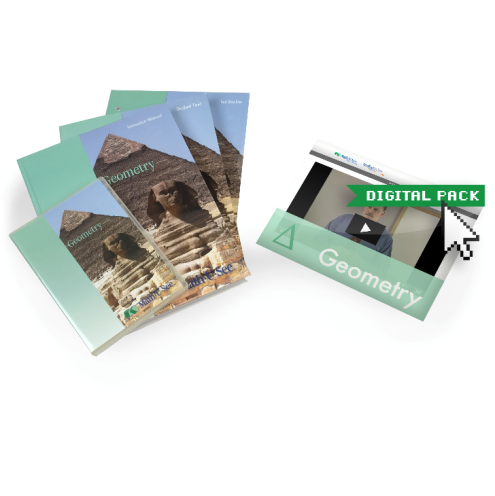 Regardless of level, the approach to learning is the same. Material for the lesson is presented to the student. For younger students, you might want to watch the video instruction first and then present it to your child. With older kids, you can have them watch the video lesson on their own or alongside you. Sometimes, you may need to have them read from the teacher book, too, as it often contains additional examples.
The student then completes one, two, or three of the worksheets. Once they have grasped the concept, they work on one of the review worksheets. If they do well on that sheet, they take the lesson test. If not, then they can do another review page. Most levels have 3 regular worksheets and 3 review worksheets so they have plenty of opportunities to practice. The key is that the student is not supposed to progress to the next lesson until they have
Most levels have 3 regular worksheets and 3 review worksheets so they have plenty of opportunities to practice. The key is that the student is not supposed to progress to the next lesson until they have the concept mastered. You can also have them teach it back to you as a test of their knowledge.
Demme Learning ~ What You Get with their Digital Packs
When you purchase a digital pack, you'll receive 12 months of access to that level. When logged into your account, you will have access to the level's video instruction and the teacher materials. If manipulatives are needed for your particular level, there are digital ones included for you. (Geometry is not a level with manipulative usages, so we did not have access to the digital ones.)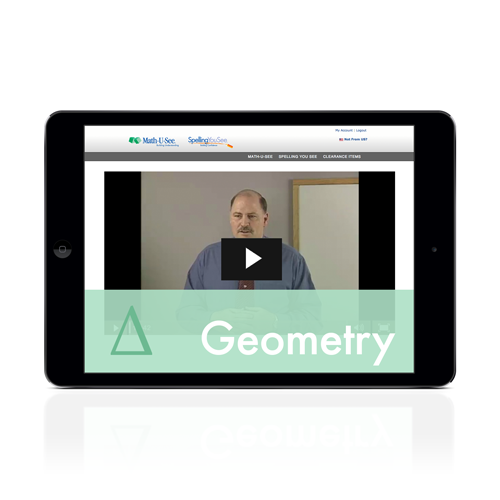 With their
new digital packs
, that obstacle is overcome as it
eliminates the need for the DVD set and printed teacher manual.
Yes, you
still need to buy the printed student materials
(workbook and test booklet.) Having the videos available to stream online as well as the teacher manual also means less physical clutter in your home. Or, as is the case in our house, no more potential for broken DVDs or conveniently 'lost' items.
As you are streaming the video, you need an internet connection which is fast enough to deliver the content without interruption.
Demme Learning ~Our Thoughts on Geometry & Digital Packs
As I said, we've had an issue with things going missing. Convenient for the child who wants to avoid work, but not so much for an already stressed out homeschool mother. This review opportunity came at just such a time as my 10th grader had misplaced the second DVD for Geometry which meant he wasn't doing any of his math.
Getting set up for an account was pretty painless. Finding all the materials for Geometry was simple as well.
Once you are logged into the website, you click on My Digital Packs to find your course. A drop down menu for lessons allows you to pick which lesson you want.
It then opens up the video associated with the lesson and lists the associated resources in the right sidebar. The lesson pages and lesson solutions from the teacher manual are listed as separate pdf files. The upside for this is that you can give your student just the lesson pages and not have the solutions in the same book.
Amazingly, the missing DVD magically appeared a few days after the streaming access began. This homeschool mother isn't finding the irony funny.
As for whether or not we'd do the digital packs for other levels, it will depend which child needs it. I love that it can go with you wherever there is an internet connection. However, as it is only a 12-month subscription, I would be less inclined to purchase it if I had several kids in line for the same class. So, for my youngest son with no one behind him, I very well may be purchasing the digital packs and student books for Alpha and Beta as I had sold those materials years ago.
Don't just take my word for how we found this to be. Visit Demme Learning's Math-U-See Review post on the Schoolhouse Review Crew website to see what other homeschooling parents thought about this and other self-paced courses.