I have been, or can be if you click on a link and make a purchase, compensated via a cash payment, gift, or something else of value for writing this post. Regardless, I only recommend products or services I use personally and believe will be good for my readers.
This shop, Help Your College Student Return to Campus Bold and Confident has been compensated by Collective Bias, Inc. and LISTERINE. All opinions are mine alone. #BackToBold #CollectiveBias
We all have milestones in our lives. As children, we learned to walk then entered school to learn facts and skills to help us be good citizens. After high school, many people head to college where they will study for particular career options. My eldest son is in that stage now and is about to begin his third year at the local University.
Attending college can be a scary proposition for some. While you might know a few people from your high school years at the same school, you often are on different paths.
For my son, this is definitely true. Some of his best friends elected to stay local to attend the university here. However, they graduated in different years and have no overlapping course work.
All this means that going to campus each fall means a small level of anxiety of how things will go. Will you enjoy the courses on the schedule or dread getting up for an early class? Is going to class all that you will do with little or no interaction with other students?
One of the best ways to help bolster confidence and allow your college student to be bolder in life is to help them find a routine that works.
How to Prep for a Day on Campus
When he was just doing coursework for me as a homeschooled high school student, P did not have what I would consider a routine. With days where we had no reason to leave the house and see others, he did not spend time considering what to wear or getting everything together.
His routine is not long or complicated, but it definitely helps to set the stage.
Roll Out of Bed & Make it Before You Crawl Back In!
Making the bed right away, even if it is just pulling up the sheets and comforter, is a must. Early morning classes are easier to miss if you have a comfy bed calling your name.
Put on Your Casual Outfit & Prep in the Bathroom
How you look influences how you feel. It also impacts what others think about you.
Something my son has added to his morning routine is a quick swish of LISTERINE® after brushing helps him to remove the germs that lead to bad breath. Fresh breath definitely helps you to do bold things in life.
I found both LISTERINE® TOTAL CARE FRESH MINT Anticavity Mouthwash 1L and LISTERINE® TOTAL CARE ZERO ALCOHOL FRESH MINT Anticavity Mouthwash 1L on the shelf at Target recently.
They are running a Buy 3, get a $5 Target Gift Card. The offer is good (6/29-9/9) and will be valid online and in-store. It is a great way to stock up for the school year and get a little extra for other purchases.
Click on the image below to purchase!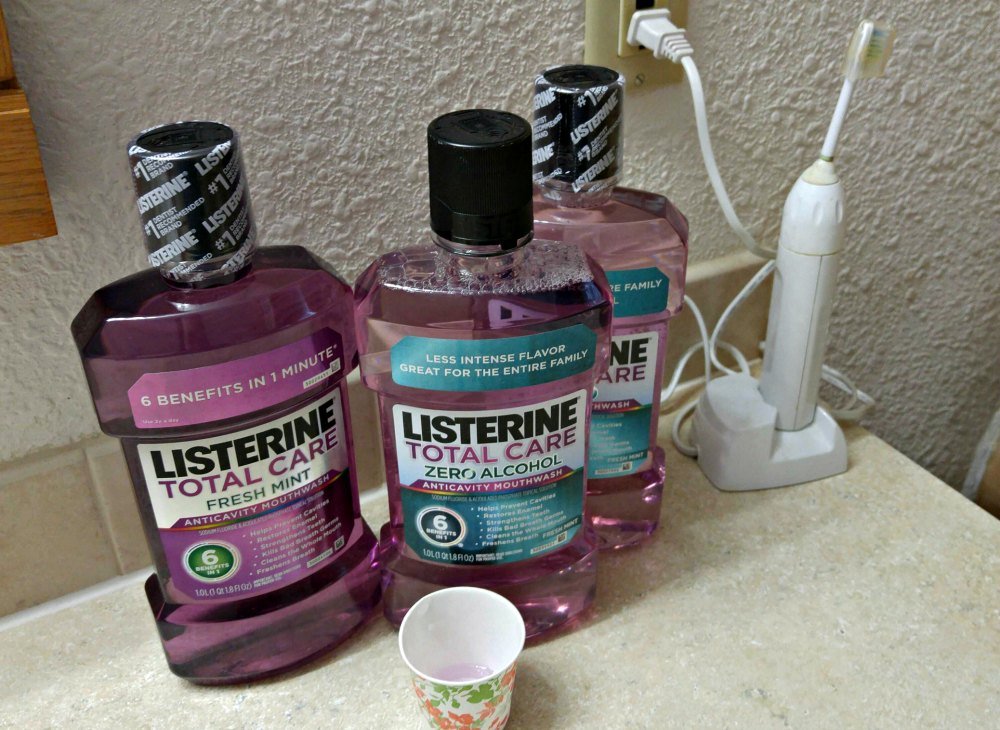 Fuel your day by grabbing something to eat
Whether it is eating a good breakfast or loading your bag with lunch and snacks, making sure you supply your body with nutrition is important. College classes are challenging enough that you want your brain to be working optimally.
Double check your backpack for needed books & electronics
Nothing puts a damper on your campus experience than leaving books for class or your electronics for note taking behind. A quick check of your backpack or bag can help you be ready at all times.
Mosey on over to class
In P's case, this means driving from our house to campus. Some days that takes longer than expected, so he usually adds a 20-minute buffer to his travel time.
Take a deep breath before heading into class
As corny as it sounds, it helps you to get ready for the time spent in there.
Do you have a child headed off to college this fall?
Have they found a morning routine helpful with setting them up for success?