I have been, or can be if you click on a link and make a purchase, compensated via a cash payment, gift, or something else of value for writing this post. Regardless, I only recommend products or services I use personally and believe will be good for my readers.
This post, Greater: A Film Where Football Meets Faith, was made possible with a review copy of the movie from Grace Hill Media. Affiliate links are present and all opinions are my own.
Sports themed movies have been around for a while. Whether the sport is baseball, football, or even running, there is usually a theme of inspiration and showing how people have overcome adversity.
Greater, released in 2016, has those elements. But it goes well beyond the general inspiration and delves deeper into questions many find themselves asking. Specifically, "Why do bad things happen to good people?"
Summary of Greater
Brandon Burlsworth is perhaps the greatest walk-on in the history of college football.
Brandon had always dreamed of playing for the Arkansas Razorbacks, but was considered too short and too fat to play Division I. Undeterred, Brandon took a big risk and walked on in 1994.
Written off by fellow teammates and coaches, Brandon displayed dogged determination in the face of staggering odds.
An extremely devoted Christian, Brandon never cursed or drank. He was genuinely humble and low-key. He worked harder than anybody, on and off the field, becoming the first Razorback to earn a Bachelor's and Master's degree while still playing.
The overly-fat kid who was once an embarrassment to his teammates and an annoyance to his coaches, ended up becoming the most respected player in the history of the program, changing the lives of all he touched.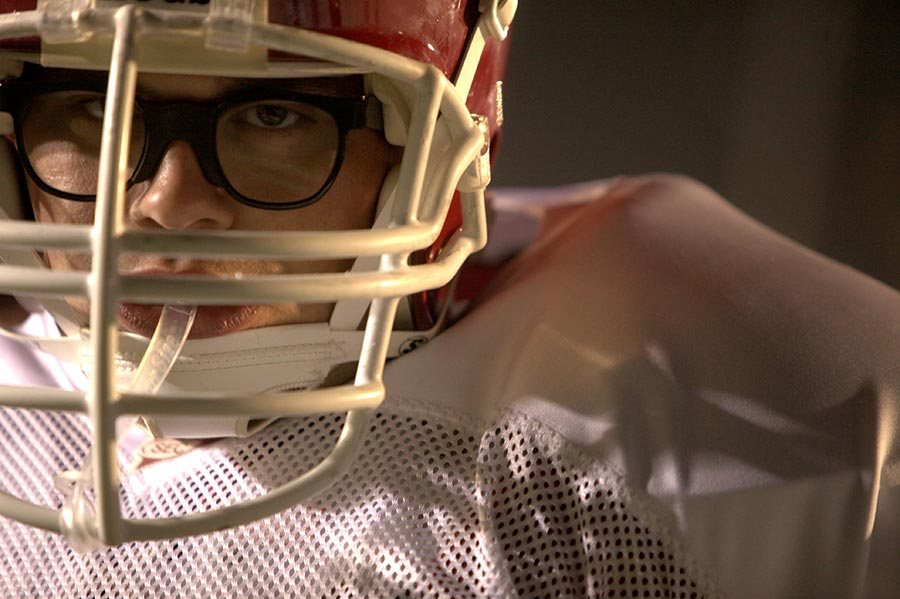 Eleven days after being drafted into the NFL, Brandon was tragically killed in a car accident, crushing all who knew him. Brandon was "too good to be true". How could something like that happen to this guy? The age-old question slammed down upon all with terrible force: "Why do bad things happen to good people?"
Brandon's story is more than mere football. It is the ultimate expression of the question "Why?"
Greater will provide hope and inspiration as it strives to wrestle with this challenge and find reasons to trust.
It is "Rudy" meets "It's a Wonderful Life".
Greater Movie Trailer
Seeing something in action is always a great way to get a sense of interest.
Here's the official trailer for Greater.

My Thoughts on Greater
Anyone who grew up in the south knows that football is BIG. Arkansas is no exception. So to have a boy tell his older brother he's going to be a Razerback when his life is mostly sedentary, there is no great surprise. Those college players represented heroes to him.
But, the road to being a part of that college team was long and hard for Brandon. He showed up and did the work, even when others mocked and told him he'd never make it.
The determination to succeed is something that is a common thread in many of the sports-themed movies I've watched over the years. Greater is unique as the focus is not just on Brandon's journey to claiming a spot on the team.
Instead, it is also the story of a remarkable young man who never wavered in his faith. Instead, his faith became an inspiration to others around him.
A Struggle with Faith & Example of It in Greater
Faith is something that Brandon's brother, Marty, struggles with throughout the film.
This struggle comes to a head as he awaits the start of Brandon's funeral.
A character known as The Farmer (a name is never said) is present at times along the high school football field where Brandon played.
Instead of providing comfort, this character instead quietly digs at Marty trying to get him to become angry at a God who would let bad things happen.
After a while, my 7-year-old son started to ask if this man was really the devil in disguise. I'm inclined to agree.
This is not a short film at close to 2 hours. By the end, I was in tears which had him wondering what was wrong with his mama.
But, as a parent who can guess at the devastation losing a child could bring, I talked to him about how when someone who is loved dies it is a sad time. Seeing it happen when someone's life seems to have hit a point of 'success' as deemed by the world made it even more bittersweet.
Aside from seeing how a 'good guy' could be successful and impact the lives of his fellow teammates in a positive way, this film is a great reminder that we can not see the tapestry God is weaving.
Greater, the 2016 Film about Brandon Burlsworth on DVD
Greater: The Brandon Burlsworth Story – Through the Eyes of a Champion Book
&
&
&
&
Are there any inspirational movies which you loved that had a strong faith emphasis?
Win a Faith Filled Movie Bundle!
One lucky blog reader will win a bundle containing Greater and Hillsong – on DVD plus a $25 Target Gift Card.
The Mandatory Entry is a comment on this blog post!
Entries are accepted via the Gleam widget below through January 8, 2016. The winner will have 48 hours from my email notification to claim their prize.