I have been, or can be if you click on a link and make a purchase, compensated via a cash payment, gift, or something else of value for writing this post. Regardless, I only recommend products or services I use personally and believe will be good for my readers.
One of the things I really liked about beginning our adventure as homeschoolers was the ability to add in different artistic studies that would enrich the experience. What I didn't realize is how hard it can be to truly nurture the boys in those areas.
Art Studies
Over the years, how we study art has changed as needed. The boys never required prompting when it came to 'doodling' or drawing something on their mind. if anything, it can be difficult to keep them on task for other subjects when the urge to draw strikes.
But, doodling and studying art are not quite the same thing.
The first few years had us utilizing resources from Seton for art as well as craft suggestions from CHC materials. R enjoyed the more 'craft' oriented Seton Art 1 while P enjoyed learning a bit more about drawing with Seton Art 4 that year.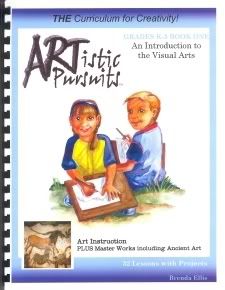 After joining the TOS Homeschool Crew, we had the opportunity to review Artistic Pursuits K-3 Vol. 1. We loved the projects offered and I loved having some art appreciation mixed into the lessons. When we moved up here and saw the local homeschool store had them in stock, we picked up additional levels to use in our pursuit of art education. I have to confess that we have not completed any of the books, but the boys have enjoyed the projects that have been done. And, mom is happy with the exposure to techniques and famous art.
The same year, we also reviewed Spears Art Studio for K-8. This product was a CD with pdf files and a 'game plan' for each month with projects based on the grade of the student. While it took additional time to prep for presenting the lesson, I found myself enjoying the time doing some art alongside the boys. And, I am seriously considering pulling it out again to work through the Springtime months as we did not get that far into the material.
The past few years up here in Alaska has afforded us the opportunity for different cooperative learning experiences that have occasionally included art. This past Fall, P and R had a drawing class taught by a mom with an art background. It wasn't their absolute favorite, but they would still show their work with pride.
D got to experience two different types of classes that covered forms of art ~ textile arts (aka sewing) and an arts & crafts class. I wish I had him start the sewing class from the first session as he really loved learning more about it. And, he is starting to bug me to set up the old sewing machine I was given by my mother to do more projects.
When I do get my 'ducks in a row' for more exploration with sewing, I know which resource I will be pulling off the shelf: Buckles & Bobbins: A Beginning Sewing Book for Boys.
Music Studies
No education would be complete without some form of music studies. To date, most of our time has been in the area of music appreciation. We listen to a variety of musical selections and the boys have surprised me with how many they enjoy.
For a while, we had a more formal study of classical music and the composers thanks to A Young Scholar's Guide to Composers from Bright Ideas Press. I set it aside as scanning the pages for use was one more task to complete each week. I am considering having the binding cut off and visiting our charter school to make copies so we can use this resource again.
P also began studying piano using Learn and Master Piano. I love that he can watch a lesson and practice with a little guidance from me. It is slow going, though, as he has that perfectionist tendency that has him wanting to give up when it is challenging or seems impossible. The younger boys are now asking to learn piano as well, although I'll probably use a more 'traditional' approach with them. I can only hope that my patience will not be too tried
There you have it… how we've incorporated art and music studies in our homeschool. Now if I could only get the boys on board with the idea of interior decorating.
****************************************************************************
This post is being linked up with other homeschoolers as part of the Virtual Curriculum Fair hosted at Homeschooling Hearts & Minds. Visit other responders tackling the topic of
Seeking Beauty: the Arts and Everything that Brings
Beauty to Our World. This theme can include any of the arts, as well as handicrafts. Or really anything that you feel brings beauty into your homeschool.