I have been, or can be if you click on a link and make a purchase, compensated via a cash payment, gift, or something else of value for writing this post. Regardless, I only recommend products or services I use personally and believe will be good for my readers.
This post, Engage Your Child with the Faith Builders Bible, was made possible with the Faith Builders Bible which we were provided to review from ZonderKids as part of the Schoolhouse Review Crew.
As a Christian mother, I want my boys to be immersed in the Word of God. I want it to permeate their entire being so they might know and love God. What I do not want is that they only see the most familiar of stories from the Bible and not read other portions. After all, it is the Living Word of God and I want them to be given the opportunity to have God speak to them through it.
About the Faith Builders Bible
In a nutshell, "The Faith Builders Bible the popularity of brick-building pieces to engage children with the Word of God."
This hardcover book is NOT a collection of familiar Bible stories with illustrations for your kids. Rather it is a FULL New International Reader's Version (NIrV) of the Bible in a very readable font size with 24 full-color pages of illustrations that show how children can build the stories. The translation is adapted to about a 3rd grade reading level making the Bible more accessible for younger kids.
The first pages of the Faith Builders Bible show how you can create a block display of the books of the Bible. Writing each book's name on the side of a brick, you can then stack them into groupings (e.g. Law, History, Poetry, Major Prophets and Minor Prophets for the Old Testament.) Color coding by the grouping makes it easier for a child to then get them in the correct order.
The final color insert page before the Bible begins shows a few simple building projects with an accompanying verse.
As you go through this Bible, the color insert pages show a Bible story 'in action' as they've been built with bricks. There is also a building block verse which the kids can easily memorize.
Finally, at the end of the Faith Builders Bible, you will find a short dictionary of terms the kids might not know as well as a listing of great Bible stories with their place in the Bible (typical Scripture notation e.g. The Ten Plagues is found at Exodus 7:6 – 11:10 rather than a page.)
Our Experience Using the Faith Builders Bible
You could just about sum it up in one short math style equation:
Faith Builders Bible + Brick-Building Pieces + Boy = Learning FUN!
If my boys did not have a decent imagination, then having only 24 illustrations showing how you could build the scene with brick-building pieces would be a bit disappointing. The younger the child the more a visual input can help with bringing a story to life.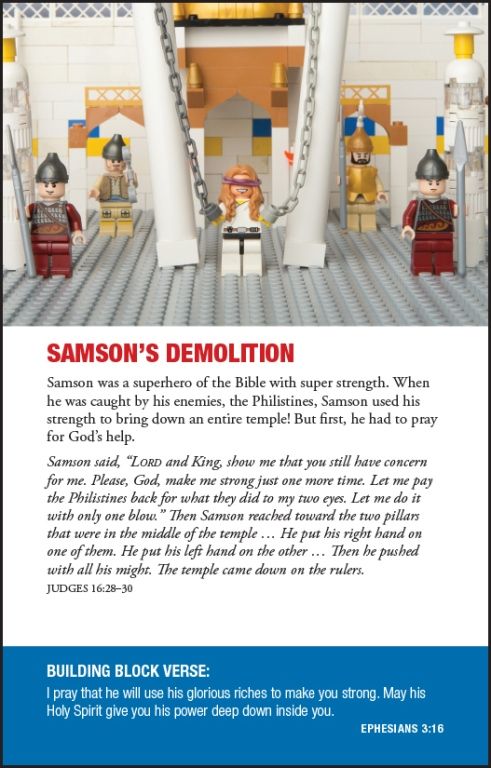 However, those illustrations do give enough of an idea that if you sit and read a different portion of the Bible they can start to imagine what it might have looked like. Then, with a supply of brick-building pieces at hand, your child can begin to make their own rendition of what someone viewing the scene might have seen.
Since a large proportion of LEGOS in the house are either super heroes or Star Wars, it can be interesting to see what J comes up with for his creations.

Something I really appreciate is that this version of the Bible is written for someone on the younger side to understand. Plus, an early reader like J can start to read portions of Scripture with some assistance. And, the way they reference the great Bible stories by book, chapter and verse allows me to help J learn to find Scripture in the Bible from the get go.
Overall, I am definitely impressed with the Faith Builders Bible both as a way to engage children who love to build with bricks and to meet them with language they can easily understand now.
Don't just take my word for how we found this to be. Visit the Faith Builders Bible Review post on the Schoolhouse Review Crew website to see what other homeschooling parents thought about this and other self-paced courses.