I have been, or can be if you click on a link and make a purchase, compensated via a cash payment, gift, or something else of value for writing this post. Regardless, I only recommend products or services I use personally and believe will be good for my readers.
We are in the fourth week of the Virtual Curriculum Fair for 2017. Exploring Our World: Social Studies and more Science—includes history, geography, world cultures, worldview, biology, botany, geology, etc. is the theme this week. So, I'll be sharing what the boys are doing for social studies this year which incorporates not just social studies, but the study of living sciences such as biology.
Note ~ Affiliate links are provided for your shopping convenience. There is no additional charge for you to use them. Any sales made through them may result in a small commission for our family.
Exploring Our World Through History And Science
At times the explorations of the world around us can be fun. However, there are times when the studies delve more into history when it can be a challenge to make it entertaining enough to hold their interest.
Elementary Social Studies
For early elementary studies, I love to do the focus more on their place in a community. This is a key component to help not only in life, but future studies. After all, we are all a part of different communities whether it is your family, your city, the country, and ultimately the world.
What he is currently excited about is our reviewing the Ancient Greece Time Travelers unit from Homeschool in the Woods.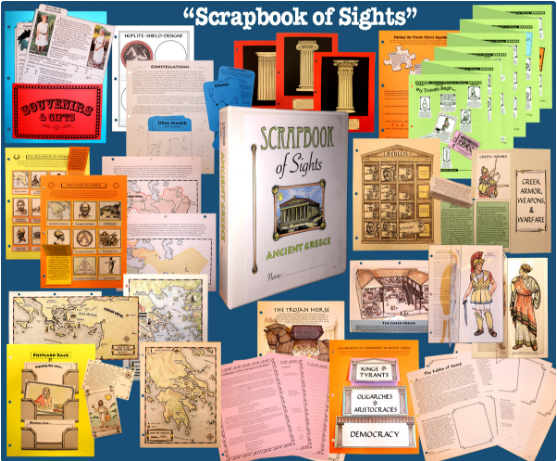 I've used other products from Homeschool in the Woods in the past and agree that this new unit looks quite interesting. (Review coming later in February 2017!)
Elementary Science
My youngest son is continuing to work through Science Shepherd's Introductory Science which we reviewed this past spring. This is a survey course which covers all of the major subject areas of science.
I appreciate that they have a combination of video lecture with images to support the information. Then he can complete a short page (or two) in the student workbook.
Typically, there is a hands-on learning opportunity, although we do not always avail ourselves of them. Rather, he is asking for me to teach an elementary science lab class this spring so he can 'do science' with others like his older brothers have done.
Middle School Civics
This is the second time for a child to work through Notgrass' Uncle Sam & You, a study of civics.
Son #3 is in 8th grade and this has been perfect timing with the elections this past fall and changing of the political guard this month. We even made sure to watch the Inauguration together as it is history in progress.
The layout is rather easy to incorporate into a homeschool environment. Of course, it was written by homeschoolers for homeschoolers!
Mondays through Thursdays have a daily reading from the main text. There are supplemental readings scattered throughout the daily assignments. And, on Fridays, they have the opportunity to learn more about particular holidays in the United States.
He then works on the pages in both the Student Workbook and the Lesson Review. Each page corresponds to the reading in the student texts. Friday brings a quiz in each of those books to assess what they have learned.
What we have not been doing is incorporating all aspects of the work. Travel this fall and juggling a pending move had me cutting back on that aspect.
High School American History
While I knew that every child has a different learning style, I really was hoping that we wouldn't have to change things up mid-year. However, that is just what has happened with my 11th grader.
We began the year doing a combination of All American History from Bright Ideas Press for the anchor text and then the individual reading selections from Sonlight's Core 100 to round it out. This is what I ended up doing with his older brother after finding the anchor text in Sonlight was a poor fit for him.
After years of doing an online lecture enhanced studies with Veritas Press, my 11th grader was struggling to keep up with the reading and comprehension questions. Then we took a long RV trip where bringing books was not an optimal way to continue learning on the road.
So, I eagerly accepted the opportunity to review Dave Raymond's American History program from Compass Classroom. A full review is coming soon on the Old Schoolhouse website. This is a DVD lecture based program with additional reading and weekly comprehension checks.

I think this might be a better fit for him as the information is summarized through the lectures by Mr. Raymond. And the list of review questions at the end of each week is nowhere as long as what Sonlight's guide provided. There is also a quarterly project to complete, although I do not think he has started on those. We are trying to play catch up on the 1st-semester materials in a condensed manner for now.
However, we are still incorporating some of the living books from Sonlight's list. Not only because I have them in the house, but because I believe reading a variety of books on the topic is beneficial.

American History on the Screen: A Teachers Resource Book on Film and Video
Another tactic I am doing this spring is to add American History on the Screen to the schedule. American History is broken up by 'era' and materials for their primary recommendation as well as a list of other films for that time period are listed.
My older son loved this aspect of helping bring history to life. I know that my son is looking forward to watching many of the titles his older brother viewed.
Some of the titles, like The Patriot with Mel Gibson, are rated R because of violence. We viewed them together so if there was something I didn't want him to see I could fast forward.
What we discovered when doing this with my eldest son is that some movies with an R rating had only a single or few scenes that were deemed 'adult.' Amistad is one such film which would not have been rated R except for the scenes of nude slaves on the boats. And a rather horrific scene of what they did with the ill slaves.
&
How do YOU approach Explore Our World in YOUR homeschool?
Exploring Our World Through History And Science: See What other Bloggers are Sharing
Note: all links will be LIVE by Monday 1/23 at noon EST.
Notebooking Our Way through History by Susan @ Homeschooling Hearts & Minds
Studying the Where and How by Michele@Family, Faith and Fridays
The History of Our Mysterious Struggle With History by Laura @ Four Little Penguins
Social Science, Science and Exploring our World – Our Path by Joelle @ Homeschooling for His Glory
Learning History Through Fiction by Kristen @ Sunrise to Sunset
History in Our Homeschool by Amanda H @ Hopkins Homeschool
Exploring Our World Through History And Science by Laura @ Day by Day in Our World
Bringing History to Life! by Yvie @ Gypsy Road
History, Living Books and the Imagination by Sarah @ Delivering Grace
Exploring our world comes in many different forms. by Kim @ Good Sweet Love
Bible, History and Geography by Lizzy @ Peaches At Home
Beyond the Books – Social Studies and Science by Shecki @ Greatly Blessed
Exploring the World with Living Books by Brittney @ Mom's Heart
High School History & Science without Textbooks by Christy @ Unexpected Homeschool
Exploring the World Starting with Canada by Annette @ A Net in Time
Visit The World Through Video by Lori H @ At Home: where life happens
Nature Study is Our Favorite Way to Do Science by HillaryM @ Walking Fruitfully
What A Wonderful World by Kym @ Homeschool Coffee Break
The Time we got Lost in the Woods by Dana Hanley @ Roscommon Acres
What a World by Jennifer @ A "Peace" of Mind