I have been, or can be if you click on a link and make a purchase, compensated via a cash payment, gift, or something else of value for writing this post. Regardless, I only recommend products or services I use personally and believe will be good for my readers.
This post was made possible with a digital copy of Excellence in Literature Handbook for Writers from Everyday Education, LLC for review as part of the Homeschool Review Crew.
Reference books are something that you start to appreciate more as you age. As early as elementary school, I was introduced to the common references of a dictionary and encyclopedia. Call me a nerd or geek, but the day my dad paid a sheer fortune for a set of Encylopedia Brittanica to line the shelves was a day of joy for me. SO much knowledge available at our finger tips.
For just about any subject you may teach, you can find reference books. When I reached college, I soon found myself picking up a writing style guidebook that was required by college professors. It wasn't a book I just sat and read. Rather, it was a resource which let me verify that my style and structure met their expectations. If I wanted a good grade, I had to make sure the technical aspects of my writing fit the rules.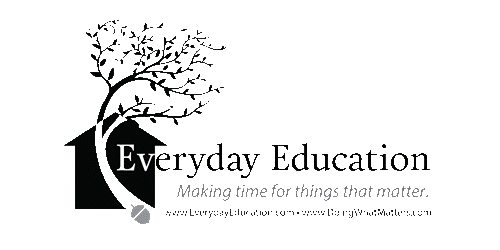 I was excited to see Janice Campbell from Everyday Education had launched such a reference with homeschool families in mind. I found her Introduction to Literature: English 1 (link to our previous review) to be well done with no 'fluff' like mainstream textbooks. Yet, there is some serious meat to the work a student will accomplish through it. And, it is written to be a self-directed course which takes a serious load off the homeschool parent's shoulders. (Guess what's coming later this year for my 8th grader now that I have it top of mind??)
About the Excellence in Literature Handbook for Writers
Excellence in Literature Handbook for Writers is a reference book in the truest sense. While you can pick it up and read through the sections, you aren't going to use it as a curriculum in and of itself.
Rather, this is the book you provide your high school student for now or into those college years to help them monitor their own writing.
In the pages of Excellence in Literature Handbook for Writers, you find the information grouped into two sections: Writing Arguments and Interpretive Essays and Guide to Style and Usage .
Writing Arguments and Interpretive Essays is where you delve into how you approach particular types of writing. Specifically, you are led through the process of creating your argument (thesis) for essays, debates or research papers. Once you have your main focus, you need structure to pull it all together. This book tackles it all from the outline, forming your paragraphs, and then putting it all together into a format which makes sense and best presents your argument.
The Guide to Style and Usage is exactly what you might expect. This is the 'technical' aspect of writing; the mechanics. You have the basic grammar (e.g. punctuation, what constitutes a sentence, etc.) of English writing in this section. And, you also have formatting information including how to do citations in your work and the inclusion of illustrations or graphics.
A Few of My Thoughts on Excellence in Literature Handbook for Writers
I truly believe that a good reference book is worth its weight in gold.
With a trend towards people become more casual in all aspects of life, including their writing, I love seeing such a comprehensive resource that can assist students in their writing. While their contemporaries might be content with incomplete sentences or poor punctuation, I want my boys to produce quality writing that will get them noticed by professors and eventually supervisors.
One of the sections that I appreciate as a homeschool parent is Sample Outlines For Essays And Research Papers. While I may have many of the skills for good writing, I struggle with imparting that knowledge to my boys. Being able to show them examples is a huge help for everyone.
Excellence in Literature Handbook for Writers can be purchased in ebook format (like we received for review) or in a bundle of both ebook and print book. This is 420 pages of awesomeness when it comes to helping your student (or yourself) become a better writer. I'm now constanly referencing the information to polish my own writing and will be using it from now on as a resource with my older boys.
Have you used reference books like this one to help teach language arts?
Would this resource appeal to your family?

Don't just take my word for how we found this to be. Visit the Everyday Education post on the Homeschool Review Crew website to see what other homeschooling parents thought about this title and other grade level ones.