I have been, or can be if you click on a link and make a purchase, compensated via a cash payment, gift, or something else of value for writing this post. Regardless, I only recommend products or services I use personally and believe will be good for my readers.
Every so often since I've been on the TOS Homeschool Crew, I'll see a product in the line up of vendors on deck that I am truly itching to try. There are plenty that look interesting or are from companies I was not familiar with before seeing them on the vendor list. What I'm talking about is something that you have been seriously sitting on the fence about buying because it looks like a great product. However, you didn't take the plunge as you just were not sure if it was the right fit at the time.
The Excellence in Literature series is THAT product. I've been eyeing up Janice Campbell's Everyday Education website and seriously contemplating whether this would be THE program to use for P's English credits in high school.
Suffice it to say, I was quite excited to have the opportunity to review the very same product I was contemplating: English I: Introduction to Literature.
This level could be used for a typical 9th-grade student or even a more motivated 8th-grade student. Compared to the massive tomes you'll find in the typical high school classroom, this volume seems almost dainty in comparison. I printed it out for P' (all 132 pages!) and placed it in a binder.
Now, the reason it appears so 'dainty' is that you still need all the source texts. For the first unit, the student is directed to several short stories online. I opted to print them out for P as I know it is easier for me to read and take note on paper. During the suggested 4 week period, the student will not only read those selections but also write up an approach paper for one and literature summaries for the others.
Amazingly, P did not have much complaining over this as he felt comfortable using the models she provided in the "Formats and Models" chapter. However, he still hasn't finished one of them as Edgar Allan Poe's "The Purloined Letter" was not to his personal taste. We've been discussing that sometimes you read selections that are not to taste, but rather provide a learning experience.
Within each of the units, there is mention of an honors work load. For the first unit, the students are researching a bit about the short story authors.
For the units following the first one, that includes an additional reading selection from the same author.
I won't give a complete blow by blow about this program. However, I will say that the format is similar to many college-level courses and should serve as an excellent training ground for a homeschooled student to become familiar with both the focus and self-discipline required to excel in such a course.
Personally, I love the format and see a real benefit to the series. However, I'm not completely convinced that I could use it as written with P and see results. After the first 4 weeks, P had finished most of the work assigned in Unit 1. (He still owes me the summary for Poe's short story and the compare and contrast paper.) As we go forward, I plan to do a bit more mapping out of "do this on Monday,etc." for him to get a better handle on managing his time.
Beyond being geared more towards a motivated student, the only other issue I experienced with this is how the parent should be grading the work. It is NOT a problem unique to this program, though. I find the same issue with pretty much every language arts reading program for middle school as well. While there are generic rubrics on the internet, I would have loved the guidance in the materials based on Janice's experience in class settings. (She mentions a link on her site, but it is not currently working.)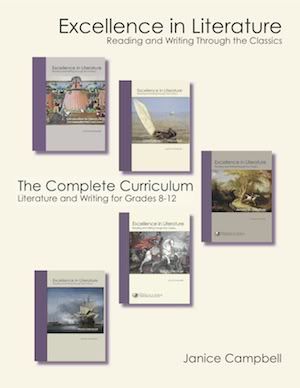 Janice has you covered for the entire high school program using the Excellence in Literature series. If your child is motivated enough for the type of learning this program offers, then you can start in 8th grade and get through the entire series of 5 books. Otherwise, you'd either have to leave on out (e.g. British Literature) or double up the workload at some point.
Each volume of the Excellence in Literature series is available in print format or as a downloadable ebook. You can also purchase the entire 5 volume series. For someone who loves to mix and match, getting the entire series at once could really open up how your child approaches their studies.
Disclaimer ~ Our family was provided with an electronic copy of English I: Introduction to Literature for the purposed of completing this review. No compensation was provided and the opinions expressed are our own. You can read what the other TOS Homeschool Crewmates had to say about this title on the TOS Homeschool Crew blog.