I have been, or can be if you click on a link and make a purchase, compensated via a cash payment, gift, or something else of value for writing this post. Regardless, I only recommend products or services I use personally and believe will be good for my readers.
This post, Easy to Implement Drawing Lessons for Kids, was made possible with access to the Entire Level I lessons from ArtAchieve for review as part of the Homeschool Review Crew.

Do you have kids that want to do art, but you don't always know where to start?
I'll admit that we go in and out of different art programs. I need something that is easy to implement and enjoyable for the kids.
As much fun as it can be to do large scale art projects with a variety of media, I enjoy a great program where supplies are minimal.
Drawing Lessons for Kids
There are many options out there for art education. You can find options in book format and video format. ArtAchieve merges the use of multimedia and printables to deliver their program.
About ArtAchieve

ArtAchieve is a little different from some of the programs we've tried in the past. Their mission to have learning to draw become an essential skill for students indicates a shift in thinking. Using attention to detail in a drawing can help students to have clear observations in other subjects.
Some are there to provide cute projects for kids to make that may or may not tie in with their other studies. With ArtAcheive, there is an inclusion of cross-curricular connections between art and other areas of study.
Creation of a good work environment is a goal for this program.The use of music during lessons is another way they create a unique approach. The music should be calming so that silence is encouraged. There is a music collection, Musical Lines, which was developed for this program and available for purchase through the site.
Once purchased, you receive access to the lessons online for a one-year period. There are pdf files to download and print for each lesson. Additionally, they have the lesson set up as a slide show (PowerPoint format) or in a video.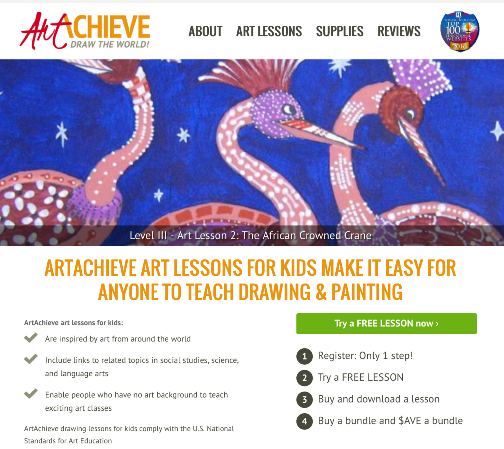 Knowing that not everyone has experience teaching art well, the provide a page of tips for teachers.
ArtAchieve Level 1
For this review, we received access to all of the Level 1 lessons. There are 12 total lessons, perfect for beginners, in this level.
Anyone can receive free access to the first 2 lessons from this level to test out. They highly suggest trying those lessons to help determine into which level a student should be placed.
The lessons are:
Simple Lines
Czech Cat
Hungarian Insects
The Haitian Gecko
The Dragonfly From Ecuador
The Chinese Dragon
The Owl From Bali
The Kitenge Tree Wall Hanging from Tanzania
The Plate From Nepal
Four Suns with Four Faces
The Sheep From Wales
The Umbrella From Thailand
Supplies needed are basic. For the first few lessons, we have used a regular pencil, a Sharpie marker, and colored pencils. My son elected to use pencil instead of a permanent marker as he wanted the ability to erase mistakes.
You can find all supplies listed on the website, including color media recommendations by level.
How We Used ArtAchieve Level 1
Overall, my youngest son and I have loved including this into our homeschool routine.
We both enjoy being creative and ArtAchieve's drawing lessons for kids provides the framework to make it happen.
As a less experienced instructor of art, I appreciate how easy it is to implement.
What stood out to me is the focus on there not being something 'wrong.' Art tends to be a personal expression of the artist and how the final product is perceived is truly in the eye of the beholder. Hence, there are no true mistakes but rather opportunities for growth.
I also appreciated that they suggest the instructor have scratch paper available to demonstrate the techniques. I chose to do the lesson alongside my son. I wanted him to see that mom is not 'perfect' and yet can follow the instructions and get something close to the examples.
J is still struggling with his final products having the scale of the pieces be a little off. I've continued to be encouraging and let him know that like other subjects you will see improvement over time.
While we have not fully implemented them, I took the time to look at the Cross-Curricular Connections. Click through to see an example of the details for The Czech Cat lesson. At the bottom of each lesson page, you can view student examples as well. Although I would refrain from showing these to your student before the lesson, I believe they illustrate the range of abilities.
Do you enjoy adding art to your homeschool?
What types of art instruction does your family most enjoy?

Don't just take my word for how we found this to be. Visit ArtAchieve Reviews on the Homeschool Review Crew website to see what other homeschooling parents thought about this app.