I have been, or can be if you click on a link and make a purchase, compensated via a cash payment, gift, or something else of value for writing this post. Regardless, I only recommend products or services I use personally and believe will be good for my readers.
There are days when I feel like a homeschooling failure as my boys are not taking formal music lessons. I just can't fathom paying up to $20 to $25 per lesson with 4 boys, yet I struggle with teaching them piano and voice myself as mom doesn't get the same attention and respect as a non-relative would. In my quest to learn piano at home, we've tried different things in the past with mixed results. A new path to learning how to play piano has come to our home as we've been reviewing HomeSchoolPiano – Complete Set of Books.
Learn Piano at Home with HomeSchoolPiano ~ How it Works
Homeschool Piano is a subscription based product with online videos which bring the instructor, Willie, into your home. Willie is accomplished as both a performer and teacher with thousands of students around the globe incorporating the idea of teaching jazz and improvisation which he first advocated in his JazzKids program.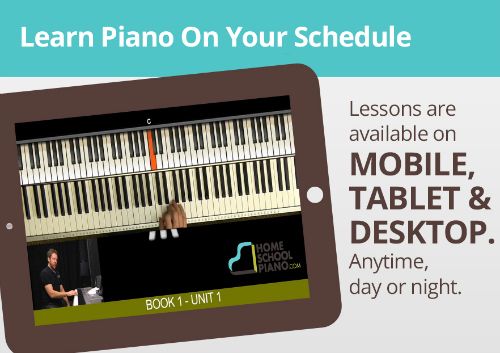 There are 4 'levels' of materials available in Homeschool Piano:
CorePiano presents a very basic introduction to the piano in 33 lessons. Willie walks you through the keys, basic musical notation and important things like how to sit at the piano.
Book 1 is for the beginning student with 6 units of lessons. You'll learn to read music, improvise on what is there and ultimately create your own music.
Book 2 builds upon the material learned in Book 1 with its own 6 units of material. In this book, the student continues to work on the areas of rhythm, technique, music reading, songs and improvisation. For someone with a little bit of piano instruction, this could be the correct level to begin their journey with Homeschool Piano.
Book 3 is supposed to unlock the pianist within you through the course of its 6 units. The techniques taught in this level are supposed to help you develop rich piano arrangements for a variety of musical styles.
Each of the three main books is set up basically the same. Every unit takes the approach of presenting lessons on technique, rhythm, ear training, reading music, the featured song, improvisation and a bonus. Also, the lessons rhythm, ear training, and reading music have a quiz to check your student's understanding of the material. Click on the image below to read more about their method and why they've chosen this approach.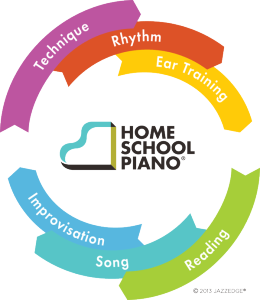 There is a main pdf file for each of the books which you can download to then print. Not every lesson will have a page in the pdf file, but it is handy to have ready with you as the lesson is viewed. The lesson videos vary in length, but all clock in at no more than 10 minutes with the expectation that the student will be practicing between lessons. In total, there are 18 DVDs worth of content which works out to over 20 hours of video instruction.
The complete program of Homeschool Piano costs $299 which provides lifetime access to all of the materials, including downloads, jam tracks, sheet music, for up to 5 students. There is also the option to make payment plans ($99.97 per month for three months.) This program can be used for all ages, although a younger student might need a parent sitting alongside them to complete it. On average, it will take about 18 months to work through the program although some students might spend 2 or 3 years. Besides a way to stream the content and download the files (PC or Mac should work), you also need a keyboard with at least 49 keys or a regular piano.
Our Learn Piano at Home Experience with HomeSchoolPiano
For this particular review, I had several of the boys interested as well as myself curious about how this program would be different from the approaches we've tried in the past. I have a few 'perfectionists' in the house who will easily drop the ball if they do not feel they are mastering something quickly enough. Given this tendency, I have really hesitated on plopping down a big chunk of change on formal lessons.
We are fortunate to have an iPad in the house which allowed the boys to have the video playing at the digital piano we own. The other alternative for us would have been to hook my laptop to the TV for viewing the videos. The iPad can sit on the piano like a book with the printed pages alongside for reference.
The videos of Willie are nicely done with 2 keyboards in view. The bottom keyboard is the one which Willie actually uses and the top one has the keys being pushed light up and the name of the key printed at the top for reinforcement. Once you finish CorePiano, you can download the video (mp4) or audio (mp3) files to assist you on practicing. I am planning to do this for the boys so they can watch the videos for reinforcement without needing the internet.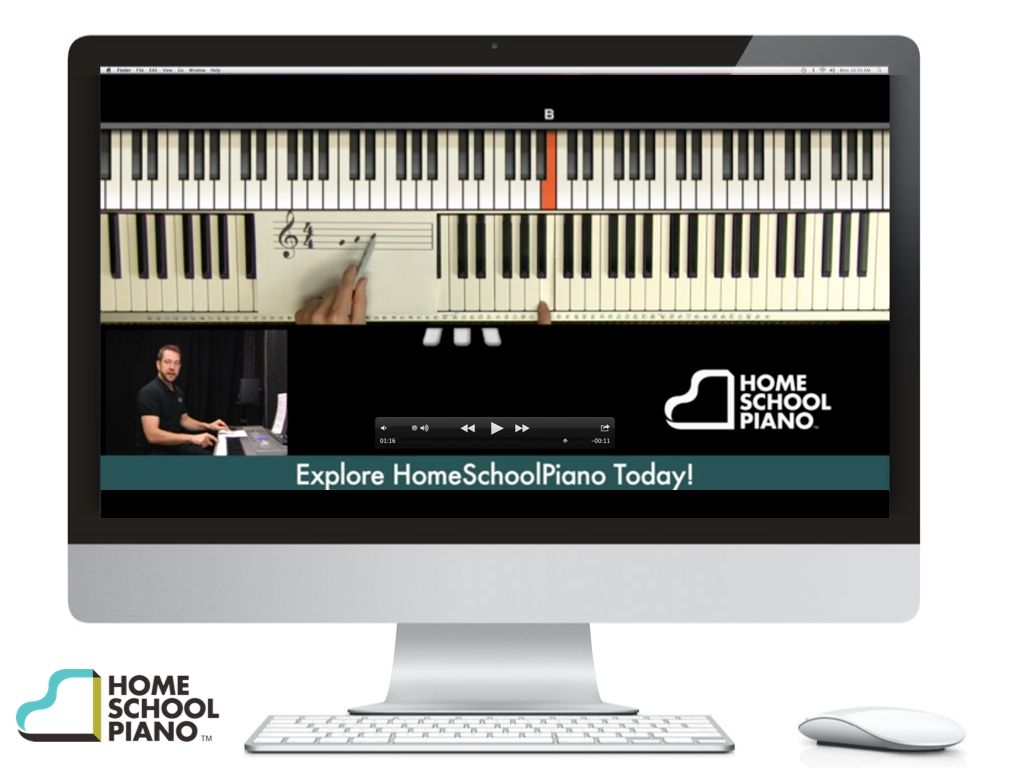 "
Parents can view each child's account to track their progress, both to see what lessons they have done and to track grades on the quizzes. To date, they have only been doing the CorePiano level, so I haven't seen how the quiz score component appears. I found that the boys were sometimes backing out of a lesson without letting the video end on its own. That means the lessons are not recorded as complete. So, when they log into the website it will show go to the lesson they were last in to continue.
As someone who learned the more 'traditional' way with a piano teacher down the street who's house I visited one hour each week for a lesson and then hours of practice at home during the week, I am really impressed with this program's approach. You get the benefit of Willie's years of experience as both a musician AND a teacher through his online video lessons. Plus, it is all from the comfort of your home!
The cost for the lifetime subscription is quite affordable compared to the cost of private lessons, especially if you have multiple children. I calculated out that HomeSchoolPiano's cost works out to 12 private lessons at the $25 per lesson rate. Or, if my 4 boys are all using it, that would be just 3 lessons each with a private piano instructor. With HomeSchoolPiano we get lifetime access to work through at our own rate and no additional expense beyond purchasing sheet music from vendors or sales to expand your repertoire.
And, I really like the inclusion of improvisation from an early stage. For that fact alone, I am beginning to slowly work my way through the lessons to improve my own piano playing skills. My years of instruction from the age of 10 through college had a focus upon reading the music and recreating what someone else decided was 'the' way to play the piece. Once I entered graduate school and became active in music ministry, I found myself trying to learn improvisation
I would love to say that the boys are learning at a really fast pace, but have to admit that summer fun family trips have broken up things so that the initial enthusiasm is gone. However, I am planning to work this into our school year for the boys as well as myself.
Do I feel that HomeSchoolPiano can completely replace the need for more traditional lessons? Maybe not for every situation. But, for a family with kids who are interested in learning the piano and a parent willing to hold them accountable, HomeSchoolPiano should definitely get them to a more advanced place where a serious student would then benefit from those private lessons. But until then, why spend more money?
Do your children take music lessons?
Have you ever tried an online approach to learning music?
Don't just take my word for how we found this subscription based service to be. Visit the Homeschool Piano post on the Schoolhouse Review Crew website to see what other homeschooling parents thought about this and other self-paced courses.