I have been, or can be if you click on a link and make a purchase, compensated via a cash payment, gift, or something else of value for writing this post. Regardless, I only recommend products or services I use personally and believe will be good for my readers.
For as long as I can remember, it has been said that every thing you do once that first day of high school starts impacts your future. Your grades and activities can have a significant impact upon which college you attend. In turn, the college you attend affects the career you'll have. And, so it goes.
Right along side the importance of grades and activities is the SAT. While some colleges might accept (or prefer) the ACT, there's just no getting around the need for taking and doing well on a standardized test for college admission.
Did you know that these tests are NOT written to assess your knowledge, but rather your reasoning ability? What about that you could spend mere seconds per problem if you wanted to answer all the questions. And, that there are ways to approach the problems to help you get the correct answer or at least maximize your total score?
Back in the olden days when I was a young lass, the options for preparing were slim. You could spend a fortune to take a class (which just wasn't happening for me to pay hundred of dollars for a class) or pick up one of the few books of practice tests available. Taking a practice test is helpful, but it doesn't help you figure out strategies to approaching the test. So, like many of my classmates I just reported to the room and did my best.
College Prep Genius sets out to do just that…teach you HOW to take the test and get a better score than you'd get without the preparation.
This program is written for a high school student to dedicate several hours of time learning the keys to success before spending more hours of their time taking practice tests. The ultimate goal is a high school on the SAT (and even the PSAT) that leads to not only admission to the school of choice but scholarships as well.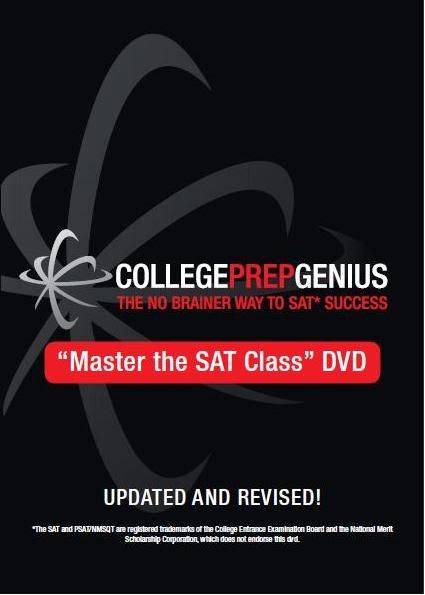 After an introduction to what the SAT and PSAT are and what they are not, the program then walks the student through the critical reading, math and writing sections of the test with plenty of hints along the way to allow for more control over the process. I have to confess that the DVD segment introducing the program seemed a bit long compared to just reading the same material. But, I also realize that some people need to HEAR why something is important rather than just read it.
Even though I scored relatively well on the SAT and ACT during high school, I have to wonder if I might have scored even better with preparation as given in this program. If nothing else, demystifying the test helps to remove some of the anxiety associated with standardized tests.
The set we were sent to evaluate included a DVD set (12 lessons total), textbook and workbook. It retails for $99, with the ability to order additional workbooks ($19.95) for the other kids in your house. You can order it directly from College Prep Genius.
My final thought is how grateful I am that P has started preparation NOW (in 9th grade) instead of waiting until the PSAT is upon him in 11th grade. Also, the appendices (prefixes and math terms) will be beneficial in his other studies, too. The bottom-line for me is that a $100 investment for our family could mean thousands of dollars in scholarships for the boys to attend college.
Disclaimer ~ Our family was provided with a copy of CollegePrepGenius: The No Brainer Way to SAT Success for the purpose of completing this review. No monetary compensation was provided and the opinions expressed are our own. You can read what the other TOS Homeschool Crewmates had to say about this title as well as the company's VocabCafe on the TOS Homeschool Crew blog.