I have been, or can be if you click on a link and make a purchase, compensated via a cash payment, gift, or something else of value for writing this post. Regardless, I only recommend products or services I use personally and believe will be good for my readers.
We've gone in cycles with how the boys are learning more about God and our faith.  One aspect of the Christian faith that I really want to instill in our boys the call to serve others.  Learning more about who our neighbor is can be an excellent way to help us be able to focus on helping them as needed.

Apologia's latest installment of there is What We Believe series , made in concert with Summit Ministries, titled Who Is My Neighbor? And Why Does He Need Me? sets out to help build a deeper understanding and appreciation of our role in community.
Who is My Neighbor?

The third book in the award-winning What We Believe series helps children understand what it means to be salt and light to the world (Matthew 5:13-14). This study will encourage kids to develop a Christlike servant attitude based on these biblical truths: God created me to be a blessing to the world; God chooses to work through me; I can make a difference at home, in my community, and at church; the church is God's family; the church is one body with many gifts; and I am an important member of Jesus' body.
We were sent the complete set of materials that included not only the hardback text, but the spiral bound notebooking journal with room for all the activities mentioned in the text as well as a few extras (e.g. puzzles) and the coloring book that can provide either a way to occupy hands while a parent reads the text aloud or reinforce aspects of the text at a later date.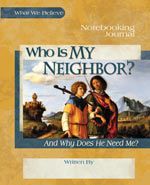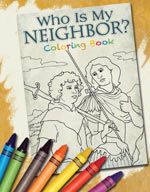 Apologia has made it easy to teach with your child as they break down the lessons to manageable pieces so that after 6 days you've covered a lesson.  A description of the approach is in the main text.  However, I really liked the breakdown at the front of the notebooking journal.
The age range for this title is 6 to 14.  As P has been finishing up some 'loose ends' from this past school year, I didn't include him in our studies of the material.  Instead, I had R and D join me to go through the materials as a group.  For the most part, I've read the text material aloud and then the discussion questions have been done orally. 
Anytime I see the phrase 'biblical worldview' I am uncertain of what I'll find. That's part of the reason for my reading the text aloud, so I can edit if I see something coming.  So far we have not encountered anything that goes contrary to our Catholic faith.  What we've done as we make our way through the book is to pull our own Bible off the shelf to read any Scripture that is quoted or referenced in the text.
As for the materials, I am blown away with the quality of the printed materials.  The book is hardback and wonderfully laid out. 
Beyond the 'gloss', the content is fantastic.  The authors engage the reader with more of a conversational format with the inclusion of including an actual story to set the stage for that lesson and closing with Encounters with Jesus where Scripture is presented as a story for the reader.  Occasionally, you'll also find a hands-on activity to bring home a lesson.  (The boys would never object to cooking as part of a Bible study, nor would they expect it.  Yet, that's just what you'll find during Lesson 2 when you can make Easy BBQ Bacon Burgers as a family!)
The book contains a total of 8 lessons that would take 24 weeks to complete using the suggested schedule in the text.  Here's a breakdown of the lesson titles:
Does Anyone Really Need Me?

How Can I Make a Difference?

Why Did God Make Families?

What Can I Do For My Country?

Why Can't We All Just Get Along?

Why Does The Church Need Me?
Who Is My Neighbor can be ordered through Apologia.  The textbook is $39, the notebooking journal is $24, and the coloring book is $8.
Disclaimer ~ We were sent the materials referenced in the above post to facilitate a review as a member of the Schoolhouse Review Crew.  No monetary compensation occurred and all opinions are my own.  We are affiliates with Apologia, so links to their website may be affiliate links.  Purchases through them may result in a small commission for us. Thank you for your support!
You can see what other Crewmates had to say about this product and others by visiting the Schoolhouse Review Crew website.