I have been, or can be if you click on a link and make a purchase, compensated via a cash payment, gift, or something else of value for writing this post. Regardless, I only recommend products or services I use personally and believe will be good for my readers.
There are times when we get in a rut for learning at our house. It happens more often than I'd like to admit.
Science is one area where we sometimes speed through lessons with such focus on reading a book that we don't get much of anything else done.

AIMS Educational Foundation offers a variety of materials for those of us educating children. We were selected to review their title, Earth Science, with a focus on grades 6 through 9. I was elated as so much of our materials in the house focus on physical science and earth science ends up a bit neglected.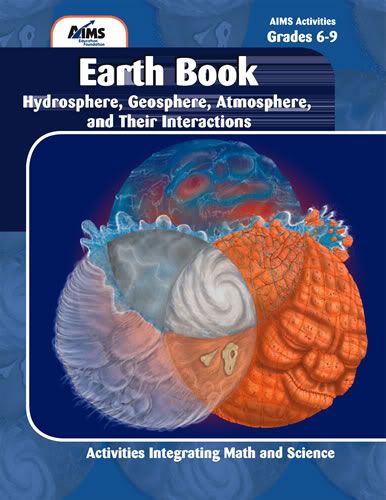 The cover promises to have activities which integrate math and science. And, it delivers on that promise.
Depending upon how you look at it, you've also crossed a bit into language arts with occasional writing involved. The print book we received came with a CD that allows for printing of pages reproduced for the students completing the activity.
Earth Science has sections:
The Hydrosphere dealing with Earth's water
The Geosphere which includes layers of the Earth, rocks and minerals, etc.
The Atmosphere includes the air around us and weather.
Finally, there is a section dealing with the interactions of the three previous areas.
Overall, I am really impressed with this book and may be ordering a few others in the future. The activities are not hard to pull together. However, there are times when I might see something on the equipment list I do not own and need to improvise. And, the author has thought of that to some regard. Some of the activities for learning about water include a reproducible sheet of graduated lines to put onto a small cup when you don't have graduated cylinders in your possession.
BUT, there are a few of the activities that need more than one or two students to really complete. With three school aged boys in the house, I can just call them all together and make most things work. Families with just one child might need to consider working with another homeschool family or two to maximize learning opportunities.
If you are seeking materials that will engage your child or student in math and science, give AIMS Educational Foundation a look. You can find many of the titles available in print or ebook format. (I LOVE those instant downloads!) The Earth Book we received retails for $49.95 in either print or ebook format. Along with printed materials, you'll find a lot of kits and items needed to implement the different experiments and learning experiences found in the titles.
Disclaimer ~ Our family was provided with a copy of Earth Book for the purpose of completing this review as a member of the TOS Homeschool Crew. No other compensation was provided and opinions expressed are our own. You can see what other TOS Crewmates have to say about AIMS Educational Foundation on the TOS Homeschool Crew Blog.