I have been, or can be if you click on a link and make a purchase, compensated via a cash payment, gift, or something else of value for writing this post. Regardless, I only recommend products or services I use personally and believe will be good for my readers.
Family game night is something that families used to enjoy on a weekly basis. Our hectic lifestyles have caused many of us to push family game night to the back burner. It's a real shame because there are so many great benefits. Whether it's the time you spend together or the fact that games are educational, there are several reasons to have a family game night.
Thanks to Catholic Central for providing an assortment of games to facilitate this post.
5 Reasons For Family Game Night
Spend Time Together
Does your family spend more time in different areas of the home than they do together? Start a family game night. It can be a great way to bring everyone together one night a week. Even if your kids are teenagers, everyone has at least one night they can devote to their family.
Save Money
If your family goes to the movies on a regular basis, you know how expensive it can be. Instead of heading to the movies every weekend, only go when there's a really good movie showing.
Instead, spend the time playing board games or video games together. Make some snacks and you'll spend a tiny fraction of what you would spend at the movies.
Raise Better Behaved Children

Children that spend more time doing activities with their families are more apt to be better behaved as teenagers. You want to spend as much time with your children so that they feel loved and feel that they can come to you with any problems. Why not spend time together doing something fun.
Build Memories
As simple as it sounds, a family game night can build great memories. You and your kids will look back and laugh over all the crazy things that happened. It might be when the cat decided to run across the game board or the night dad was caught cheating at Monopoly. Either way, it's a great way to build lasting memories.
Games are Educational
Last, but not least, many board games are educational. Not only do a number of games require reading skills, but many also require math.
If you're playing Scrabble, your kids can improve their vocabulary and spelling skills. Each game offers different educational benefits.
Christmas Fun in 5
Download these easy ideas to create memories this Christmas season.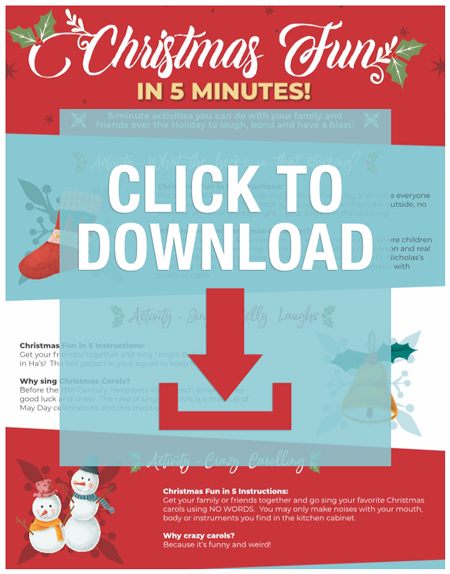 About Our Sponsor, Catholic Central
You have questions about the Catholic faith and what it means to be Catholic. We have answers.
Using a team of witty writers, appealing hosts, and even some learned theologians, we've created shareable, snackable videos that teach the timeless truths and deep history of the Church with humor and heart. Produced in the Family Theater Productions studios on Sunset Boulevard in Hollywood, CATHOLIC CENTRAL entertains, enlightens and inspires.
Win a Christmas Classic Game Kit
One lucky reader of Day by Day in Our World will win their own game kit compliments of Catholic Central.
The Christmas Classic Game Kit includes An assortment of four different classic games which will be chosen by random. The list includes Monopoly, Sorry, Connect 4, UNO, Pictionary, Twister, Operation, Apples to Apples, Life, Simon, Battleship, and more!
Christmas Classic Game Kit

Family game night may sound like a thing of the past, but there are so many reasons to bring it back. Whether you want to build great memories or do something educational with your family, game night is something you should really consider. Not only is it cheaper than going to the movies, but it can also help ensure your children grow into well-behaved teenagers.
Do you have Family Game Night in your home?
What are some of your favorite games to play as a family?