I have been, or can be if you click on a link and make a purchase, compensated via a cash payment, gift, or something else of value for writing this post. Regardless, I only recommend products or services I use personally and believe will be good for my readers.
Happy First Full Week of Lent 2017!
Yes, HAPPY as I truly believe that we can find happiness through God, to whom we are striving to grow closer in relationship during this penitential season.
40 Days of Seeking Him Lent 2017 Week 1
Here we are a few days into Lent. For some, there might have already been temptations to not follow through on plans of how you will grow closer to Christ during this time. There has been plenty to stand in my own path!
I am looking forward to seeing what has been on other bloggers' minds since Ash Wednesday. Current events and personal spiritual practices have placed a LOT on my mind. Some of it will be shared during this next week in reflective posts.
Looking Back at the Start of My Lent 2017 Journey
First, I want to say that I am sharing more to encourage others to keep on struggling to do what you'd like to see done. I know that I've had discussions with my older boys who quote the "fast in private" Scripture.
Consider it my personal accountability. If I hide everything in private, it is too easy for me to dismiss it. If someone doesn't know my goals or plans, then I can adjust as desired. The end result of that approach is that little gets accomplished.
Spending Fast
I've bought some perishable things (e.g. yogurt on clearance) since Wednesday. And, I ordered the book for the Endow study at church that I had forgotten to do earlier. The only other purchase that will happen today is ordering Doctor Strange on BluRay. It was already promised to the family. I just did not have time to do it on Tuesday with my physics class in the afternoon taking priority. Plus, I refuse to drive into Anchorage for ONE thing as it is a waste of my gas.
Aside from those purchases, I am doing pretty well with the spending fast. I do need the boys to finish inventorying the 'stores' in the garage to plan our meals, though.
Daily Mass and Increased Prayer
I feel like this one has gone very well. It isn't easy, though, to get up and head out of the house for Mass in the morning. I'd much rather stay snuggled under my covers in warmth than go into the cold.
Thursday mornings is the MOMS group study just a little while after morning Mass. So, that one was attended by just myself. My youngest son went with me on Friday. Yesterday found me at church twice. Three hours in the morning with my youngest who made his First Reconciliation. I also received the sacrament with one of the Dominican priests from the Cathedral in Anchorage. Then, the boys and I all went to Mass in the evening.
Prayer is increased for me in two ways. First, I know that going to Mass and things like the Sacrament of Reconciliation means I am spending time in prayer. However, I am also trying to spend the first 10 minutes of my day in prayer. I'll take my thyroid meds, pay a quick visit to the bathroom for morning routines, and then it is into some form of prayer. Look for more about this later!
Caring for My Temple
If there is a place where I stumble, this is definitely it. As much as I hate having a fixed schedule, I suspect this is the time to embrace it. It is too easy to not exercise between meeting other demands and my own body's reaction to any exercise. And, nutrition…..well, there has been more pasta this weekend than I needed in my life!
I know that eating well is a matter of having only optimal choices in the house. Soon the true junk should be gone as somehow the boys tend to want all that convenience stuff. I plan to create a meal plan to have my ideas ready to go instead of eating those quick options. And, having some healthy 'quick' food will help, too.
While I would love to see weight loss, what I really want is to see myself honoring the body God has provided. So much of what I have read indicates that some of the immune system issues can be tied to abuse we inflict on our bodies (through not just nutrition, but our environment.)
Last Week's 40 Days of Seeking Him Link Up
I am so grateful to all the bloggers who took the time to share in the Ash Wednesday linkup. I am always inspired reading the thoughts of others.
If you somehow missed seeing linked posts, hop on over to see them now. Remember that it is never too late to embrace Lent!
Most Visited Post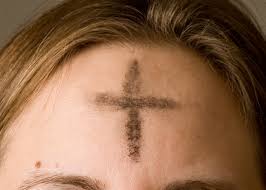 The most visited post was There is Power in Those Ashes by Tony Agnesi.
If you didn't see it, take some time. He shares about how it isn't just Catholics who seek ashes on Ash Wednesday.
And, what one non-Catholic expressed to him (and he shared) is more deeply considered than some who profess to practice Catholicism would ever state.
As an aside, my youngest is not a fan of ashes and couldn't wait to wash his off.
My Personal Picks to Highlight
As is the custom for this link up, I am highlighting a few of the linked posts that really spoke to me.
First, Jennifer at Heaven Not Harvard shared a wonderful post titled The Bizarre thing I'm giving up for lent that will make me a better mom.
She was willing to be vulnerable to talk about something she has been doing that has become destructive in her life.
It isn't what some might consider huge, but I believe that recognizing something we can do that brings peace to our lives and taking steps to help channel that peace is huge.
I won't share WHAT it is as I really hope many of you reading this will hop over to visit. However, I will say that it is something I know many of us mothers struggle with at least on occasion.
I also loved how she shares how she only recently began embracing the season of Lent as many Protestant churches do not embrace this practice.
As a Catholic mother, I am grateful for Mary's post, Printable Stations Of The Cross Booklet, at St Anne's Helper.
We strive to attend our parish's Soup & Stations on Friday nights, but will miss several of them this year. While in the Denver area, I plan to search for a parish that offers Stations as a community.
But, printing our own with her free resource means we can have our own with us! She also has full sheet coloring pages and a link to an audio recording for the Stations.
The Stations of the Cross is something that I rarely did growing up. The practice is such a wonderful way to reflect upon Christ's final walk to the Cross. I wish more people embraced it in their lives. Honestly, I think any Christian could find a growth in their spiritual life with this.
Did you have a favorite post from last week?
40 Days of Seeking Him Sampler
If you have been reading the blog for a while, then you might recall that this link up started in 2011 as a daily one. I didn't always participate in the link up, but have made an effort to do it as often as possible. We switched to a weekly link up format which means at least one anchor post per week here.
I decided to pull together a 'sampler' as a free ebook to subscribers. If you are already a subscriber, just open up a recent weekly newsletter and click over to the appropriate "subscriber only" page.
If you are not currently a subscriber, you can get your copy when you sign up.
40 Days of Seeking Him Lent 2017 Week 1 Link Up
This year, I am joining Trish @ A House Upon the Rock in co-hosting the 40 Days of Seeking Him meme.
The linky will be up each week so you can add in posts daily, weekly, or whenever you are able.
The posts can be about anything related to Lent and preparing for Easter. This includes crafts, food, devotions, music or reflections.
I hope that my readers will join us on the journey through Lent as we seek to grow closer to Christ. Christian bloggers are welcome to join us in the weekly link up with posts that they are writing to showcase activities or reflections taken during this Lenten journey.
We are expanding the platform for this meme to include a 40 Days of Seeking Him Pinterest board for submitted posts and a Facebook group. I hope that you'll check out the Pinterest board and join us on Facebook, too, as we seek to grow closer to Christ.