I have been, or can be if you click on a link and make a purchase, compensated via a cash payment, gift, or something else of value for writing this post. Regardless, I only recommend products or services I use personally and believe will be good for my readers.
Have you noticed when you walk into a clothing store that there are common colors that seem really popular? Did you know that several months before those items hit the stores designers are looking to Pantone to see the forecasted top colors for each season. (If you haven't seen their name before now, they are considered the authority on color. Here are the 10 Top Colors for Spring 2016 along with some suggested ways to add them to your wardrobe.
This year, Pantone considers the top colors to transcend cultural and gender norms. In other words, you can find both the gals and guys rocking these colors.
FYI ~2 of them, Rose Quartz and Serenity, are the Pantone Color of the Year. Personally, I totally love them both!
A Closer Look at the 10 Top Colors Spring 2016
Pantone does a lovely job describing these colors and what feelings they might invoke. I sense an overall pull towards things that balance our moods with the occasional boost of 'fire'.
The soothing, calming nature of colors in the Spring collections are led by Rose Quartz, a persuasive yet gentle tone that conveys compassion and a sense of composure. Like a serene sunset, flushed cheek or budding flower, Rose Quartz reminds us to reflect on our surroundings during the busy but lighthearted spring and summer months.

The fashion and design communities, and consequently, consumers, have been in love with orange for several seasons. Coming to the fore this Spring is, Peach Echo, a shade that emanates friendlier qualities, evoking warmth and accessibility. It is an all-encompassing, tempered companion in the playful orange family.

Weightless and airy, like the expanse of the blue sky above us, Serenity comforts with a calming effect, bringing a feeling of respite even in turbulent times. A transcendent blue, Serenity provides us with a naturally connected sense of space.

A maritime-inspired blue, Snorkel Blue plays in the navy family, but with a happier, more energetic context. The name alone implies a relaxing vacation and encourages escape. It is striking yet still, with lots of activity bursting from its undertones.

While the majority of the Spring/Summer palette trends toward calmness, a few diversions from the theme emerge that offer a contrast. With Buttercup designers reveal a shining beacon transporting its wearer to a happier, sunnier place.

A shade of aqua that leans toward the green family, Limpet Shell is clear, clean and defined. Suggestive of clarity and freshness, its crisp and modern influences evoke a deliberate, mindful tranquility.

As in most any season, the need for neutrals arises. Essentially a basic, the subtlety of the lilac undertone in, Lilac Gray, adds a distinctive edge to this classic gray shade.

The high energy Fiesta is a harbinger of excitement, encouraging free-spirited exploration to unknown but welcoming locales. A strong and fiery, yellow-based red, the vivid Fiesta provides a stark contrast to the calming, softer nature of this season's palette.

A transitional color that will take us through the seasons, Iced Coffee manifests as another strong neutral for the season. With its natural earthy quality, the softness and subtlety of Iced Coffee creates a stable foundation when combined with the rest of this season's palette.

Green Flash calls on its wearer to explore, push the envelope and escape the mundane, radiating an openness that combines with the rest of the palette in unexpected but serendipitous ways. The popularity of this brilliant hue is representative of nature's persistent influence even in urban environments, a trend continuing to inspire designers.
Suggestions for Incorporating 10 Top Colors Spring 2016 in Your Wardrobe
The suggestions here contain affiliate links. Many thanks to anyone who decides to make a purchase through one of them!The links
The easiest way to add these colors to your wardrobe is through accessories.
A new purse, some jewelry, or even a scarf can weave these colors into your fashion options without breaking the bank.

The Twist of Fate Necklace offers a strand of yellow to really pop which is reminiscent of the Buttercup color for spring. Another strand of turquoise color helps to provide variety for the necklace and open up the outfits it can be worn with as an accessory.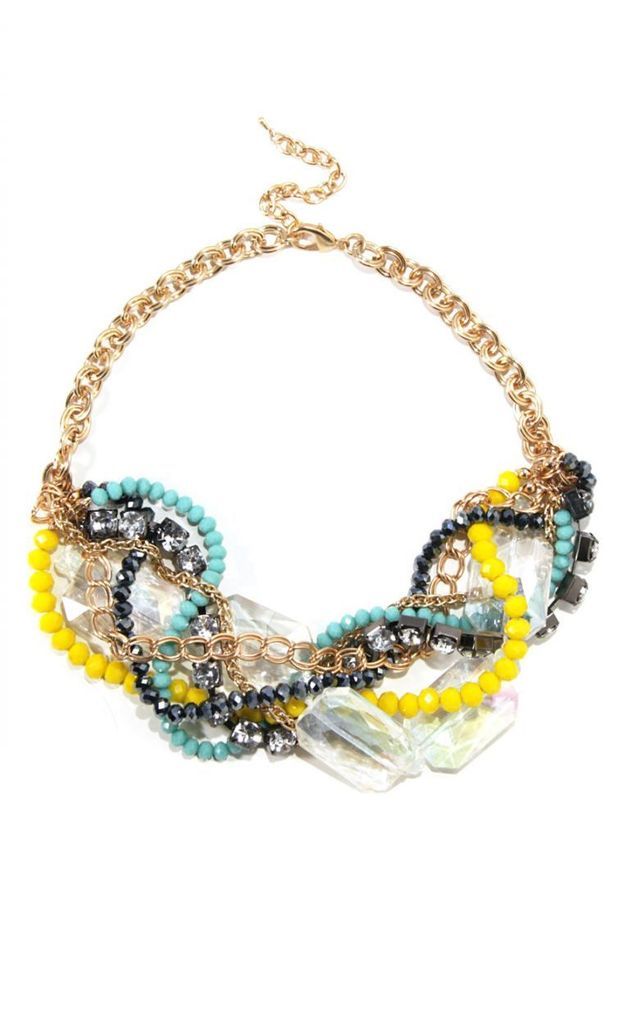 Another simple way to get the colors in your life is through makeup.
I am totally crushing on these polishes from Julep: Marley (Boho Glam): Aquatic blues matte glitter top coat and Annabelle (Classic with a Twist): Floral bouquet matte glitter top coat. They are both in the current Confetti mystery box ($24.99 for $100+ of beauty and nail products.)


One of the ways I love to add a favorite trendy color is in a new top.
I often wear a basic knit top for my more casual attire. Slightly dressier tops work great for date nights or going to church when paired with a favorite pair of slacks or a skirt. The Femme Fatale Faux Wrap Top in Rose Quartz from Kiyonna really caught my eye with its slimming cut which works with your curves instead of against them.
Another one that I totally would enjoy wearing is the Keira Kimono Sleeve Top in Serenity Blue. This top is just stunning and can be dressed up or down.
Finally, you can go bigger with the addition of a new dress to your wardrobe. I found both the Rumor Ruched Dress and the Valentina Illusion Dress offered with rose quartz fabric. Both are form fitting, curve hugging, make your significant other want to move closer to you kinds of dresses.

Which of the 10 Top Colors Spring 2016 do you most like?
How do you incorporate new colors into your existing wardrobe?
For more spring beauty articles, visit a few of my favorite bloggers: