I have been, or can be if you click on a link and make a purchase, compensated via a cash payment, gift, or something else of value for writing this post. Regardless, I only recommend products or services I use personally and believe will be good for my readers.
Ever wondered how some people can create super looking customized items from the comfort of their home?
Wanted to try your hand at making custom cards, but feel like they are beyond your ability?
Have you heard about Cricut?
Note: Affiliate links may be present here. I only share products I truly love in this manner and all opinions are my own.
I had been eyeing this DIY Cutting Machine for a while when I was fortunate to meet the blogger program rep at Share A Sale's Think Tank in Chicago earlier this year. She showed me a bit about the device and let me add the customization of a vinyl word onto a plain, plastic cup.
Having a Cricut Explore Air arrive at the house upon acceptance to this program totally made my day. Okay…more like made my week!
What is the Cricut Explore Air
I like to view the Cricut like a printer. Only instead of putting ink onto the paper or other approved material, the Cricut cuts it into a predetermined pattern.
To get started you need a few things:
A Cricut Explore Air
Approved Materials to cut in the Cricut and tools to help you
A compatible device, either a computer or iPad
Depending upon the project, you might need an inkjet printer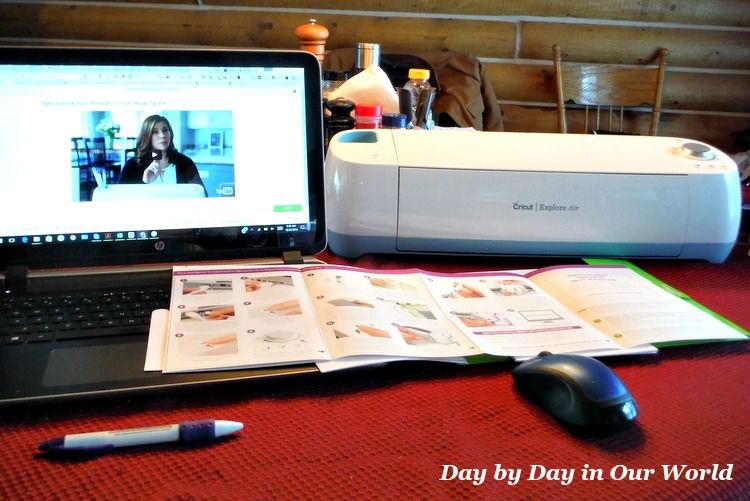 Once you have everything gathered, use the Design Space®software to choose images, upload your own designs, or select from step-by-step Make It Now™ projects.
The Smart Set® dial is where you set the type of material being fed into the machine on the mat. There are over 100 different materials that can be used, but they all fit into one of the spots on the dial.
What you end up with is precisely cut projects without having a ton of mistakes in the trash can.
Finally, you assemble your projects. Then step back and enjoy the fruits of your labor.
What Can You Do With It?
I think the better question might be what can you NOT do with it!
Need a special card for someone in your life and hate the selection at the store? Make your own!
Want to have personalized items? Cut out the personalization in vinyl and apply it to the item to be personalized.
Saw some home decor items that cost a bit more than you want to spend? Take a look at what they used and maybe you can make your own.
Need a special gift for someone in your life? Or even a party favor? Those are possible, too. Taking a look at Cricut Acess (an online design space accessed by subscription), I even saw a music inspired bracelet made in leather.
Custom projects made with precision. That's what you get with a Cricut Explore Air.
Click To Tweet
My Creative Juices are Flowing with Cricut Explore Air
With a Cricut Explore Air in the house, I am making a long list of projects to make.
Homemade cards? Absolutely! Not only will they be customized for the recipient, but the cost is no more if not less to make than visiting the store. I've cringed more than once paying $5 or more to buy a card that I didn't love. But, now I can have a beautiful card that I do love!
Those Home Decor items (e.g. signs or glass blocks) with great quotes are another thing that I know I can make with my new Cricut.
I love this sign I picked up on a trip to Louisiana last year.
With a little work, I can start making similar items for myself in the colors and font styles I want.
Before I start designing my own projects using the Cricut® Image Library, I plan to dig through one of the 3,000 ready-to-make projects.
This is a sponsored conversation written by me on behalf of Cricut. The opinions and text are all mine.