I have been, or can be if you click on a link and make a purchase, compensated via a cash payment, gift, or something else of value for writing this post. Regardless, I only recommend products or services I use personally and believe will be good for my readers.
One thing I have discovered over the years is that the boys love to learn from a variety of sources. Books tend to be the mainstay of our homeschooling. However, I love to throw in educational videos from time to time. The challenge can be finding them for the topic you desire.

Zane Education is a resource we've recently had the pleasure of using that fills many of the gaps left by other sites.
Now, I will caution my readers that if you are looking for state of the art graphics and lots of flash and bang, then this is not the resource for you. Instead, most of the video segments we viewed in our house reminded me more of the old strips we viewed when I was in school all those years ago. All that was missing was the beep to tell you to move to the next picture. At first, the boys were in revolt over what they saw as a slide show of pictures with narration. Switching from elementary to middle school material helped with the grumbles. Surprisingly, D asked to watch more of the younger elementary science videos alongside his younger brother who saw it as a book on TV.
Before you start questioning why you'd want something that has more of an old school feel to it, I better mention 'the missing piece' that you do get with Zane. *The Missing Piece (c) – using subtitles and closed captioning on video – can dramatically improve children's reading and literacy skills. Hmmmm… a video that gets the kids more active rather than passive. This homeschooling mama thinks that could be a good thing. It's more like a book brought to life with photos or illustrations.
Don't fret if you have a younger student who is not a fluent reader. They can kick back and just enjoy the videos. And, you might be surprised if they start making those connections between the spoken and written word!
Beyond the videos, you will find lesson plans and interactive quizzes available for many of the topics available. Lesson plans include key terms, review questions, and different activities to sharpen their skills. As you can see from the screenshot below, you will know exactly which video segments need to have been viewed before taking the self-grading quiz.
Additional study tools, such as an encyclopedia, dictionary and thesaurus, are just a click away for a student needing clarification or to dig a bit deeper.
Topics (384 at this time) are found under several different subjects for a variety of age ranges as shown below.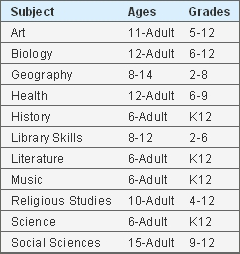 Thankfully, Zane provides wonderful resources to help you quickly find the best fit for your needs, the Zane Home Learning Catalog and Christian Home Learning Guide. Both resources are free with a Gold Membership. I have to admit that I've only skimmed the Christian Home Learning Guide as I was in more of a dive in mode. However, a quick glance has me intrigued as to how they present a Biblical worldview for history while also tackling other subject areas like art and science.
I'd feel remiss if I forgot to mention that these are secular videos and used in school settings. Evolution is mentioned in different videos. While that does not personally bother me, I do have Christian homeschool friends that want to avoid exposing their children to that particular theory altogether. The topic of evolution versus creation is covered in the Christian Home Learning Guide. Adding onto that is coverage in that guide of the study of mythology, another area sometimes shunned completely by Christian homeschoolers. (I suspect I'll be reading a LOT more of this guide over the next few months.)
Zane Education has a variety of membership options. A basic membership is free and provides access to math videos (Khan Academy) as well as samples of the other videos. Paid memberships can be by grade level, subject area, or full access with costs ranging from $8.99 to $15.99 per month. There is an annual subscription option for Gold Membership (full access, $197.89) or Single Subject access for $98.89. As a special to our readers, Zane Education is extending a 35% discount on the purchase of any annual 12-month Gold, Silver or Bronze Membership subscription through until the end of August 2012 by using the code ZE648HSM.
I feel like we've only scratched the surface with this resource and look forward to integrating it in our upcoming studies, especially American History and Biology. The videos might not have the bells and whistles that my boys equate with most videos. Yet, they are solid in their information and will be a great supplement to our studies.
Thank you, Zane Education, for a great resource and allowing our family to review it.
Disclaimer ~ We were provided with a Gold Membership (full access) to facilitate a review as a member of the Schoolhouse Review Crew. No monetary compensation occurred and all opinions are my own. You can see what other Crewmates had to say about this product and others by visiting the Schoolhouse Review Crew website.