I have been, or can be if you click on a link and make a purchase, compensated via a cash payment, gift, or something else of value for writing this post. Regardless, I only recommend products or services I use personally and believe will be good for my readers.
Note ~ This blog post about Writing Fiction in High School was made possible through review materials sent by Sharon Watson as part of a Schoolhouse Review Crew product review.
When I look back at my high school years, I can recall a fair amount of writing involved. I was in honors and AP classes which demanded a higher level of work compared to some of my other classmates. However, I do not remember much time being spent on how one would write a piece of fiction. Rather we spent more time on comprehension or delving into a particular part of an author's work and digging a bit deeper to write essays. Thanks to Writing with Sharon Watson and her curriculum, Writing Fiction [in High School] , students can dig into this realm of creative writing.
About Writing Fiction in High School

Developed for independent learners, co-operative settings or in a traditional classroom, Writing Fiction [In High School] which presents tried and true methods and skills of writing required of today's publishing market. The course is methodically laid out with the option for a manuscript track if a student wants to complete a dedicated piece of work for submission. In addition to the student ($25.05) and teacher ($9.95) guide's, you do need the novel The Last Book in the Universe by Rodman Philbrick.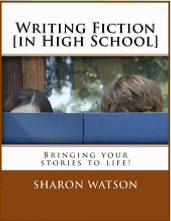 Individual chapters are broken up into manageable lessons with some assignments really needing a small group for completion. The small groups are primarily for sharing and critiquing of work and could be on a weekly schedule for meeting with individual lessons completed by students at home. Additional short stories and movies are assigned at different spots in the curriculum to emphasize a point.
Our Experience with Writing Fiction in High School
I have to admit that this particular program called to me WAY more than it did to P. He is not into writing, but I was optimistic in my thoughts that maybe writing that was more focused upon creativity would appeal to him. The verdict is still out as he is prone to grumbling about putting pen to paper for anything.
As a home educator and someone who loves to put thoughts onto paper (or in electronic form), I am really impressed with Writing Fiction [In High School.] Ms. Watson has laid it all out step by step with students critically evaluating examples of good (or possibly bad) writing. While there is no denying that gifted writers possess a talent for story telling, it is also true that a great idea can flop without the underlying foundation of skills and techniques that have been used for years.
The chapters in this curriculum encompass the following subjects:
Facts about Fiction
Point of View
Fairy Tales
Characters and Characterization
Conflict
Dialogue
Description
Words, Words, Words
Theme
Plot
Scenes
Beginnings and Endings
Getting Published
Although some of these topics (such as point of view) are covered in literature/writing programs, this curriculum takes it a step further by not only identifying the style but imitating it with your own words and ideas. Some of the assignments appear easy, but can be challenging to pull off well. For example, in the first chapter on Facts about Fiction, the student is assigned a 26 sentence story where the first word of each sentence starts with the next letter of the alphabet and it goes sequentially. The challenge is to make it fit with a thread and come up with words for certain letters that are not common for the start of a word (e.g. X), something that P struggled with in his somewhat humorous attempt.
The title of his piece reflected his attitude: 26 Letter Agony. I won't share it all here, but you could see the struggle when he reached the last few letters:

Xylaphone's treasure was returned.
You don't care do you?
Zzzzz Zzzzzz Zzzzz Zzzzz Zzzzz Zzzzz.
For me, the approach was to settle on a theme and then weave it through the rigid alphabet format:
Amazing Ted the Magician took to the stage at the old cabaret theater. Blaring from the speakers was music with a quick tempo meant to enliven the crowd and dampen their senses at the same time. Clinking noises could be heard from the bar area as the bar tender filled glasses with ice before pouring the patron's chosen poison. Drowning their drinks seemed to be the primary reason the patrons were here. Eyes began to focus on Ted as he strutted across the stage to the small stand holding his props.


Francine was waiting for Ted's cue in the wings and once she made her appearance the men in the crowd became a bit more lively. Gawkers had always been a part of Francine's life since puberty had left her with a physique that made men turn their heads in her direction. Her voluptuous figure was emphasized with a tight fitting leotard with tulle draped like an apron in reverse along her backside, making her think of the Vegas showgirls she'd seen on TV. Instead of thinking about the lewd thoughts the men in the theater had, she focused on the task at hand.
I am looking forward to continuing with this program (even if P is less enthusiastic than I am) and have high hopes that I might be able to finish and polish off the novel I started during NaNoWriMo in 2011. If you have a high school student (or possibly an exceptionally bright and motivated middle school student) who loves to write fiction and wants to hone the techniques needed to be great, I highly recommend giving this program a look. While it has been okay doing it with P as a small group of 2, I could see it being even better in a group of 4 to 6 students for bouncing ideas around and having more constructive criticism available for each individual's work.