I have been, or can be if you click on a link and make a purchase, compensated via a cash payment, gift, or something else of value for writing this post. Regardless, I only recommend products or services I use personally and believe will be good for my readers.
This past April, Day by Day in Our World celebrated our 7th anniversary of blogging. This website has evolved and grown since those early days. After a few years, I began to find ways to monetize the blog including sales. For this month's WAHMHop with a theme of sales, I thought I would tackle the question of what is affiliate marketing and will I actually make money?
By no means am I a super successful expert (if so, I'd probably have written a book or program to sell to others!) However, I do enjoy sharing what I have learned so that others might benefit.
Note ~ I will be linking to examples here and forewarn you that affiliate links WILL be included. After all, what is a post about affiliate marketing without affiliate links? Thank you in advance should you choose to purchase something through them!
What Is Affiliate Marketing?
If I had to define affiliate marketing to someone unfamiliar with it, I would say that it is when a brand offering a product or service partners with an individual to help market their offerings in exchange for a commission.
Do you remember the Faberge shampoo commercial from the 1980s? One lover of Faberge hair products told one friend who then tells a friend, who tells a friend until word has spread to dozens, hundreds, and thousands of people from ONE person sharing.
Okay, just in case you don't remember it ('cause you are too young OR never watched TV), here is a not so great copy of it:
Whether you call it word of mouth marketing, social network marketing or viral marketing, the idea is the same. One person shares to others who then may share to further exposure of a brand.
What is different in affiliate marketing is that beyond name recognition, the initial sharer (the affiliate) is hoping people will use their link to make a purchase which earns them that commission. The commission is a way for the company to repay the affiliate for sharing about their product or services. Of course, if you continually share without making any sales, then the company is, in essence, getting a ton of free advertising while you have nothing in hand.
The process of becoming an affiliate is pretty much the same for any affiliate program out there. You sign up with a company to be an affiliate. Once you are approved (some are instant and others actually want to vet your site and social media channels), you are given a unique code and access to resources to help you be an affiliate with them. Those resources could be as simple as a generic link to their site to more elaborate with suggested copy for an email campaign, blog post, or social media sharing. Images may be specially generated for affiliates or they may give permission to grab images from their website. The KEY for any of that is really looking at your dashboard and understanding terms of service.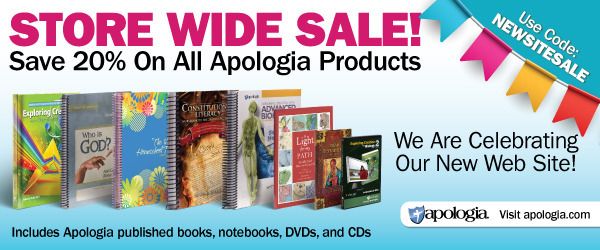 Some companies have their own affiliate program hosted on their website. Many of them are smaller entities and they are comfortable with self-hosting the program on their website. Apologia and Build a Menu are examples of companies which do this. Of course, Amazon is an example of a HUGE company that hosts their affiliate program on their own website.
Other companies elect to use a service like Share a Sale, CJ Affiliate (formerly Commission Junction), or Rakuten Affiliate Network. These networks are like a HUGE clearing house of companies with something for just about anyone. Some affiliate programs will offer you a commission just for bringing them a new affiliate, like Madison Reed which sells some awesome hair coloring products (review coming soon!) And others, like Grammarlywill often offer a small payout to your account just for doing a blog post about them.
To be an affiliate, you really need to understand the regulations for your state as well as the program. Some places (i.e. Vermont and Missouri) are considered NEXUS states and programs like Amazon will NOT let you sign up if that is where you reside and hold your place of business. NEXUS is all tied to the collection of sales tax in a state where a physical presence does not exist. The other thing to understand is the nature of each affiliate program for what needs to happen to remain an affiliate. I've not had any luck with CJ Affiliate with generating sales and they will put you on a dormant status after 180 days of no sales. You can log in and request reactivation, though. Share a Sale has been WAY more generous as I sat with no active sales for more than a year without being deactivated or placed into dormancy.
As for getting paid, each affiliate program or network has its own threshold for payouts as well as HOW you receive your commission. Some of the affiliate programs run by bloggers will pay via Paypal as you earn or on a monthly basis. Amazon has a low payout threshold ($10) with the option to either receive an Amazon gift card or direct deposit. Most of the networks have payout thresholds that are larger ($50 or more for some) with the expectation you are able to reach it by representing multiple brands.
Will I Actually Make Money with Affiliate Marketing?
A quick answer for this would be MAYBE. Each person is different in how they approach affiliate sales and some of us are more successful than others.
The program where I have seen consistent sales is Amazon. They make it very easy to share on Twitter or Facebook. Just make sure you disclose the relationship as the FTC requires it here in the United States.
MOST of my Amazon sales have been the result of sharing on Facebook rather than through a blog post here on Day by Day in Our World. There are some posts that have experienced short bursts of sales, such as Organize Your Life with The 7 Minute Life Daily Planner. When I saw a burst of activity coming from Pinterest, I quickly made sure that the planner and her related books which were available on Amazon had affiliate links TO Amazon. There is a text link to the planner as well as the inclusion of Amazon widgets that show the current low price for each.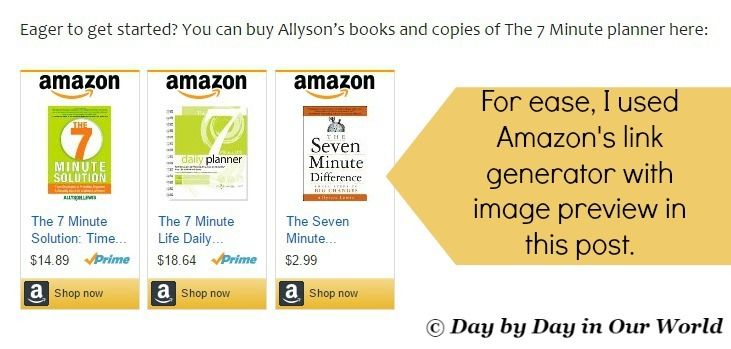 While I have earned enough from Amazon to cover my hosting of this website, my goal is to grow a consistent income from this source. Beyond sharing on Facebook (where I do see traction), I am working on sprucing up older posts and generating new ones that both HELP the reader solve a problem (e.g. what tools you need for making awesome homemade pizza) and cause them to click through my links to purchase.
How am I doing this? Well, I won't share the specifics, but I will share what I am using: Amazon Affiliate MasterClass from Pajama Affiliates. It is NOT a cheap class ($297), but everyone I have talked to who has implemented the techniques taught in it have seen an increase in their sales.

I calculated out that if you can earn an extra $25 per month from things learned in the class, then you'd have recouped your investment in 12 months. Personally, I am shooting a little higher as my third born son needs braces (just over $3000 out of OUR pocketbook) and I'd really love to have a real vacation trip with my husband sometime in the next year. I figure that after 20 years of marriage we should really do it and leave the boys at home. (FYI, if you are really new to blogging or wanting to just get started, Pajama Affiliates offers a Step by Step Blogging Course as well which includes how to monetize your blog. I don't have access to it as I feel a bit more seasoned than new or I'd share my thoughts.)
NOTE~ Pajama Affiliates is on SALE For November 2015. This isn't a little 10% off sale, either. The masterclasses which normally cost almost $300 are on sale for $35!!! Don't miss out on bargain pricing to get started earning $$$!!
Summary of What is Affiliate Marketing and Will I Actually Make Money?
For those that want a nutshell:
Affiliate marketing is where you share about a product or service for a brand you like and earn a commission of any sales you generate. Each program is different, so READ the rules and make sure you are not spamming your readers or social media networks with affiliate links.
As for making money, some are VERY successful at it while others of us are moderately successful. Like everything else, there is no guarantee for earning an income although finding brands which are a great fit for you and your readers will mean more potential for success. However, it is more low key than getting into direct sales which is something I've done with even less success. That, however, is a whole different post to share sometime…
Do you have a website that is monetized?
Have you tried affiliate programs and been successful with it?
For more posts on sales and selling, visit a few of my favorite bloggers: