I have been, or can be if you click on a link and make a purchase, compensated via a cash payment, gift, or something else of value for writing this post. Regardless, I only recommend products or services I use personally and believe will be good for my readers.
We the People: Getting to Know Your Constitution was made possible with a downloaded copy for review.
I've written before about incorporating merit badge studies in your homeschool. Now, I get to write about a product we've been using in the house for a few weeks that not only fits with this year's current studies, but also helps the boys to finish an Eagle required merit badge.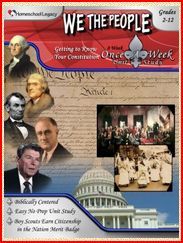 We the People: Getting to Know Your Constitution
from
Homeschool Legacy
is a unit study written for an 8 week period that fits well with the requirements for the Boy Scout Citizenship in the Nation merit badge. (It also correlates to American Heritage Girls' Citizenship and Government and Our Flag badge.) This once a week unit study is meant for grades 4 and up.
Given that we are in an election year with so much debate in the air over platforms and how the current administration is performing, I think the timing for doing this one couldn't be more perfect. I know that several vocal friends are quick to reference our founding fathers and the Constitution when making their arguments for or against a given party or person. Having a good foundation in what really is IN the Constitution versus what popular belief would have is something I want for the boys (and myself!)
In this particular unit story, America's Christian heritage is expounded upon through the use of reading selections, family read alouds, and even a movie night suggestion. Beyond a study of the Constitution, you cover the Bill of Rights, the three branches of government, the voting process, the amendments and our national symbols.
Unit studies have had a real appeal to me given the way you utilize a variety of learning paths to cover the particular topic. This unit study is no different in that there is reading from a variety of sources as well as discussion. I was especially grateful that all of the suggested materials have their call numbers which makes finding them in the library that much easier to do.
The one downside we've experienced so far is finding some of the resources that are marked as essential. So, we've had to find comparable selections through our library system. Thankfully, they wrote the unit study with the intention that you can make those changes as needed. I just wish I could find more of their suggested books and videos in our system.
Beyond the reading and discussion, there are activities to do with the kids including some cooking. What child doesn't LOVE to help make something to eat and call it schoolwork? There are also virtual field trips for those of us that do not live close to the actual locations to visit in person. You can check out a few pages from the first week below:

We the People: Getting to Know Your Constitution Once a Week Unit Study retails for $19.95 plus shipping and handling. (Ordering more than $50 of studies at once nets you free shipping from Homeschool Legacy!)
All in all, this has been a great resource for the boys. They are not quite finished, but are closer to having that Citizenship in the Nation merit badge work finished. However, I think they just wish they could stump their dad with the trivia question each week, but so far he's known them all!
Disclaimer ~ We were provided with the materials mentioned in this review to facilitate a review as a member of the Schoolhouse Review Crew. No monetary compensation occurred and all opinions are my own. You can see what other Crewmates had to say about this product and others by visiting the Schoolhouse Review Crew website.