I have been, or can be if you click on a link and make a purchase, compensated via a cash payment, gift, or something else of value for writing this post. Regardless, I only recommend products or services I use personally and believe will be good for my readers.
This post, WAY Comes Home: Homeschool Health Curriculum for Elementary, was made possible with a WAY Comes Home Kit from HomeSchool Scholastics, an i4 Learning Company for review as part of the Schoolhouse Review Crew.

I have rarely spent dedicated time using a homeschool health curriculum. Rather, we integrate some informal learning of health and nutrition in the elementary years. We prepare healthy meals and we engage in physical activity (both exercise programs like P90X3 and outdoor fun like hiking.) Just nothing very organized. So, I was curious to see how my 1st-grade son would respond to something more structured.
WAY Comes Home: Homeschool Health Curriculum for Elementary
WAY Comes Home is a new offering for homeschool families from HomeShool Scholastics a new division from i4 Learning Company. This company has a history of using an application based learning approach. Basically, this approach provides the opportunity for students to learn within the context of real life situations rather than hypothetical ones. Relating your learning to what you experience is a great way to really cement the knowledge.
In the WAY Comes Home Kit, you receive a parent guide which covers grades k through 5. There are 3 journals, one each for K-1, 2-3 and 4-5, which are used by the student as they work through the material. Card Stock preprinted with vocabulary cards and illustrations is ready for each lesson as needed. A DVD brings a video component to the lessons while also providing developmentally appropriate exercise sessions that can easily be done in the home. "WAY Comes Home to MyPlate" provides a colorful approach to nutrition. And, there are assorted tools which are less likely to be in your home already, such as a basic stethoscope.
The 5 modules covered in the parent guide are:
Getting Started
Where Do You Begin?
Let's Get Active
The Nutrition WAY
Health – It's Personal
Within each of the modules are activities based on grade level. Kids in kindergarten or 1st-grade work on activities designated by WAY Health Safari. Grades 2 and 3 work on those marked as WAY Me Mysteries. And, grades 4 and 5 work on the activities marked as WAY Innerspace Adventures. Each module / lesson can be completed in a week or stretched out over a longer period of time.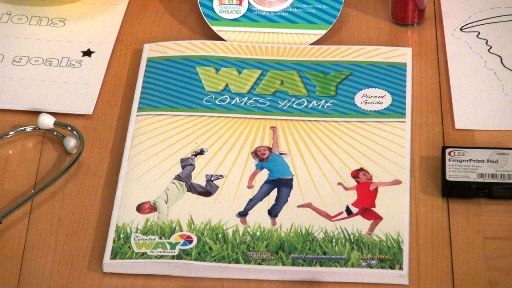 Individual lessons (aka activities) are geared for one particular level with suggestions on working with kids of different levels. The focus for the grade specific activity in the module is slightly different and each has its own video to watch. If you have children across multiple levels, you can decide how to best approach the material as a family. I can easily see working through each activity with expectations being different for each child. You just need to decide which grade level path to use.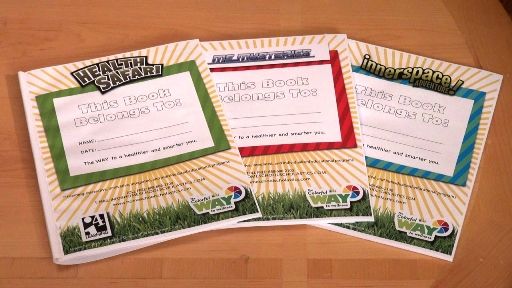 See How WAY Comes Home Works for Homeschool Health
Our Thoughts on WAY Comes Home as a Homeschool Health Curriculum
As I mentioned, my youngest has never experienced a structured health curriculum. He was very excited when we opened the box and took a peek at what was included. Particularly intriguing to him was the stethoscope.
I like the idea of working on a healthy lifestyle as a family unit instead of each child learning on their own about different things. I also liked the inclusion of prayer and reflection as your spiritual life can greatly impact your physical well-being.
What he was not a fan of was the video component. I take it as a downside to his being the youngest child who wants to experience life like a teen would instead of more age appropriate. I hate to admit that after watching the first video segment he was ready to say no more for anything as it seemed 'babyish' to him. However, I believe for some kids it would be right on target. I just have the child who's more about the Avengers and other "super heroes" than 'talking' animals that are drawn rather than animated.
After previewing the other video options, we found that the WAY Me Mysteries videos were much more appealing to him. And, with the parent guide, it is easy to adjust what he's doing while using that level as the launching point.
What was enjoyable were using the suggested library books to read on a topic. Sometimes we could not find the exact books mentioned, so we just looked for similar ones at our local library. I'm sure the fact that J is reading more independently is a big reason why he liked this aspect.
Incorporating physical activity is a must in this age of electronics (or is that just MY house??) The activities for the Health Safari level have warm-ups that feature the medical terms for body parts which I find a great way to expand vocabulary. Acting like different animals or pretending to be visiting the beach is just the perfect silliness that kids that age often enjoy. If you are going to 'exercise', you might as well make it fun! And, with these activities, you can very easily do it in your home. Little floor space is needed!
LIMITED TIME SPECIAL!!!
For a limited time, WAY at Home Kit is on sale (the complete kit and all print materials.) Normally $49.95, you pay $29.95, including shipping!
Do you include learning opportunities in health and nutrition in your homeschool?
Would this program appeal to you and your family?

Don't just take my word for how we found this to be. Visit the HomeSchool Scholastics post on the Schoolhouse Review Crew website to see what other homeschooling parents thought about this title and other grade level ones.