I have been, or can be if you click on a link and make a purchase, compensated via a cash payment, gift, or something else of value for writing this post. Regardless, I only recommend products or services I use personally and believe will be good for my readers.
Since we began homeschooling, we have gone through spurts of studying Latin and then ignoring it. After all, there are many good reasons for young children to study Latin. Yet, we've never finished an entire program for a variety of reasons.
At first the boys gave me strange looks when I told them we'd be reviewing Visual Latin. You know the look ~ the one that implies it's another 'brilliant idea' that won't go anywhere. Couple it with a few sighs and you get the picture, the boys were NOT super eager learning beavers.
Well, after all the initial grumbling, we popped the DVD into the player and got set to see how we'd enjoy (or not enjoy) this program. Mr. O was home sick, so he joined along in viewing the segments.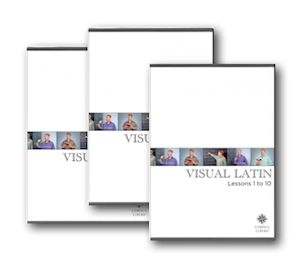 On this particular disk, we began with four video segments that can be best described as background material for this program. Your video instructor, Dwane, delves into the reasons to study Latin in one of the segments. The others look at the history of Latin (and Rome) as well as a quick glimpse at how they approach learning Latin.
After doing a power viewing session of those 4 videos, the boys were groaning at me. "Mom, when are we going to actually get to the Latin lesson?"
Well, the groans subsided from the oldest boys once we started watching the actual lessons. Each lesson has three parts with a short video segment to watch and a short worksheet to complete.
You start with a bit of grammar (and vocabulary at the same time)
Then you move onto sentences:
Finally, you wrap up the lesson with reading and translation. Yep, from the first lesson your child (or you!) will be translating with the help of a vocabulary key on the page.
D is still my hold out for enjoying this program, but he is no longer trying to run out of the room when it's time for Latin. Dwane's 'ninja' humor just might be getting through D's tough guy shell!
Also, since we'd done parts of other programs in the past, we were able to take the first few lessons at the rate of one per day. Ideally, you'd want to watch a segment and then do the worksheet with review the next day before moving onto the next one.
Curious if Visual Latin is what is needed in your house? They have the incredibly generous offer of a free download of the 4 introductory segments plus the first 2 lessons on the Visual Latin website.
Here's what's included in that offer:
Lesson A | Why Study Latin? – This first introductory lesson tells you what to say when people ask you why you're studying a dead language. (Length: 11:08 min)

Lesson B | Latin Then & Now – Where did Latin come from anyway? And what happened to it after the Romans disappeared? Furthermore, does it have a future? (Length: 8:07 min)

Lesson C | How to Learn a Language – This lesson gives you techniques, ideas and a few tricks for learning any new language (and especially Latin). (Length: 8:43 min)

Lesson D | Stuff You Should Know About Latin – Latin does some funny things. You'll need to know what to watch for so you don't slip and hurt yourself. (Length: 6:47 min)

—

Lesson 1 | Being Verb Basics – To Be and Not To Be

Lesson 2 | Being Verb Basics – Predicate Nominatives and Adjectives
You can purchase everything as video and pdf file downloads to watch on the computer or a handheld device like an iPod. Or, you can purchase the curriculum as DVDs that hold both the video and pdf files and will play on a regular DVD player. Each group of 10 lessons (3 sets for Latin 1) run $25 as a download or $30 plus shipping for the DVD. You can purchase the entire year on DVD for $80, too.
Visit Visual Latin for more information about how this program was 'born' as well as to place your order.
Disclaimer ~ Our family received the first DVD (lessons 1 – 10) from Visual Latin for the purpose of completing this review as a member of the TOS Homeschool Crew. No other compensation was received and all opinions expressed are our own. You can read what other crew mates have to say about this product by visiting the linky on the Visual Latin TOS Homeschool Crew page.