I have been, or can be if you click on a link and make a purchase, compensated via a cash payment, gift, or something else of value for writing this post. Regardless, I only recommend products or services I use personally and believe will be good for my readers.
UncommonGoods for Your Gift Giving Needs is a sponsored post. All opinions are my own.
Thanksgiving is now in our rear view mirror. If you are like me, the holiday shopping season is not quite over. I did some shopping this past weekend, but still have a few gifts to buy for relatives. I like when I find a place where I can order my gifts easily AND help have a positive impact on the world through my purchase. UncommonGoods is such a place.
What Types of Gifts Will You Find at UncommonGoods?
When it comes to gift giving there are a few basic types of people we almost all have in our lives: a husband or wife and mom. Not only can you find gifts for all these types of people in your life, but they have pages just for it.
Need a gift for your mom?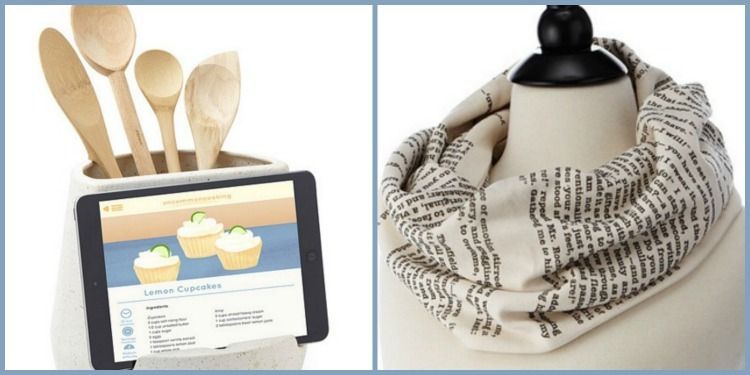 Visit this page to find a variety of things she's sure to love. Personally, I love the Kitchen Utensil and Tablet Holder for the mom who cooks and uses technology to hold her recipes. And, the Literary Scarf is a delight for the reader in your life.
When it comes to dad or your husband, the have a wide assortment of gift choices.


The Taco Socks are something one of my boys would love. My college aged son and husband both would make good use of the Napa Man Shaving Gift Set or Beard Kit (for when my husband lets his grow.)
Finally, if your husband needs some suggestions for something unique you'd enjoy, send him over to the Gifts for Your Wife page.



The Around The World Geography Scarf is great for someone who likes to travel (or maybe dreams about traveling.) I'm quite drawn to the Blooming Tea Set.
Although, something that would be fun for those who are musical and entertain is the Major Scale Wine Glasses Party Set.


What makes UncommonGoods Different?
UncommonGoods is a privately-owned retailer which seeks to feature unique designs and handcrafted gifts. They have a great respect for the integrity for the creative individual and believe that is it their responsibility to use their business to impact the world in a positive way, Founded in 1999, you can find them at the historic Brooklyn Army Terminal which includes their warehouse. While there are plenty of companies out there which have the same overall mission, Uncommon Goods is living up to their goals.
* Their products are created in harmony with the environment; no harm to animals or people!
* Their lowest paid seasonal worked still earns approximately 150% of minimum wage. I see this as honoring the individual and coming closer to paying a living wage.
* Their mission is to support and provide a platform for artists and designers with approximately half of the products sold being made by hand.
* The company has a focus on the local with most of the products made in the USA.
* About one-third of the products incorporates recycled and/or upcycled materials.
* Better to Give is their signature charitable program where every purchase results in them donating $1 to your choice of our not-
for-profit partner organizations ( RAINN: The Rape, Abuse & Incest National Network; American Forests, the oldest American conservation organization; Women for Women International which provides survivors of war and other refugee women the tools and resources to move from crisis and poverty to stable self-sufficiency; and Reach Out & Read, a network of thousands of doctors and nurses promoting early literacy.) Since Better to Give began 15 years ago, they have donated over $1,000,000 dollars to charities around the world!
What are some of the gifts you are purchasing for loved ones?