I have been, or can be if you click on a link and make a purchase, compensated via a cash payment, gift, or something else of value for writing this post. Regardless, I only recommend products or services I use personally and believe will be good for my readers.
Studying history can become a chore for students used to a textbook approach. Once you introduce a variety of source texts, the study of history can become a little more appealing. However, adding in a compelling reason for studying history can really generate a spark of interest. Specifically, we need to put the primary focus upon God and the truths spoken to us throughout history.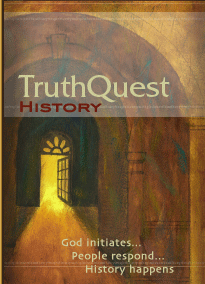 TruthQuest History is a deep and rich literature-based history study…but with a difference. You will not learn the story of mankind; you will learn the lovestory of mankind. You will not focus on the rise and fall of human civilizations; you will focus on the arrow-straight line of God's unchanging existence, power, love, truth, and plan for civilization. You will not simply 'meet the culture' or 'get the facts;' you will probe the truths of history so deeply that your students will be equipped to change their world!
Each chronological guide presents topics for study with commentaries setting the stage for both student and teacher. The Big 2 Beliefs (Who is God, and who, then, is mankind?) are continually being brought to the forefront as the student starts connect the people, events, and culture of a civilization with those beliefs. There are also suggested reading lists to help with picking the best resources for learning. ThinkWrite™ exercises placed in different spots of the overall study will help your students internalize and express the deepest lessons of history.
In the end, your children should realize the only source of freedom is God's laws, and the only source of human worth is God's love for us.
For our review, we received Age of Revolution II (1800-1865). This time period overlaps the history P has studied using Academic Decathalon materials this year and promised to help me expand his studies to wrap up his social studies credit this year.
I have to admit that I have mixed feelings about this particular product. I love many aspects of it… some background for the educator for each time period as well as the lists of resources that can be used in the student's exploration of the topic. However, what gives me pause is that it either requires a very motivated student (which I don't have) or a teacher willing to spend time finding the resources after determining which ones to use. To be as balanced as possible, I opted to create a list of pros and cons which I'll share here.
Things I Like
There are TONS of suggested resources to get you started with suggested grade levels marked for each one. I love reading lists and at first glance that seems to be the primary benefit of TruthQuest History.

The topic introductions are engaging summaries with a continual eye towards seeking God while learning about history (aka man's response to God.)

The ThinkWrite™ exercises encourage students and educators alike to put their 'thinking caps' on and engage in discussions on the topic.

The book's introduction does a nice job of setting the scene for this particular time period of history when many embraced humanism. Forks in the road graphics help to point this out as you go through the studies as people had a choice and their decisions have ramifications.

The guide allows for use with a variety of ages so the entire family can study together.
Potential Limitations
(aka 'cons' as I see them with counter arguments)
There is definitely time involved in preparations as no clear lesson plan is provided. The approach is 'loose' compared to many curriculum choices and might not give the structure a homeschool parent can crave. Counter ~ The use of 'living books' and a child's ability to learn away from a textbook might balance out the need to be more actively engaged with the learning.
Depending upon available resources, you may have a challenge finding suggested materials. Counter ~ Mrs. Miller states from the get go that these are suggestions and might serve as a way to get you started. Each library system is different with regard to their collection and you might find other materials for the same topics available. Some of the suggested materials (e.g. Island Story) can be found for free as pdf files on various sites. Also, I've heard great things about Paperback Swap for finding books.
If you need a paper trail for state requirements, then you have to come up with how to track learning for the child. A Journey to Learning offers lapbooking project packs for some levels, but not the one we chose to review. Counter ~ Creative projects and short 'reports' could fill the need for some requirements. Having the child determine the method could help lessen the load on the parent.
At times, suggested materials directly conflict with our Catholic faith. TruthQuest History's author is a Protestant and therefore it is no surprise that some selections will have an anti-Catholic slant (e.g. From Sea to Shining Sea by Peter Marshall.) Counter ~ She does reference Story of the World in several topics and most of the material in that series is neutral when it comes to religious beliefs. Also, the nature of this program should ensure parental oversight which can include integration of your particular faith's teachings.
Overall, I see a lot of potential in this series and method of learning. However, I can fully appreciate that the need to do more leg work as an educator using this product could become more cumbersome than time in my day will allow. Yet, I do love the desire to put God in the front of all the studies we endeavor and TruthQuest History seeks to do just that.
TruthQuest History has 9 chronological guides for World History (Creation through 2000) that can be used up through high school studies. There is also an American History track for the younger grades (1 – 5) that cover exploration through 2000 in 3 chronological guides. All of the guides are available in either print or pdf format with prices ranging from $24.95 to $34.95 (for print) or $19.95 to $29.95 (for pdf.) You can also purchase supplemental lapbooks created specifically for many of the TruthQuest guides. Samples of all Truthquest materials are available for preview on the website. If you are uncertain where to being, check out their How to Choose Where to Begin page.
Disclaimer ~ Our family was provided with a copy of this product for the purpose of writing a review post. No monetary compensation was provided and the opinions expressed are our own. You can read what the other TOS Homeschool Crewmates had to say about this title on the TOS Homeschool Crew blog.