Egypt has captivated people for many years.  Even in our house, learning more about the ancient Egyptians and all the wonders they made is a fun pastime.
The Secret of the Sacred Scarab is a novel geared towards kids most likely ages 10 and up that provides a way for the young reader to live an Egyptian adventure vicariously through the protagonists, Cousins Justin and Adam.
Synopsis

Cousins Justin and Adam are ecstatic about accompanying their aunt to Egypt. Both love adventure and know the work of James Kinnaird, an archaeologist searching for the tomb of an ancient Egyptian ruler, the Scarab King. Some dismiss the tomb as legend, but Justin and Adam believe differently.From the moment their plane lands, Justin and Adam bounce from one mysterious event to another, starting from the moment a street peddler gives Adam an ancient scarab. Dr. Khalid, head of the department of antiquities and research at the Egyptian Museum, shows excessive interest in the cousins and their relic. Then, when the boys learn that James Kinnaird is missing, they realize something sinister is afoot.Kidnapped and taken across the desert, the boys are plunged into serious danger and chased by ruthless enemies. Dr. Khalid will stop at nothing to discover the Scarab King's tomb and claim its treasures. But he has underestimated the boys' ingenuity.Join Justin and Adam as they evade their captors and unravel the secrets of the Scarab King. Relying on their wits, courage, and each other, the boys must solve the mystery of the sacred scarab and rescue James Kinnaird before time runs out.
My Thoughts
I have yet to entice the older boys to read this title, mostly due to their having other titles to read for school work.  So guess what's going into the queue for them?
Overall, the story is well written and should draw most boys that are already intrigued by Egypt.  Ms. Ingram has done a nice job of character development which is sometimes lacking in books for the younger crowd.  You get a sense of how different the cousin's personalities are early on in the story.  And, you can tell which characters will be trouble for the cousins.  All that being said, the book is most definitely written for a younger crowd. 
There are future titles being planned as part of The Chronicles of the Stone series.  Visiting The Secret of the Sacred Scarab website provides the opportunity to read the first chapter from the second book as well as have some interaction with the adventure.
The Secret of the Scarab is available in print ($17.95) or digital format ($2.99 for Kindle.)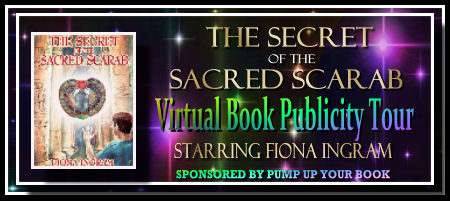 Disclaimer ~ Our family was sent a copy of the book to facilitate this review. No monetary compensation occurred and all opinions are our own.  Clicking the tour button above will bring you to the Pump Up Your Book Tour page where you'll find other readers reviews linked up.