I have been, or can be if you click on a link and make a purchase, compensated via a cash payment, gift, or something else of value for writing this post. Regardless, I only recommend products or services I use personally and believe will be good for my readers.
Welcome to the 88th edition of The Christian Home, a weekly Blog Magazine posted every Monday. Articles are submitted by various Christian Blog authors. I hope you enjoy the articles submitted for this week's issue. Don't forget to leave a comment here about your favorite article and give the author some comment love on their blog!
The Godly Home
Featured Columnist – Mrs. Sarah Coller from Hope in Every Season is back with Does God Ever Give Us More Than We Can Handle?. I completely agree that God does not drown us, but we have to remember that we need to turn to Him for the strength to bare the burdens we carry. Thank you Mrs. Coller for sharing your thoughts on this topic.
Hospitality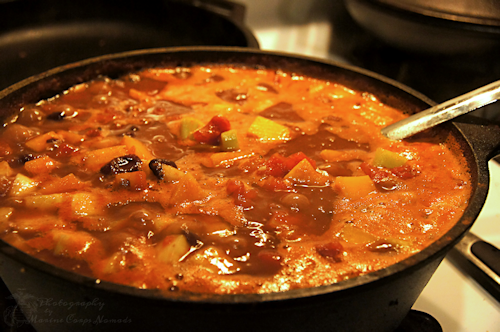 Featured Columnist–
Heather from
Marine Corps Nomads
presents Vegetarian Butternut Squash Chili. I love butternut squash and think this recipe is crying out to be made for my family this winter.
Modest fashion
Featured Columnist – Caroline from The Modest Mom blog is back with another Modest Monday & A Link Up!. I love the way she did her hair with the outfit she showcases.
Homekeeping
Featured Columnist
–
Karri presents

Christmas Binder over at
My Life's a Treasure
.

Thank you, Karri, for sharing how you are staying on top of things as the holidays approach.
Health and Fitness Check-in
Featured Columnist
–
Annie Kate presents

Fit Mommy Friday: Another Good Week

posted at

Tea Time with Annie Kate.

She shares about the shift from being active in her chores to a more sedentary activity (homeschooling.) I can so totally relate to that!
Design and Decorate
Featured Columnist
Deanna from
Home Haven Ministry
is back with
Decorating On The Prairie: Autumn Around Our 'Ole Stone House
. I love all the touches of Fall that she has around the porch and house. Thanks for sharing a glimpse into your house, ,Deanna!
Movies and Music
Featured Columnist–

Laura O from

Day Day in Our World shares about one of her favorite CDs, Life Your Living by Jesse Manibusen. The post has thoughts on all the songs as well as some You Tube Videos of Jesse performing a few of them.
I am looking for a featured columnists and/or submissions for the
Gentle Humor, Finance, Gardening & Flowers, Home Business, Parenting and Young Adult Columns. The young adult columnist needs to be an established teen or young adult blogger.
Thank you so much for reading! To submit your work for consideration, or to find out more about The Christian Home magazine, just visit the
about page
.
As the carnival site is acting wacky,
submissions can be email directly to me at daybydayinourworld at gmail dot com or via the
contact form
on this blog.
While we have featured columnists for many of the columns,

any Christian author

can submit for inclusion in the magazine in all of the different columns.