I have been, or can be if you click on a link and make a purchase, compensated via a cash payment, gift, or something else of value for writing this post. Regardless, I only recommend products or services I use personally and believe will be good for my readers.
This post, The Cat of Bubastes: Exciting New Audio Drama, was made possible with a copy of The Cat of Bubastes and assorted bonuses (ebook, study guide, soundtrack and more) from Heirloom Audio Productions for review as part of the Homeschool Review Crew.

About The Cat of Bubastes by G. A. Henty as an Audio Drama
Heirloom Audio has taken the beloved G. A. Henty novel, The Cat of Bubastes, and adapted it into an audio drama sure to captivate many.
Ancient Egypt is a land from long ago which holds intrigue and mystery for those who study it. Listeners to this audio drama will also get a glimpse into life in Ancient Egypt which had many customs and ideas that will seem quite foreign to modern families.
The Cat of Bubastes is set there with the main characters of the young prince Amuba and his mentor Jethro. The two men are captured by the Egyptians and taken as slaves to the city of Thebes. The high priest Ameres brings them into his household to serve his family. As he is the same age as the priest's son, Cebron, Amuba is assigned to him. Jethro is given the task of serving his daughter, Mysa, and also tending the animals on the property. Their animals include waterfowl, a crocodile and several cats that have their own "house."
Over time, the enslaved men become close to their 'owners'. While they do not forget where they came from, the do form bonds with them which includes the development of loyalty. With Cebron and Amuba overhearing plotting by other priests in the temple and then an unfortunate accident involving the future Cat of Bubastes, they find not only their loyalty tested but their very beliefs.
As this is set during the time of Moses, there is an intersection of the characters with the Israelites and their own struggle for freedom from Pharoah.
Our Thoughts about The Cat of Bubastes Audio Drama
Like the other G. A. Henty stories brought to life by Heirloom Audio Productions, The Cat of Bubastes is impeccably done. The actors and actresses are phenomenal in their roles. The audio engineers do a fabulous job interweaving the characters dialog with an audio representation of the action occurring in each scene. Honestly, we feel that by closing our eyes we can have the audio paint the images for our imaginations.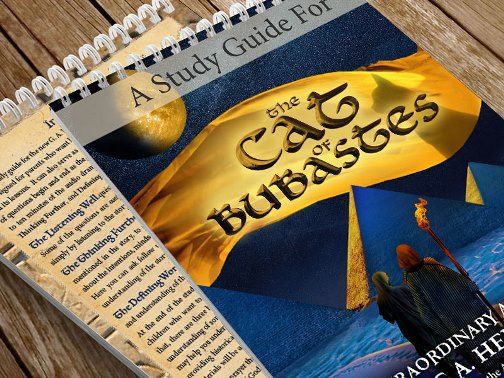 One of the bonuses we received for review (and comes in most of the package options for this release) is a 47-page study guide. Whether you just want to have a few questions to test your child's listening skills or more activities to really 'flesh it out', the study guide is there to help.
Specifically, each section of the study guide corresponds to a track on the CD. It has you walking through "The Listening Well" questions for specific recall, "The Thinking Further" questions to help them infer and draw conclusions, and "The Defining Word" section to expand their vocabulary. Some of the pages include an "Expand Your Learning" box with information on a particular subject encountered in the track. (One of them is a recipe to try!) The end of the guide includes a suggested reading list of books and 3 different Bible study tracks with several Scriptures on each to explore.
My 13-year-old son is excited to also have a digital ebook of The Cat of Bubastes. Where the audio drama is an abbreviated story, the ebook has 350 pages to read through and really delve deeper into Egyptian life. It is a great way to have them delve a little deeper after listening to the audio drama.
Once again, Heirloom Audio Productions has delivered an excellent piece. My boys only question is which G. A. Henty book will they do next and when will it be released!
Have you used audio dramas like this one to help teach history?
Would this audio drama appeal to your family?

Don't just take my word for how we found this to be. Visit the Heirloom Audio Productions ~Cat of Bubastes post on the Homeschool Review Crew website to see what other homeschooling parents thought about this title and other grade level ones.