I have been, or can be if you click on a link and make a purchase, compensated via a cash payment, gift, or something else of value for writing this post. Regardless, I only recommend products or services I use personally and believe will be good for my readers.
How to Teach Essay Writing, and Prepare for the SAT was made possible with a copy High School Essay Intensive from Institute for Excellence in Writing for review as part of the Homeschool Review Crew.
If you are reading this post, then you might have guessed that I enjoy writing.
And, I do enjoy writing. It is a part of me strong enough that if I wasn't writing for this site I would at least be journalling my thoughts on a regular basis.
As much as I enjoy writing, I struggle with teaching it to my boys.
I also struggle with how to assess their work to better guide them on the path.
Add in a reality check that I have BOYS who would rather do almost anything than writing and it can be a downright dreaded chore.
Teach Essay Writing and Prepare for the SAT
When a child reaches high school, there is no easy way to maneuver through their homeschool curriculum plans without including a decent dose of writing.
Writing is a skill that is required in life, whether they like it or not.
When I tell my boys this, they inevitably grumble about how they have no plans to have a job that requires writing.
So, I have started putting the focus on preparing for life after high school. While some schools do not require the ACT or SAT to be admitted, they often use them to determine scholarships. The ability to write essays is part of that testing process. And, once you are in the school there is often some form of writing course.
Whether they like it or not, decent skills in writing are part of optimal communication in life.
Of course, it helps for the younger boys to see their eldest brother have to take writing classes (all labeled as communication) at the university he attends.
All of this leads up to how to teach writing to prepare for life beyond high school.
For me, I look for programs that are complete and focused.
High School Essay Intensive from Institute for Excellence in Writing
The new version of this program is out and I am so glad we've had the opportunity to review it. I had not used the original with my older son, but have friends who did and raved about the content.
We have used Student Writing Intensive from IEW in the past.
Inside the heavy duty cardboard box that can sit on a bookshelf, you will find a case with 5 DVDS, a laminated Portable Walls for the Essayist, and one copy of the course booklet.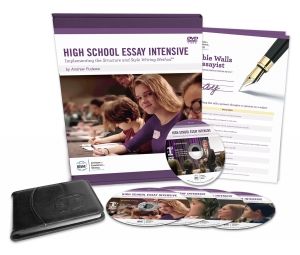 The DVDs have recordings from a live seminar of Andrew Pudewa presenting to a group of high school students. In essence, the High School Essay Intensive program is a way to bring the seminar into your home or cooperative learning environment.
Note on copyright: Homeschool families are granted permission to make copies of the course booklet for use with members of their immediate family. If taught in a cooperative setting, then each family needs to purchase the booklet.
The program is broken up into 4 sections:
General Strategies for Essay Writing
Understanding and Preparing for the New ACT Essay
Understanding and Preparing for the Redesigned SAT Essay
Strategies for the "personal essay"
The larger portion of the program is spent on the general strategies. This section is broken down into two parts. The first focuses on Length and Structure including how to structure your paragraphs. The second part looks at invention and style including sentence patterns and figures of speech.
Using High School Essay Intensive
Parents can use this course over the course of a semester or take the approach done for the live seminar version and watch all the DVDs in a day.
The very first thing a student will do is to pick one of two argumentative essay prompts and do their best with a time limit of 20 minutes. What I found is that my boys struggle with getting their thoughts together and onto paper to have more than a handful of sentences.
This is the BIG reason for me to use a program like this in our homeschool.
Once that initial writing time is over, the student will dig into the meat of the program. Mr. Pudewa does a wonderful job of laying out those general strategies including possible essay structures and thinking what to write. I see those 2 components as being critical for many students who otherwise will spend a portion of their allotted time scratching their heads.
Thoughts on Our Experience with High School Essay Intensive
My boys were not thrilled to work on writing. As I said, none of my boys have been keen on writing. However, my eldest who is now in college has grown into the ability to do at least an adequate job of it.
For my writing reluctant boys, I thought we'd take the slow approach. However, I soon changed my tune and went for the 'let's get through it all in short order.' When watched sequentially, the DVDs take approximately 6.5 hours to complete.
After going through the program, my 11th-grade son attempted doing the same initial essay in the 20 minutes. While there is still room for improvement, he was able to go from 3 complete sentences (one of which needed to be condensed a bit to be a strong statement) to 2 paragraphs. I'd consider that a significant improvement from a single day of intense focus upon essay writing.
Now I plan to reinforce what they have learned. I will require my boys to practice through assignments in their regular subjects. Writing skills can improve only through repetition. I desire for them to hone those skills. Then when timed essays arise, they are ready and able to quickly put their thoughts onto paper.
Do you struggle when teaching high school writing?
Is the idea of essay writing enough to bring on headaches for you or your high school students?

Don't just take my word for how we found this to be. Visit Institute for Excellence in Writing Reviews on the Homeschool Review Crew website to see what other homeschooling parents thought about this book.