I have been, or can be if you click on a link and make a purchase, compensated via a cash payment, gift, or something else of value for writing this post. Regardless, I only recommend products or services I use personally and believe will be good for my readers.
J and I are loving some new stories which entered the house to review: Peter Rabbit at the Farm and When Peter Rabbit Went to School from Kinder Cottage Publishing.
I have to admit that we'd rarely sought out any of the Peter Rabbit stories to read. Somehow they seemed a bit 'old-fashioned' and I worried that they would not appeal to the more 'tech-savvy' and 'modern' boys we are blessed to raise. Boy, was I wrong!
Instead of J complaining about the two titles we had to review, he has grabbed them off the shelf and hunted me down to read to him. Or, I'd find him sitting with the books 'reading' to himself.
Peter Rabbit at the Farm has Peter Rabbit seeking some adventure away from his safe home. He ventures to the farm, meeting several new 'friends' and getting himself into a variety of situations that could have him labeled as a trouble maker. Let's just say that Peter has the ability to make messes wherever he goes.
When Peter Rabbit Went to School starts off with Peter getting into trouble by falling into Mr. McGregor's well. Worried about his propensity for mischief, Old Mother Rabbit sends Peter off to school along with his sisters. That makes for an interesting venue for his getting into trouble.
As we read through the books, I find myself trying to 'expand' aspects of the story with J. When an animal does something human like instead of animal like, we talk about some of those things being silly and what the animal might really be doing. When Peter gets in trouble (which he invariably does!), we talk about how sometimes our choices lead to unanticipated consequences. While reading Peter Rabbit at the Farm, we even talked about how we have our 'good' clothes and our 'play' clothes just because you never know what accident might happen when you are having fun.
Aside from the stories themselves, there were a few things I really like about these publications. First off, the books are hardbound which typically makes for a more durable book. Secondly, the books are sized perfectly for little hands as they measure 5 inches by 7 inches. Finally, I found the color illustrations to be just adorable and really help to tell the story.
All of the titles have a retail price of $4 before shipping and are reproductions of original books written by Duff Graham and published by the Henry Altemus Company in 1921. Some terms have been edited for the modern child to understand. The ideal 'audience' are children ages 3 to 9, although you might find that you or your older children enjoy them as well.
Kinder Cottage Publishing's owners wanted to ensure their children would have a love of Western Civilization, including literature, history, culture and the Christian faith. The books they offer all fit this goal along with wanting to help other families educate their children. You can find eight other titles featuring Peter Rabbit as seen below. They also offer several Wizard of Oz stories and a few other titles. Definitely check them out if you are in the market for a delightful story which may be enjoyed by all.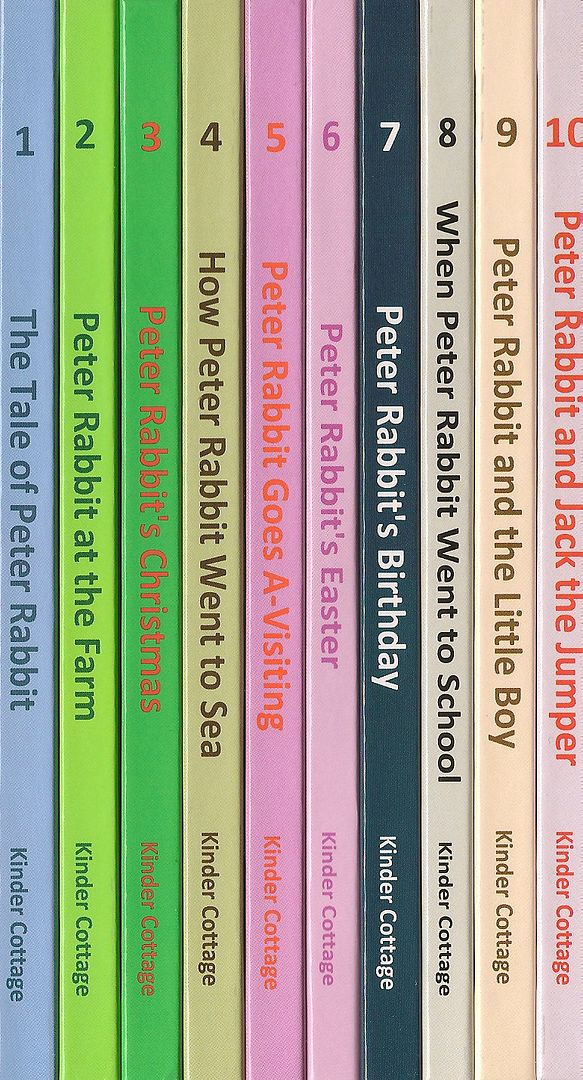 Did you grow up reading about Peter Rabbit?
Have you shared his adventures with your children?
Don't just take my word for how awesome these books are! Visit the Kinder Cottage Publishing post on the Schoolhouse Review Crew website to see what other homeschooling parents thought about it.