I have been, or can be if you click on a link and make a purchase, compensated via a cash payment, gift, or something else of value for writing this post. Regardless, I only recommend products or services I use personally and believe will be good for my readers.
This post, Standard Deviants Accelerate: An Online Learning Resource, was made possible with the chance to review their Standard Deviants Accelerate Homeschool Courses.
With two boys in high school, I have been exploring more online learning options to both engage them and to ease a bit of the grading burden from my shoulders. It is not that I don't like digging into all the subjects they are covering. Rather, I have found it extremely time consuming to have upwards of a dozen different subjects at the high school level to juggle along with some preschool work for my youngest son. Standard Deviants Accelerate caught my eye as an online learning resource that could merge with their current subjects and help to lighten my load in the process.
About Standard Deviants Accelerate: An Online Learning Resource
Standard Deviants Accelerate is an online learning resource for middle and high school students. They offer several different courses in the subject areas of English composition, math (Arithmetic, Fundamental Mathmatics, and Algebra), science (Biology, Chemistry, Earth Science, and Nutrition), US History, and test preparation (5 different AP Subjects.) Homeschoolers can purchase a regular course for use by one student for $99 for a year, or $24.95 per month. AP courses are available for one student for $14.95 per month.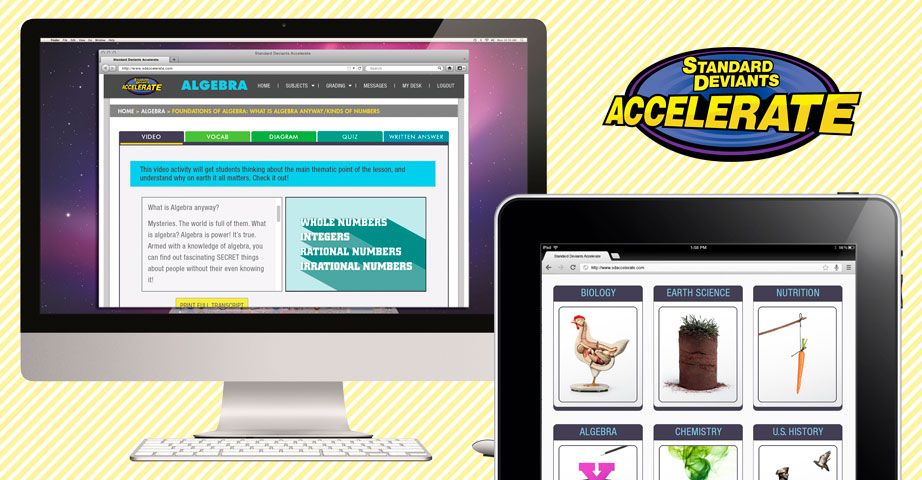 Each course is divided into chapters which have an introduction (featuring a pre-assessment and 'the big question' for students to ponder) and then several lessons before a chapter review. The individual sections of a chapter have a video segment to watch, vocabulary words for the lesson, a 'diagram' activity to help them do a quick review of the material, a 5 question multiple choice quiz, and a written answer to complete for the teacher to grade. The chapter review is where you will find a group activity, a test, and then critical thinking questions. There is a rubric provided to help you assign a grade for written responses and group activities.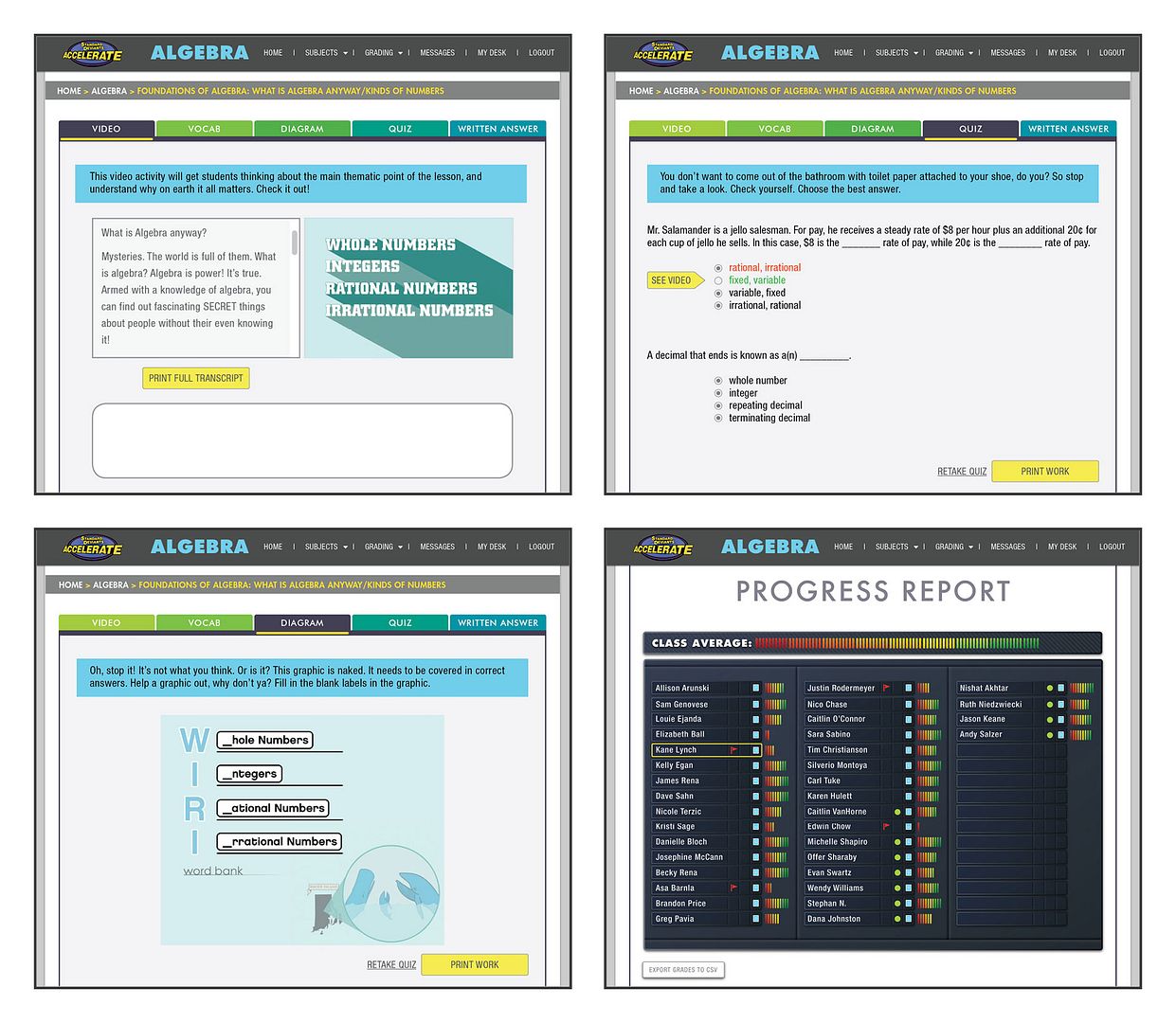 Connect with Standard Deviants Accelarate on Social Media:
Facebook, Twitter, Pinterest, and Google+
Our Thoughts on Standard Deviants Accelerate: An Online Learning Resource
As a homeschool educator, I definitely see this as being a supplement to your studies rather than a stand alone course. I like that the child can work through at their own pace rather than one dictated by a remote teacher. For the most part, we have done strictly the video viewing, review slides and then the lesson and chapter 'quizzes' during this review period. There are group activities which I am going through and marking a few for the boys to complete together. However, it is a challenge to get their schedules in sync for completing it.
My older boys who have been working through the Nutrition course (as part of their half credit Health course this year) have mixed thoughts. My 12th grader stated that he found the information quite 'basic'. However, the same child is also scoring lower on the lesson quizzes compared to his younger brother. My 9th grader has progressed further through the material as he enjoys the online component and that things are broken into bit sized pieces. His only voiced issue is that using our mi fi (slower speed than the regular home internet) has issues with the site seeming to take forever to load or occasionally getting hung up. I take that as more of an internet connection than a function of the website.
Overall, this is a nice way to engage a child who loves to (1) use the computer and (2) have information presented in a multi-media format. What's awesome is that Standard Deviants Accelerate is currently offering a FREE 6 month trial to homeschoolers!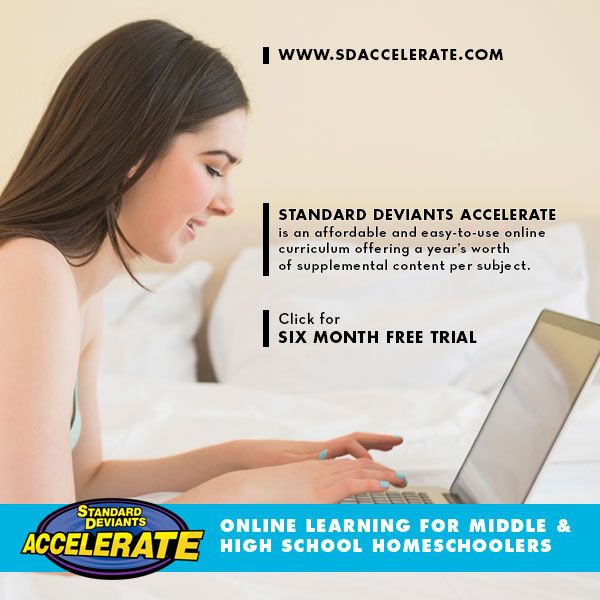 Have you explored online learning as an option for some subjects with your homeschooled child?
Does the multimedia approach of video, online quizzes and written responses / group activities appeal to you?
Don't just take my word for how we found this to be. Visit the Standard Deviants Accelerate post on the Schoolhouse Review Crew website to see what other homeschooling parents thought about this and other self-paced courses.