I have been, or can be if you click on a link and make a purchase, compensated via a cash payment, gift, or something else of value for writing this post. Regardless, I only recommend products or services I use personally and believe will be good for my readers.
This post, Ready to teach lessons for K-12 from Educeri, was made possible with an annual subscription to Educeri Lesson Subscription Service from Educeri ……. Educeri a division of DataWORKS for review as part of the Homeschool Review Crew.
As much as I enjoy pulling pieces together to help my sons learn a particular topic, there are times when I really enjoy having something more plug and play around.
If you've never done full on lesson planning, then you might not appreciate how much work can go into doing them. Some might be easy, like ways to help your child memorize basic facts. But, as your child gets a little older, the detail needed can be staggering.
I've planned out lessons for all ages and definitely find that the detail needed for high school can drive you nuts. When my eldest did physical science in 9th grade, I thought I'd be good to go with the teacher book to match his textbook. I even bought the teacher resource CD-ROM. There were so many options that I felt almost paralyzed on what to do.
Ready to teach lessons for K-12 from Educeri
Educeri is a subscription based service for educators.
You'll find just over 1100 different lesson plans for kindergarten through 12th grade. They are written by people with a passion for education and a background in the subject matter. People with skills in graphic arts get it all pretty.
Core subjects include language arts, history, math, and science. They also have some 'electives' included like art, music, physical education and Spanish. Not all subjects are covered for each grade level.
Navigating the site is easy with the drop-down menus. Pick your grade level and the subject and it will show you all the options.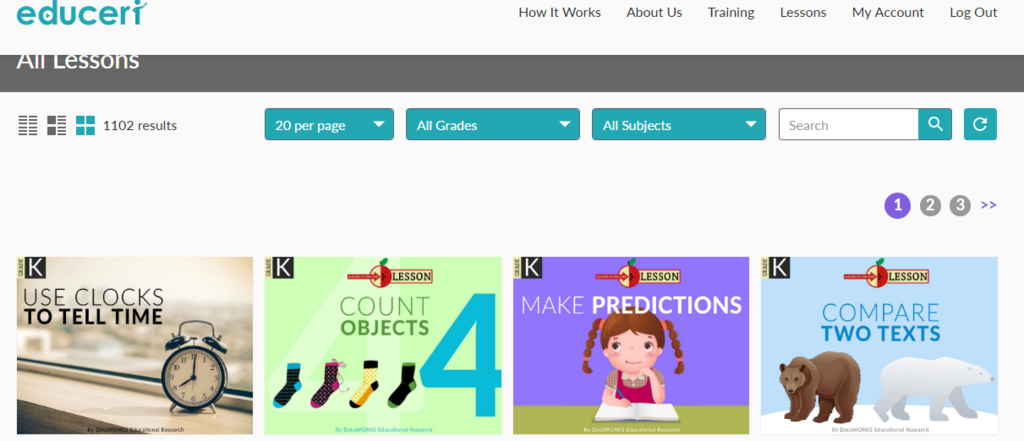 With many of the lessons, you will find a pdf file to download for your student to complete. They pair with the actual slides of the lessons. Each pdf looks like paper icon under additional resources.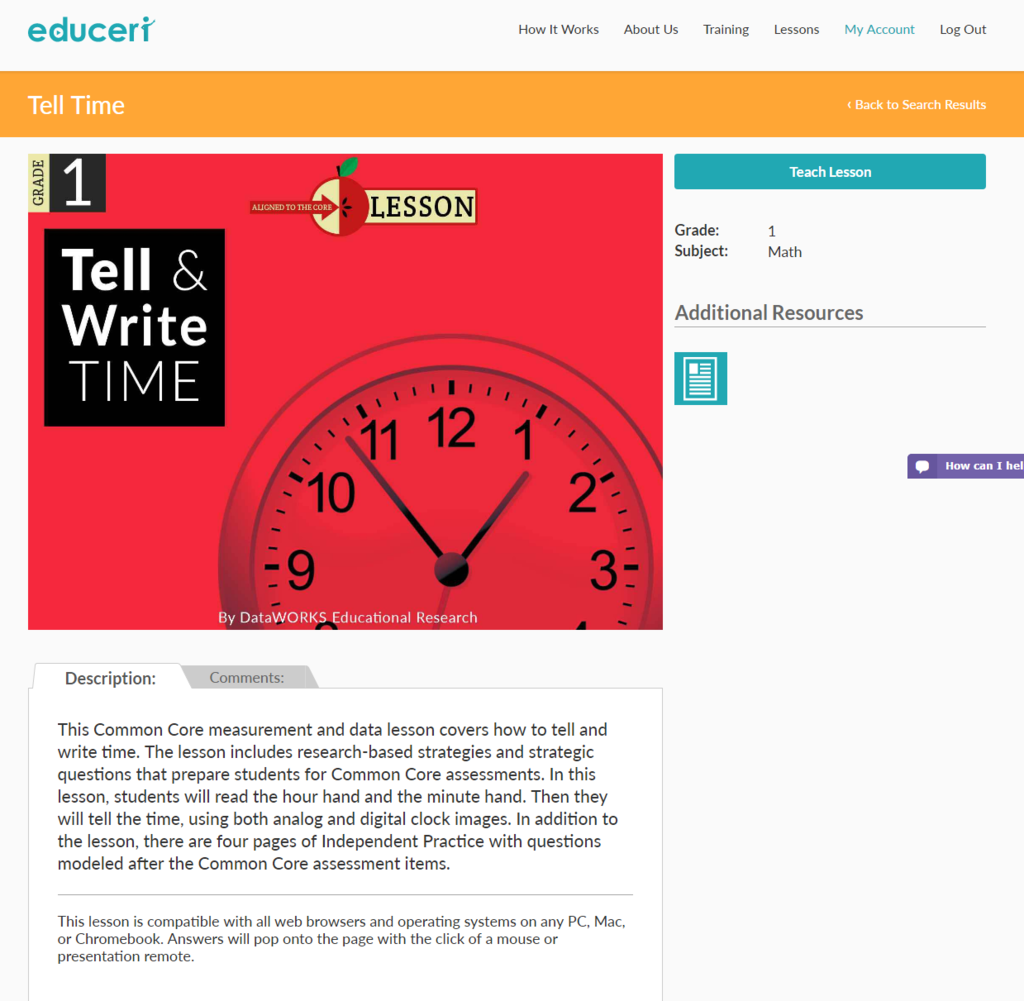 Homeschool families can join as an individual. Educeri offers a free 30 day trial to see if it is right for you.
My Thoughts on Educeri for Lesson Plans
What I discovered when I dug into the subscription is that Educeri is really great for language arts and math. I was hoping for some pieces to help my high schooler with physics, but that area was lacking. They do have some neat lessons that would have been handy when we did biology last year.
So, I spent more time using it to help me fill the holes with my 1st grader. As we are using a different math program that I did with my older boys, I realized that learning to tell time was a skill we had not really worked on so far. And, J is forever asking what time it is!
From that main screen, I could download the student pages for him to use. Then, I clicked the teach lesson button to go to the meat of it all.
This is not a sit your child down and let them have at it approach to learning like other online subscriptions. Instead, I needed to sit alongside him and use the slides to help teach the concepts. Part of this is the need to read the material to him (as some words are not well known to him yet.) But, there's also the explanation and checking for learning which needs to happen along the way.
We've also spent some time in the English / lanugage arts category. Reading comprehension is a skill that even a 1st grader can begin to acquire. Finding the central message was one of the options for his grade level. Several of the slides had a short story to read with the student and then see what they drew from it. Sometimes he got it right on the first try and other times he needed to process it a bit before reaching the correct conclusion.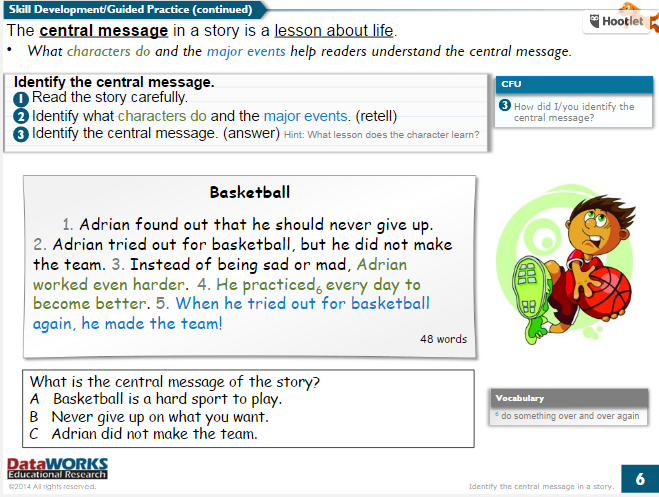 I liked that you can skip through the lesson using a menu option so not every slide has to be completed. If there is one thing I love about homeschooling, it is the ability to recognize when they understand a concept and you can move on to something else. In a classroom setting, the teacher doesn't have the same luxury.
I can't say this is a resource I would have hunted down on my own. For someone trying to pull a lot of language arts and math lessons together, it is awesome. But, if you want something to sit in front of your child and push go, keep looking. Educeri takes the work out of devising the lessons, but the teaching part is still up to you.
Have you ever used a subscription service like this one for lesson plans?
Would this be a useful subscription for your homeschool?

Don't just take my word for how we found this to be. Visit the Educeri post on the Homeschool Review Crew website to see what other homeschooling parents thought about this title and other grade level ones.