I have been, or can be if you click on a link and make a purchase, compensated via a cash payment, gift, or something else of value for writing this post. Regardless, I only recommend products or services I use personally and believe will be good for my readers.
Preserve and Share Photos with Bevy is a sponsored post through Type-A Parent. All opinions are my own.
Do you take a lot of photos whether on your cell phone or a digital camera?
We certainly do! Often times those memories end up living on our individual computers. Occasionally I'll share something on my Facebook page and of course here in the blog. And, I might even send a few favorite photos to be printed and sent to relatives like grandparents. But, otherwise we have a hodge podge mix of older digital photos on CDs and newer ones on our laptops.
This past October when I attended the Type A Parent Conference in Atlanta I was introduced to the Bevy. I was spending time considering how to convince hubby this was high on my wish list for Christmas when I was blessed to win a Bevy at their launch party. My mind was blown and I am SO grateful for the opportunity to not only have a Bevy in my house now but to share all about it with you. It really is a great gift idea for this holiday season as it will be in use and continuing to benefit your recipient and others for a long, long time.
Preserve and Share Photos: What is Bevy and How Does It Work
Bevy is a smart in-home connected device and app that collects, organizes and protects digital photos and videos taken by any family member on a mobile phone, tablet or digital camera. You can easily (and privately) collect and share your digital photos and videos in ONE place. Through use of a mobile app, you can give permission to multiple family members (or people across on organization) to contribute and enjoy the photos anytime and anywhere. And once uploaded, you can choose to delete files from your phone or tablet to free up space.
Setting up the Bevy is not complicated. All that is required is the Bevy and a smartphone with the app downloaded.
You need to determine where you'll place the Bevy in your home to start. Plug in the power supply and if you are connecting it directly to your router, the Ethernet cable needs to be attached between the 2. For now, I have it working on the wireless network so it can be upstairs in our living room and available to hook via a HDMI cable to the TV.
The next thing to do is download the Bevy app to your smartphone. (I got it from Google Play for my Android phone.) Make sure that your phone has the Bluetooth capacity ON and is using wi fi to connect to your home network. This is how you will set up the Bevy and get it registered to your email address. That registration will generate a welcome email with information on getting a Bevy app for your computer and sharing with others you want to give access to the Bevy.
Once you have the Bevy hooked to your wireless network, you can start uploading photos. You'll be given the option to upload ALL the media on your phone or to pick and choose what gets uploaded. And, you can upload photos from your computer to the Bevy. There's also a direct plug option with a SD card.
Each Bevy contains either 1TB storage capacity, which equates to approximately 400,000 high-res photos, or a 2TB option that can hold approximately a million photos. Bevy is currently available for purchase in Blue, Black and Purple in a 1TB or 2TB size for $299 and $349, respectively (sale pricing for the launch.) At the moment, the Bevy is for sale in the United States and Canada with free shipping provided. It is recommended that users have a backup strategy whether it is a complete dump of the Bevy's contents onto a portable hard drive OR subscribing to an online backup service.
Preserve and Share Photos with Bevy: Our Experience
First off, when I was trying to describe the Bevy to my family members the first thing they thought was it would be an overpriced hard drive solution to back up your photos. In a way, it does that as you can save a copy on the Bevy while still maintaining it on your computer of phone. However, it is SO much more as you can give access to select family members to do the same and then send the photos to social media for more global sharing.
I have to admit that the initial set up seemed to take longer than I expected. First, you really do need to have your smartphone close to the Bevy. I elected to have it less than a foot away during set up. After a little frustration, I realized that the initial placement of the Bevy unit in my bedroom was not a smart choice as the router is at the opposite end of the house on the lower level. Moving it to the living room meant having to go through part of the initial set up process again as unplugging the Bevy meant the router password was not saved and needed to be re-entered. However, once I got it hooked up I was good to go.
What I have found so far is that you will see more functionality from the mobile app than the computer software. I was able to click and drag photos from folders on my computer to the Bevy, but could not sort into folders.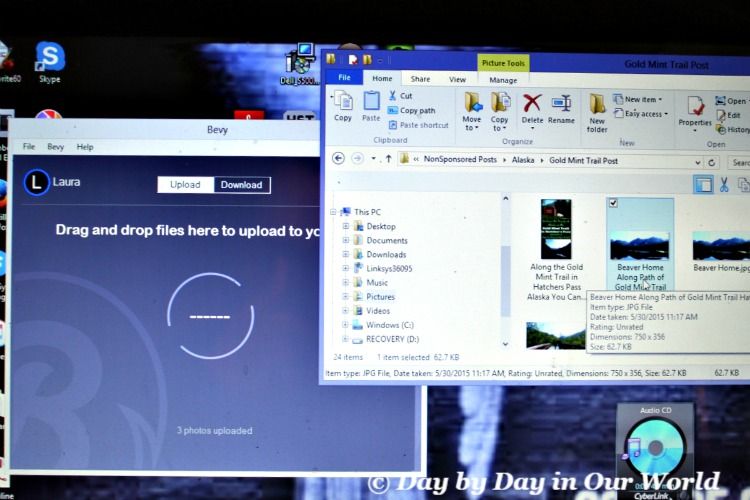 Beyond uploading from the computer, you can also download from the Bevy. I am seeing a HUGE plus for this when it comes to storing photos I take for the blog as well as personal ones. As I can access it on either my phone or computer, I can store the original photos (or the later edited ones) on the Bevy and not worry about clogging either my phone or computer with all the files.
Accessing the Bevy via my smartphone does NOT require me to be on the same wi fi network once the Bevy is set up properly. I was able to take a peek using my mobile data plan while more than 30 minutes away from the house. When I was at Type A Parent, I saw a demo where the person with me in Atlanta accessed her Bevy in the St. Louis, Missouri area.
I do like that the photos are automatically sorted in chronological order. However, the ability to do custom folders is a huge plus so you can sort by not only the individual uploading, but also by type of photo (e.g. Trip to Seward) for a quicker path to find the photo you want to share.
I plan to migrate our older photos from the computers to the Bevy via a SD card soon. It will be so nice to have them all together for us to easily find.
What are some ways that you preserve and share your pictures?
Who would you share photos via a Bevy within your life?