I have been, or can be if you click on a link and make a purchase, compensated via a cash payment, gift, or something else of value for writing this post. Regardless, I only recommend products or services I use personally and believe will be good for my readers.
This shop, How to Prepare Your Car for Summer Adventures and Save Money, has been compensated by Collective Bias, Inc. and its advertiser. All opinions are mine alone. #SummerCarCare #CollectiveBias
April is quickly speeding past us with May closely on its heels. That means summertime will be here soon. Have you considered how to prepare your car for summer adventures and save money in the process?
For those who call Alaska home, there is one common denominator to living. We are all trying to pack as much fun into our oftentimes short summer season as we possibly can. Getting out to see the amazing sights, whether a day trip or a weekend adventure, is what it is all about.
For our house, that means we need to prepare our vehicles for those day trips like going to Mirror Lake for water splashing time on a hot, sunny day. And, we also have an RV now for those longer, overnight trips which mean a lot of awesome memories for our family.
Now that the snow and ice have melted, the vehicles have been crushing all the grit laid down over the winter turning it into a fine dust that gets on everything. Soon most of it will be gone as it will have either floated around to coat all the nearby vehicles or the municipality's road 'Zamboni's' as my family calls them will have come through to sweep up the remaining debris while spraying the roads with water to minimize the floating dust.
This past weekend found my husband and eldest son changing the vehicle tires from winter (studded or snow) tires to the all-season radials that work great with the rain. Since springtime came super early to Alaska, a good portion of the flying dust has settled. So that meant other basic car maintenance that happens this time of year. Different fluid levels were checked, our RV got a complete oil change for the start of the camping season, and all of our regular vehicles got new air filters.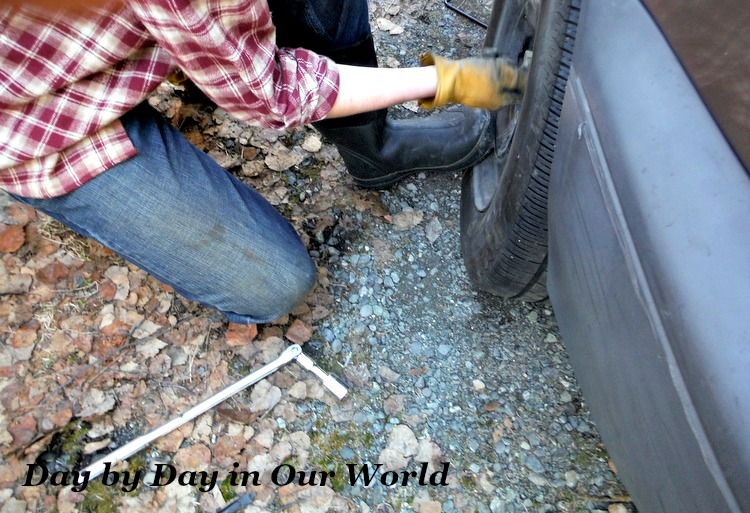 My husband and I had visited Walmart in advance of the springtime car prep rituals. We picked up new FRAM Extra Guard Air Filtersfor the three vehicles we own (his Toyota Camry, the Ford Expedition I drive, and the rather old Toyota Sienna our college son uses to commute to classes.) My husband also picked up the RV's oil and a new cabin air filter for his vehicle, a feature the other vehicles we own do not have. You can look online for which FRAM filter you need for each vehicle and check via the Walmart site on whether it is in stock at your local store.

I will admit that after getting married I conveniently 'forgot' how to do the basic car maintenance my dad insisted on all three of his girls learning. While somethings are easier to do than others, it is all important for extending the life of your vehicle. Investing the few minutes now to maintain your vehicle will pay in 'dividends' later. Plus, doing the work yourself is often less expensive than even buying the parts at your local dealer.
Aside from washing and detailing your vehicle, the next easiest bit of maintenance is replacing the engine air filter annually. (FRAM recommends changing your air filter annually or every 12,000 miles. However, always follow recommended change intervals as noted in your vehicle owner's manual as they may differ.) If you aren't familiar with how your vehicle's engine works, the engine air filter is the first line of defense against dirt and dust from entering and damaging the engine. Increased acceleration, horsepower, and improved overall engine performance are the benefits of regularly replacing your engine air filter.
Replacing an engine air filter is a quick 3 step process. How long it takes is mostly a function of how easily you can open and close the compartment containing the air filter. Newer vehicles like our Camry may have a tighter fit for sealing which takes a little more patience and pressure to close. For most people, you can be done in about 5 minutes!
How to Change an Engine Air Filter

1. Open the hood, locate your air filter compartment and open any latches holding it closed.

2. Take out the old air filter.

3. Pop in the new one, latch the air filter compartment closed, and toss out the old one.

As I said, the old air filters in our vehicles were dirty. I think the Expedition took the prize for filthiest which is no great surprise as I do the bulk of the driving in our house.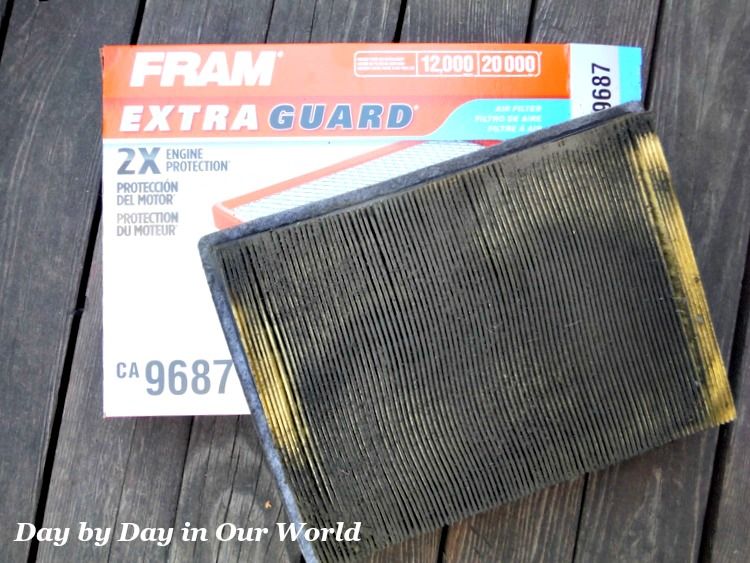 Now that the more mechanical maintenance work is done, I'll be spending time with the boys on getting rid of the residual winter grime both inside and out. That means printing out my Car Detailing Sheet for the tween and teen.
My final requirement to get the vehicles ready for summer fun is stocking the back of my vehicle with a few must-have essentials. I like to have a few towels along with a large blanket to spread for impromptu picnics set aside. While many of our local parks have some benches, when things get crowded you need to be prepared with your own. Plus, there is the need to have water and shelf-stable snack options just in case the gorgeous weather has us engaging in an impromptu afternoon exploring the great outdoors.
Just to make it easier, I put all those goodies into one of my insulated bags. That's the final essential for the warm weather months. Otherwise, that great deal on frozen goods (e.g. ice cream) won't end up melted before we get home from shopping.
What are some of the ways you prepare your car for summertime adventures?
What types of summertime adventures does your family enjoy?