I have been, or can be if you click on a link and make a purchase, compensated via a cash payment, gift, or something else of value for writing this post. Regardless, I only recommend products or services I use personally and believe will be good for my readers.
It's always fun to have a game to start off our review year with the TOS Homeschool Crew.
The boys have been enjoying the newest game to enter our house…Pig Pile from R & R Games.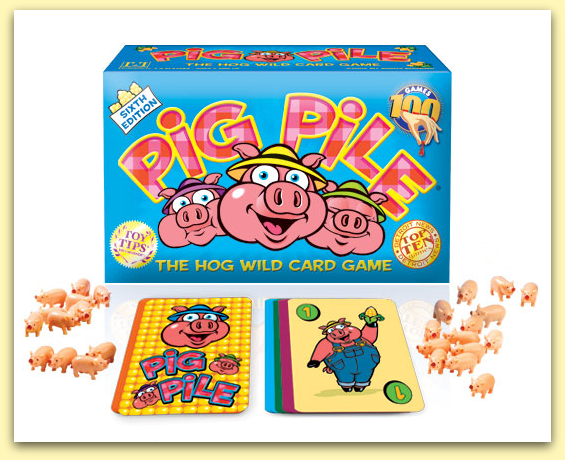 Pig Pile retails for $15.95 and is rated for ages 7 and up. Inside the box you'll find 80 cards, 40 small pink pigs, and the instructions. The game requires at least 3 players, but no more than 6 at a time. With 3 boys in the house, the numbers are perfect.
P commented that he's played a similar card game with a few fellow Scouts, only there are no pigs involved. The ultimate object of this game is to have the most pigs in your pile. Getting there means learning how to manage your cards and avoid someone else yelling "Hogwash!"
The verdict from the boys is that it is a blast to play. Now they are just lamenting the fact J managed to get his hands on some of the cards and through spastic movement caused a bit of damage. Even still, I think we'll be pulling this one off the shelf for quite a while.

R & R Games offer other options beyond Pig Pile. You'll find them on their website.
R&R Games is graciously offering a 20% discount to anyone purchasing Pig Pile or Flea Circus through the TOS Homeschool Crew reviews. Just enter the coupon code, CREW20, to receive the discount now through December 31.
Disclaimer ~ Our family was provided with Pig Pile for the purpose of completing this review as a member of the TOS Homeschool Crew. No other compensation was provided and the opinions expressed are our own. You can see what other TOS Crewmates have to say about Pig Pile and Flea Circus on the TOS Homeschool Crew blog.