I have been, or can be if you click on a link and make a purchase, compensated via a cash payment, gift, or something else of value for writing this post. Regardless, I only recommend products or services I use personally and believe will be good for my readers.
Orphs of the Woodlands at Tangletree : An Interactive Book was made possible with a copy of Orphs of the Woodlands at Tangletree app for iPhone, iPad or iPod Touch running iOS 8.4 or later from Star Toaster for review as part of the Schoolhouse Review Crew.

We have a love-hate relationship with technology at times. We all love the ease to be productive and engage in meaningful activities, but we can all easily get sucked into time-wasting activities.
We've had a lot more of our learning via the internet the past few years, but I was starting to shun some of the technology as boys could easily get pulled into the fun and not get the work done.
When I first heard about Orphs of the Woodlands at Tangletree, I was intrigued. An interactive book app that provides entertainment through both games and a story as well as the opportunity to learn new facts or reinforce things you already know? Well that sounds more like the interactions I want my younger boys to have with their iPad.
This is actually the second app from Star Toaster. The original, Orphs of the Woodlands: The Treasure of HighTower, targeted upper elementary students (grades 4 to 7) while this one could be used by a child ready for short chapter books. I haven't seen that one, but am definitely adding it to my wishlist when my youngest is ready for more advanced learning. Orphs of the Woodlands at Tangletree is a prequel to that adventure and geared towards kids ages 9 to 11.
What is Orphs of the Woodlands at Tangletree?

This 122 page illustrated chapter book tells the story of Abba, a flying squirrel who cares for six orphaned animals, or orphs, in his tree house. They live in the community of Stumptown where you'll find lots of cute animal characters.
Instead of an illustrated book that is just read on your iOS device, this story requires interaction with the reader. Specifically, they are going to complete tasks to help do the work of providing for the 6 young orphs.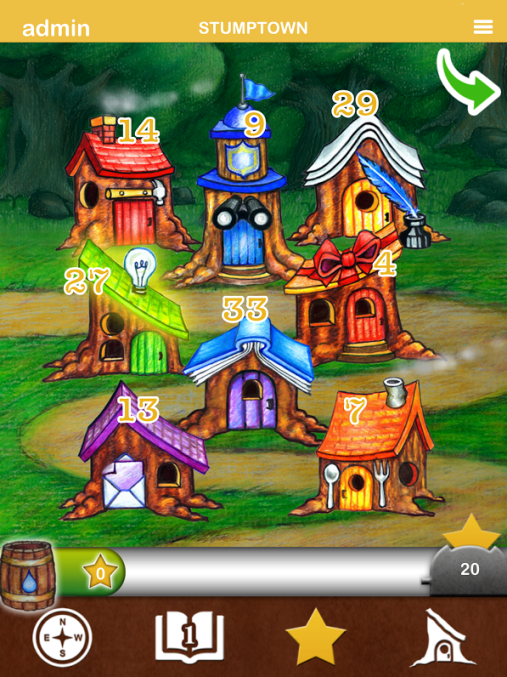 There is a total of 130 jobs spread across 75 lessons in the subjects of math, science, language arts, thinking & life skills, and the arts. Completing each job helps to meet a need of the orphs. Parents can always take a peek to see how many of the jobs and lessons they have completed (as shown in the sample screen below.) As the work is tracked by account & device, make sure they use the same one each time.
As they work their way through the story, they will see key terms or phrases highlighted (in blue as shown below.) Clicking on the highlighted term will bring up a definition that will better explain its use in the particular passage.
Comprehension of the story as well as what key concepts are is a focus of the program's tasks. We found some of them to be a little on the funny side and slanted in such a manner that most children can easily pick the correct answer.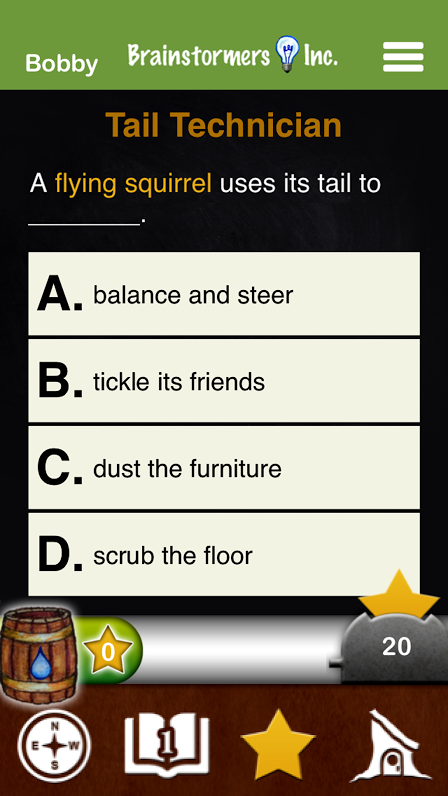 Some Thoughts on Orphs of the Woodlands at Tangletree
For this review, I had my 8th-grade son do an initial pass through the material. His advanced reading level meant it took almost no time to get through the story. He found the activities okay, but a little below his age level. (This is the child who learned to read at 5 and took a few months to read The Hobbit to himself at the age of 6.) He did share that he considered it a good choice for his younger brother to begin using.
Now that my 1st-grade son is reading more independently, he is going to be walking through this as well. The beauty of this app is you can have multiple kids registered and using it. So there is no fear of a brother having accidentally done their work on your account. And, no expiration date of service means that J can work at his own pace. His reading skills have grown leaps and bounds in the past few months. But that doesn't mean his comprehension or other abilities are ready for all provided in this app.
As a parent, I definitely appreciate Star Toaster's approach to learning as a lifelong experience and that character defines success. The Orph of the Woodlands programs seek to engage children in learning through a fun, interactive environment while seeking to instill positive character traits. What's not to love about those goals?
Do your children enjoy interactive books like this one on the iPad?
Would this story appeal to you and your family?

Don't just take my word for how we found this to be. Visit the Star Toaster post on the Schoolhouse Review Crew website to see what other homeschooling parents thought about this title and other grade level ones.