I have been, or can be if you click on a link and make a purchase, compensated via a cash payment, gift, or something else of value for writing this post. Regardless, I only recommend products or services I use personally and believe will be good for my readers.
This post about science online curriculum from Fascinating Education, was made possible with the chance to review their Fascinating Chemistry Course.
When you talk to someone about your decision to homeschool through high school, I have heard the response "I could never do that!" a lot. I've even known a few people who homeschooled until high school and then elected to send the teens to school. Often times, the reasoning behind the disbelief or decision to shift away from homeschooling comes down to a fear of teaching math and science. I won't question that they can be scary subjects to teach. However, there are so many options for online curriculum including the programs from Fascinating Education which help make the scary a lot less terrifying.
Online Curriculum ~ What Fascinating Education Offers
Every science program I have looked at has a different approach. Many of the programs I was considering for my eldest son this year have a text book approach with workbooks and labs as add on features. Fascinating Education offers the three main high school science courses in an easy to use online format which covers all of the main topics normally seen in school based courses. Each course is sold with one year access at the cost of $79 per subject. Alternatively, you can bundle 2 courses for $125 or receive all three courses for $175.

These courses were developed by Dr. Sheldon Margulies, a neurologist and lawyer by trade. His knowledge of the human brain has helped him to better address education with particular focus upon how we learn, how we focus our attention, how we retrieve information, and how emotion and motivation affect learning. In addition to the creation of Fascinating Education to teach middle and high school students the three key areas of science, Dr. Margulies has authored the books The Fascinating Body – How it Works, Everyday Doctoring, and Learning Law – The Mastery of Legal Logic.
The courses have video driven lessons which illustrate the key points while Dr. Margulies lectures on the topic. You can download a transcript of the lesson to follow along as he goes and to serve as a good reminder of what was covered. There is also the option to take each lesson quiz online (with instant grading feedback) or on paper (with the quizzes accessible to the educating parent with a separate password.) Additionally, there are suggested labs for several of the lessons which use materials readily available.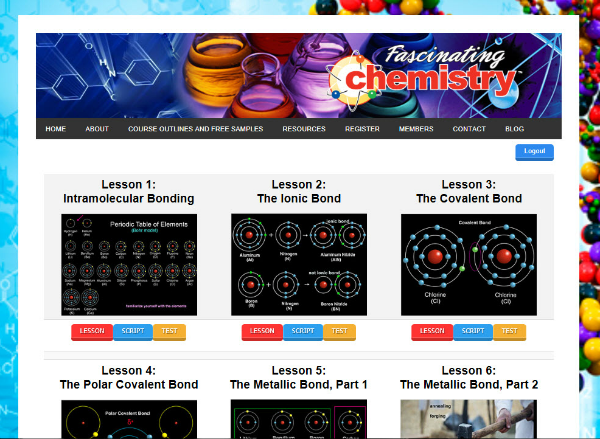 For this review, we received access to Chemistry. The lessons for this particular subject are:
Lesson 1:The Intramolecular Bond
Lesson 2: The Ionic Bond
Lesson 3: The Covalent Bond
Lesson 4: The Polar Covalent Bond
Lesson 5: The Metallic Bond, Part 1
Lesson 6: The Metallic Bond, Part 2
Lesson 7: Heat
Lesson 8: Air Pressure
Lesson 9: Properties of Water
Lesson 10: The Mole
Lesson 11: Gases
Lesson 12: Solutions
Lesson 13: Chemical Reactions
Lesson 14: Orbitals
Lesson 15: Electrochemistry
Lesson 16: Polymers
Lesson 17: The Nucleus
Lesson 18: Final Problems

Labs for the Chemistry Course which are matched to the lessons:
Lesson 2: Salt Crystals
Lesson 3: London Dispersion Forces
Lesson 6:Making Brass
Lesson 7: Heat of Fusion and Volume of Ice
Lesson 8: Weight of Air,Atmospheric Pressure, and Barometer
Lesson 9: Density, Sugar in soft drinks, and Viscosity
Lesson 11: Heat
My Thoughts on Fascinating Education's Chemistry Online Curriculum
Although I have my Bachelors of Science in Chemistry, it has been years since I have been immersed in the material. After spending a long time working to ensure the boys' homeschooling had a reasonable amount of time spent across the board on topics, I have found that my personal advanced science knowledge has suffered. When evaluating this particular company, I took their sample quiz for chemistry and was ashamed to have missed more than just one question. With my eldest son working on chemistry this year, I decided this mama needed to up her game. So,this particular review of the chemistry program was taken mostly to refresh my brain on the basic concepts of chemistry.
At first glance, you might assume there is no way this course can cover a year's worth of material. However, the lessons are not something you can just fly through and complete at racing speed. The system remembers where you left off so that when clicking on a particular lesson you do not need to retrace your steps. Yet, there is also the option through the left side bar of the lesson screens to move around and rewatch sections as needed. There is also a spot to click for lesson resources, links and documents that are related to the topic and can be useful to the student.
While I am the one who has been slowing working through concepts to stay on track with my son, I am starting to see the positive effect having him use this alongside his main textbook can have. Sometimes you need to see things presented in different manners for a concept to click. Reading from a textbook can be passive and leave you confused if you are prone to having your mind wander. (Yep, I'll confess to having that problem at times!) P has told me that he is struggling with remembering the different electron levels and how many electrons can be in each one. So, I am going to be sitting alongside him to watch these videos to hopefully help him solidify the concepts.
I like the availability of the tests as pdf files, although the instant feedback from online tests is always great. However, if you have more than one child working on the course, the print tests enable you to evaluate them independently. And, if you need to have detailed handwritten records of work, the printed tests will meet that criteria. The online scores will show not only what your student received, but what a passing grade for that test is. You can also elect to review the online test where each question is shown along with the correct answer and the student's answer. If all you need is the grade, you can print the test results with the student's name as well as a results summary.
What I have only looked over and not implemented with the boys are the labs which come with the course. I am impressed at how easy the process to integrate hands on learning through experimentation with the online curriculum truly can be. Each lab is written as a pdf file with a note to safety, the purpose of the lab and the instructions including needed supplies. You can then have the student write everything up in lab report format which includes data, observations and conclusions in addition to the information already provided.
How do you handle the teaching of high school level science for your homeschooled child?
Does the multimedia approach of video, online quizzes and written responses appeal to you?

Don't just take my word for how we found this to be. Visit the Fascinating Education post on the Schoolhouse Review Crew website to see what other homeschooling parents thought about this and other self-paced courses.