I have been, or can be if you click on a link and make a purchase, compensated via a cash payment, gift, or something else of value for writing this post. Regardless, I only recommend products or services I use personally and believe will be good for my readers.
This post, Nintendo Yo-kai Watch for 3DS, was sponsored by Nintendo as part of an Influencer Activation for Influence Central. I received complimentary products to facilitate my review.
It is no secret that video games are big. My boys love them and I see so many other children who enjoy this form of entertainment. A few years ago, I purchased a 3DS which is technically mine, but I never seem to have play time on it. Instead, it is shared by the boys to play 3DS games as part of their downtime from schoolwork and the assigned chores.

Aside from break times (like after their school work is done for the day) at home
, the boys enjoy taking the 3DS and other handheld electronic devices with us on long RV trips as well as trips into Anchorage where we'll be in the car for a while.
They also come with us as a way to entertain the younger boys when they've had to sit waiting for an older brother finish with a study group or other activity away from home.
If you haven't heard about Nintendo Yo-kai Watch before now, do not be surprised. This game just arrived ($39.99 retail) from Japan on the Nintendo 2DS, 3DS, or 3DS XL gaming systems. While it is new to the United States, it has been a craze in Japan for a while now.
What are Yo-kai?
The Yo-kai are mischievous creatures that inhabit our world. They are everywhere and the reason things go wrong like misplacing your keys or the toilet getting clogged.
Using the power of the Yo-kai Watch, you can find the hidden Yo-kai to befriend them then call upon their powers when their help is needed. With 200 different types of Yo-kai from one of eight different Yo-kai tribes, there are many to find in the world. A bonus is that Yo-kai from the same tribe fighting next to each other enjoy increased abilities in a battle.
The more you play, the more the game can change as the Yo-kai can evolve. Plus, you can add to the game through the use of Crank-a-kai coins found around town in treasure chests and from toys or QR codes in the You Tube videos. Crank-a-kai coins can be cashed in for valuable items or help with finding difficult to locate Yo-kai.
Here's the official video showing you aspects of the game:
What My Boys Think about Nintendo Yo-kai Watch
Overall, the younger boys (ages 6 and 12) gave this game a thumbs up.
My 12-year-old son enjoys the 'fight' component of the game. He's played other games which are somewhat similar in their overall approach. Knowing how to manage the Yo-Kai in your 'pocket' is the strategic component of this game.
You are allowed up to 6 Yo-Kai medals in your watch at any one time with others held in a coin book called a Medallium. So, the strategy comes in knowing who to call for help when faced with the Yo-kai bosses.
Both liked going around checking for the presence of Yo-Kai on family members.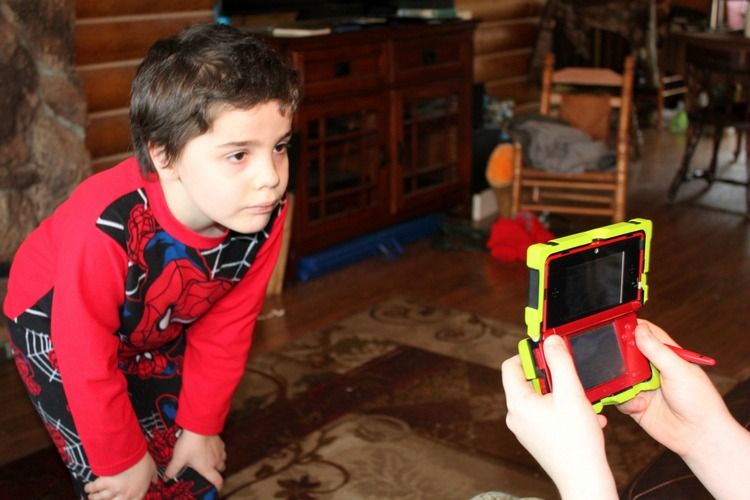 Of course, they like any excuse to snap photos and this one adds the Yo-Kai alongside the person you are viewing.
Win a Copy of Nintendo Yo-kai Watch
One lucky blog reader will win their own copy of Nintendo Yo-kai Watch. Entries are accepted via the Gleam app below through April 3, 2016. You MUST complete the mandatory comment entry to be eligible to win. The winner will be notified via e-mail and have 24 hours to claim their prize or a new winner will be drawn.
NOTE: Contest entrants are only eligible to win once per sweepstakes, per household as a part of a campaign sponsored by Influence Central and must reside in the United States.
Do your kids enjoy playing video games like Yo-Kai Watch on handheld game systems?
Do you ever play the games alongside your kids?