I have been, or can be if you click on a link and make a purchase, compensated via a cash payment, gift, or something else of value for writing this post. Regardless, I only recommend products or services I use personally and believe will be good for my readers.
Online Life Science Study of the Rainforest for Elementary Students was made possible with access to Rainforest Journey, a fun, grade-level specific online life science study from Ed Tech Lens for review as part of the Schoolhouse Review Crew.
About the Life Science Study of the Rainforest from Ed Tech Lens
Ed Tech Lens has launched their first online learning science program for elementary students (grades K – 5) which covers a variety of life science topics under the umbrella of studying the rainforest. The same concepts are covered in each grade level, just the complexity of the information presented changes.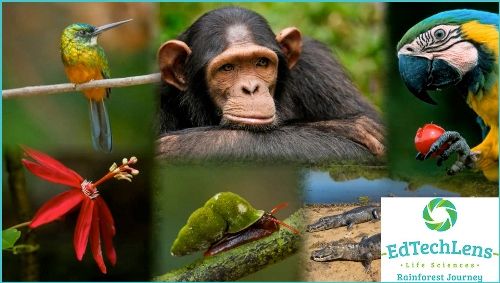 Rainforest Journey is presented in 5 overall units:
The Big Picture (basics including the layers of the rainforest & the water cycle)
Adapt or Die! (protective strategies for animals & plants)
Animals (main categories of animals in the rainforest including familiar and less familiar ones)
Plants & Fungi ( different types of plants/ trees as well as why fungi are important)
Ecosystem (learn about how everything in the rainforest has a role)
The material is spread out over a total of 34 lessons. A multiple choice quiz is found at the end of the chapters (containing multiple lesson) to assess their acquisition of knowledge. There are also open-ended questions sprinkled throughout the program.
The material is presented in a multimedia format with a combination of gorgeous photography and short video clips to illustrate the main points of each lesson. Along with the photography and videos are reading passages that present the material. Some of the lessons (at least at the K level) include excerpts from a Rainforest Trip Journal of a mother-son photo/video team.
For educators, each reading passage includes a section for teacher viewing that indicates the Lexile score, the standards covered, and the word count. While most homeschoolers might not be interested, I do like seeing what standardized point is covered and whether the reading level is something my son can manage. And, for a younger student like mine, there is an
option to have the passage read TO them
by clicking the speaker icon found at the end of the text.
Our Thoughts: Life Science Study of the Rainforest from Ed Tech Lens
J has been working on the kindergarten level of Rainforest Journey and is thoroughly enjoying the process. He loves having something that is 'his' and the multimedia approach to learning appeals to him. Online learning is great in so many ways, but having components that require pencil and paper makes it more of a win for me.
As I've found that he prefers to do more of a 'block scheduling' approach to some subjects like science, we have elected to do a chapter at a time for this study. We do spend more than one day doing it as the online component is usually completed in one sitting and then, on a different day or two, we do the printed worksheets.
Given our propensity to watch nature shows, he did already know some of the information. But, with repetition, he is starting to learn more about the rainforest and share that knowledge with the family. One example was talking about the different levels of the rainforest. One of my older boys didn't realize there are FOUR sections of the rainforest as he considered anything above the ground flora to be one level instead of two.
Do your homeschool students enjoy multimedia learning approaches like the Rainforest Journey program offers?
What are some ways you've taught science to early elementary kids?
Don't just take my word for how we found this to be. Visit Rainforest Journey from EdTechLens Review post on the Schoolhouse Review Crew website to see what other homeschooling parents thought about this and other self-paced courses.