I have been, or can be if you click on a link and make a purchase, compensated via a cash payment, gift, or something else of value for writing this post. Regardless, I only recommend products or services I use personally and believe will be good for my readers.
Learn about the States with an easy to use USA Activity Bundle was made possible with a copy from The Crafty Classroom for review as part of the Homeschool Review Crew.
Learning about our country is something I want my youngest son to enjoy. We are fortunate to have spent time over the past few years driving in the RV across several states. However, we need to spend time looking at the actual states now that J is older.
With a pending move from Alaska, I decided it is a great time to look at a few state based studies this summer. Using the USA Activity Bundle from The Crafty Classroom, we are doing a little hands on learning.
About the USA Activity Bundle
When it comes to a homeschool geography curriculum plan, there are many ways to go. For elementary grades, a 50 State Unit Study approach is often well received. The USA Activity bundle can be a backbone for this type of study.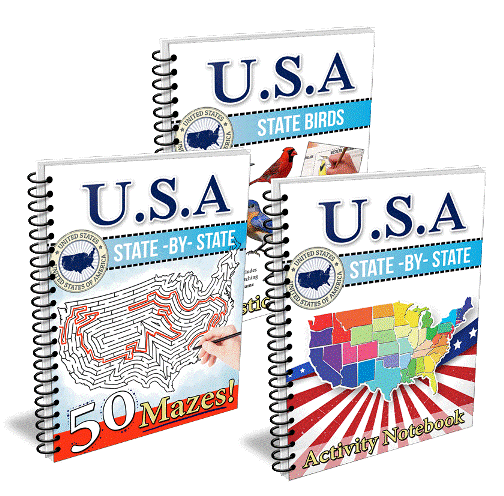 When you purchase the bundle, you receive access to three pdf files.
The USA State by State Activity Pack
A USA State Bird Art Pack
USA State Mazes
Inside the activity pack, you find maps of each of the 50 states with room for recording different facts about the state. Your child will need an atlas of the United States to finish the work or the use of internet resources with similar information.
On each page are several items about the state for coloring. This includes the state bird, state flag, and state flower. A small map of the United States is on each page for them to color in the state being notebooked. There are also spaces for drawing and making notes.
At the end of the activity pack file are two games: USA Bingo & Roll Across America. These games provide a chance to review what they've learned in a fun format.
USA State Mazes make for a fun 'final' activity after learning about the state. Additionally, the USA State Bird Art Pack allows students to make large cards for each state bird.
These USA notebooking pages can be compiled into book format which your student can reference in the future. You can make a book easily with a binder and clear protector sheets. This technique allows you to easily add to the book. Alternatively, you can use a binding system to make one. Either approach works well with this resource.
Our Thoughts on the USA Activity Bundle
Overall, this is a great resource for homeschoolers with kids in the elementary grades.
Since my son is just entering the 2nd grade, we have taken a slower approach to learning about the different states.
To begin, we focused on Alaska (our current home state) and Colorado (where we will be moving.)
After a trip to the library, we had a few books on each state to read through. While we could find information online, I find that I prefer a more 'old school' approach with the elementary ages.
Lucky for him, his dad adores birding. So, we have bird books in the house.
With 48 more states to cover, I decided to enlist my son in choosing the path to take.
One option was to look at states we have already visited on our long RV trips. The other option was to look at states surrounding Colorado (some of which we've driven through in the past year.)
It was a tough choice, but he ended up going with learning the past such as Maryland where he was born and we still have family to visit. And, New York (where my husband grew up) and Louisiana (which is my home state.)
How do you approach geography studies in the elementary grades?
Are notebooking and unit studies approaches you've taken or are interested in using?
Don't just take my word for how we found this to be. Visit The Crafty Classroom review post on the Homeschool Review Crew website to see what other homeschooling parents thought about this book.