I have been, or can be if you click on a link and make a purchase, compensated via a cash payment, gift, or something else of value for writing this post. Regardless, I only recommend products or services I use personally and believe will be good for my readers.
Math is one of those subjects that some people dread. And, I'm not always talking about the kids when I saw that!
Personally, I love math and the very orderly way you can explain things through the patterns found. But, there are times when I dread teaching it as the boys have hit a brick wall with a particular concept and start having that stinking thinking. That's when I like having something they can do on the computer (as computer time is highly desired by them.)
IXL Math at a Glance ~

Complete coverage of math curriculum from pre-K to algebra. Your kids won't miss a thing!
Unlimited questions in over 2,000 skills.
Fun and colorful practice formats.
Questions that adapt to your child's ability, increasing in difficulty as they improve.
Immediate feedback and question-specific explanations to solidify understanding of each concept.
Audio for all pre-K through first-grade skills.
Weekly e-mail updates on your child's progress.
Informative, detailed reports pointing out successes and trouble spots.
Awards and certificates for you and your children to print out as they reach important milestones.
Our Thoughts ~
I have to say that the child who I thought would absolutely love math time on the computer is the one balking the loudest. Then again, he's the one who needs the most work and is now easily frustrated by anything that isn't easy to figure out in quick order. Without my presence and ability to offer more explanation, he felt like he was floundering when working at anything approaching his current grade level. Although, I should clarify and say that the main math program we've used doesn't have the same scope and sequence of most which means gaps exist for now.
From the perspective as the parent, I like the emails I receive when they've been on the program plus a weekly summary one. Knowing I'll get an email saves me from wanting to check the website more frequently, which is good for giving me more time to work one on one with the kids on their trouble subjects.
I can see far more detail about their activity when I log into the website, though, including specific areas they attempted, how many correct items, and how much time was spent.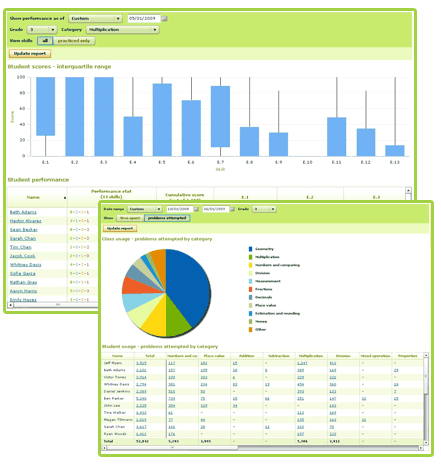 That deeper level of detail also showed me that the younger boys kept switching to an easier grade level assignment when I wasn't watching just to say they'd done their time on the program as instructed. Which then brings me to a possible limitation of IXL math… you can't block the student from moving around the choices if you are not with them all of the time to supervise. My boys are too quick to find a work-around when they can, especially if there is a level of frustration happening already. Initially, I thought it great that you can bounce around the different grade levels. But, now I'm not so sure that the level of freedom that provides is the best fit for my particular children.
I do need to disclose that digging a bit more on the settings showed me that I can hide grade level from the child. (There's a note to have them sign in at www.ixl.com/signin to ensure complete masking of grade levels.) I'm going to try this with the boys from now on so they are not harping on grade level ability versus actual skills.
Check out what a 'work' page looks like. Notice the timer (which is optional) and how they keep 'score'. This was from the parent side, so scores are lost when you leave the section.
Using the IXL report page, I can quickly click from the listed problem area and check out what work the child was attempting to do. Sometimes I can see where they were being careless and sloppy in their work and other times I can see where they might just not understand what was expected of them. Then I can better assist them and possibly eliminate some of that frustration.
While it might seem like I'm not particularly grooving on IXL math, I will say that our initial experiences have also been tainted by my giving the boys more freedom to do the work without me hovering. Somehow my letting them loose with it translated to their not thinking to talk to me right away if they get frustrated. Plus, they seem less open to learning a skill 'after the fact' as IXL math presents an explanation option when a problem is missed rather than going through the skill first. As the list of skills on IXL does not always translate well to what they know and what is completely foreign, I'd have to list out very specific items to do.
All that being said, I plan to keep them using IXL math for additional practice in their problem areas. Sometimes a different 'view' is just what you need. Having them work through by topic area rather than looking at grade level might improve their willingness to do more math. And, I know that my boys who are struggling at the moment will most likely respond better when more awards are earned. (That's the most likely reason they jumped down to the super easy stuff. They wanted the visual reward, as seen below.)
IXL Math is available by subscription for $9.95 per month or $79 for a year. Each additional child is just $2 per month or $20 when doing the yearly option. At the moment, math skills are covered from pre-K through Algebra I with plans to expand into more advanced math.
Disclaimer ~ We were sent the materials referenced in the above post to facilitate a review as a member of the Schoolhouse Review Crew. No monetary compensation occurred and all opinions are my own. You can see what other Crewmates had to say about this product by visiting the Schoolhouse Review Crew website.