I have been, or can be if you click on a link and make a purchase, compensated via a cash payment, gift, or something else of value for writing this post. Regardless, I only recommend products or services I use personally and believe will be good for my readers.
J is a 'young' 4 right now. The school districts say he has to wait until August 2016 to be considered a kindergartener given his fall birthday. Yet, that doesn't mean he isn't eager and wanting to learn each day alongside his brothers. As much as I adore preschool learning opportunities that fully engage ME in the process, there are times when I want something that he can do more independently while I work with an older sibling. Given his love of technology (like all of my boys), I was eager to see how J would react to reviewing the Talking Shapes iPad App ($5.99,
requires iOS 6.0 or later) from Talking Fingers, Inc. with it's interactive learning platform.
Interactive Learning with Talking Shapes iPad App

The Talking Shapes iPad App helps preschool and kindergarten aged children learn how the words they say can be turned into words they see. This is done through interactive learning that requires the child to be recognizing letter shapes through pictures of items beginning with that same letter. Neuropsychologist, Dr. Jeannine Herron uses current research in brain development to develop the activities and stories within the app.
The 7 stories are set in the distant past and feature 2 sisters, Pat and Nat, who enjoy telling each other stories. However, they want a way to record their stories so they will be able to enjoy them later. The sisters go on to 'invent the alphabet' using pictures which are great reminders of both the sound and shape of each letter. The stories introduce all 40 speech sounds (phonemes) in English as well as the letters that stand for those sounds.
Games are related to each story. The child might be piecing together simple words from the story using the pictorial depictions of each letter. Some show the actual letter on top of the picture while others show just the picture and require the child to then trace the letter shape.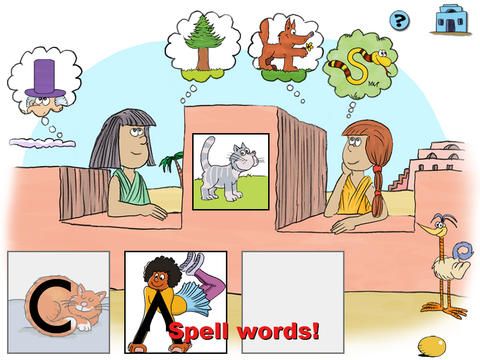 Eventually, the child will progress to the point of reading words that have been spelled.
Our Experience with Talking Shapes iPad App for Interactive Learning
Like anything, there are aspects of this app which J has really enjoyed and others that he only likes to do in small doses.
He loves having the stories read aloud to him. While he listens to the story, you can see him touching parts of the iPad to see if he can make anything happen and then clicking the forward arrow when the next page is ready to be read. He likes the illustrations and finds some parts of the story to be on the humorous side. He'll even repeat the key words when asked as the story progresses.
When it comes time to play games related to the story, he sometimes gets frustrated. I found that while he can listen to the story independently and enjoy the process, he sometimes needs someone to model how to do an activity before he is comfortable working on his own. In the first story, the words (cat, hat, sat, fat) all rhyme and have only one letter different from each other. After a while, he was noticing that pattern and building the words went more quickly as he knew the A and T would be in the same spots each time.
The first time he worked on these games, he tried to jump to the 'trace the letter' option. What to do was not very intuitive to him. He had to move the correct picture to the designated spot and then trace his finger at the spot where the letter should be. From his frustration, he elected to randomly move his finger over the picture until the letter would appear. We're working on removing that more random motion in favor of a controlled pattern.
Overall this is a nice app for the child ready for some formal learning in a technologically driven way. However, I would not anticipate it being sufficient to teach a child the alphabet or how to properly form the letters for written work.
Curious what other reviewers have to say about this product? Visit the Talking Shapes Review page to read more reviews.