I have been, or can be if you click on a link and make a purchase, compensated via a cash payment, gift, or something else of value for writing this post. Regardless, I only recommend products or services I use personally and believe will be good for my readers.
Incorporating Notebooking in Your Homeschool contains affiliate links. We only recommend products we believe are of value. Our family has a Notebooking Pages Lifetime Membership from Notebookingpages.com. 
There are MANY ways to engage the kids in learning beyond reading a textbook and filling out a worksheet. Notebooking is just ONE of those alternative methods.
For those that haven't heard about notebooking, it is basically a journaling approach to learning.
Students do their required work for each subject. This could be reading, discussions, watching videos, or doing experiments. Then, they record the highlights onto a designated notebooking pages. In many ways, a lab notebook is an example of this which some of us remember from high school and college.
Incorporating Notebooking in Your Homeschool
There are many ways to add notebooking to your homeschool studies. The basic idea is to record information on a sheet of paper and then place it into a binder / notebook. So, the sky is really the limit for this approach to learning.
At first glance, some people might wonder how notebooking is different from just filling in a worksheet.
While the child is going to be writing about what they are learning, a good notebooking approach is open-ended. In other words, it isn't a regurgitate the specified information. The curriculum developer isn't setting what is important. The student is.
That approach is great for class settings where teachers need to assess a child's learning of key points quickly. However, the beauty of homeschooling is that we do not need to fit into a particular mode.
With a notebooking page, your child is given a blank canvas. They determine what are the most important items from their studies.
By placing it into a binder, you can create a more meaningful portfolio of your child's work. I've found that they are much more inclined to look back through this type of portfolio than look at completed math worksheets or other items of that nature.
Incorporating Notebooking in Your Homeschool: Using Notebooking Pages
I love the beauty of having lovely pages ready to print and use in our homeschool.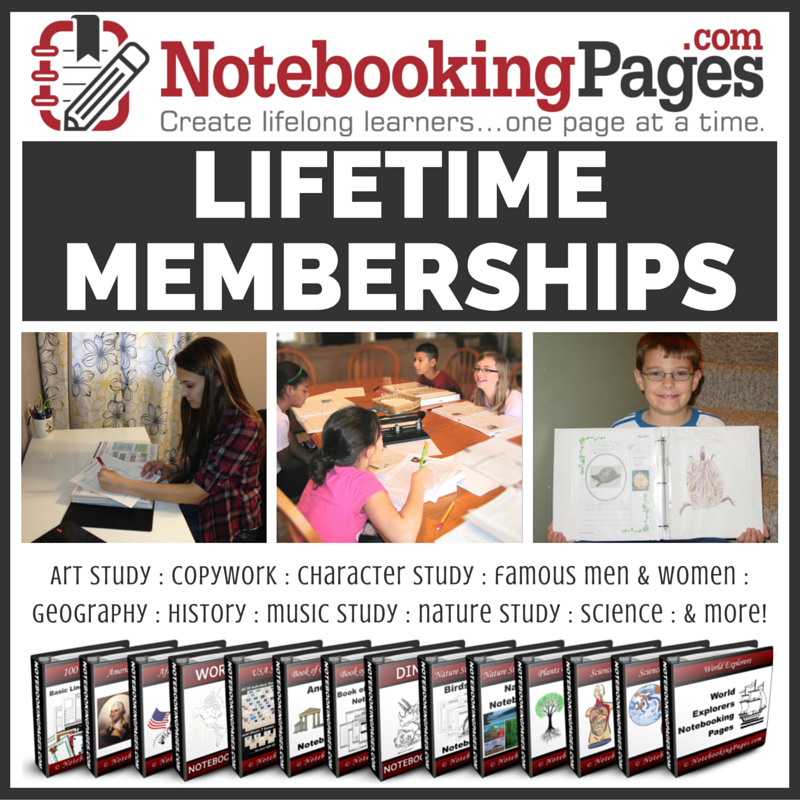 With the lifetime membership, you get access to everything that Debra has created over the years. Trust me, there are a LOT of pages you can use. And, she is adding to the list every year!
To get you started, there is an awesome EasyStart Guide. This includes showing how to create a master binder where you can see thumbnails of ALL the available pages. You do this by downloading and printing the Table of Contents / Catalog for each set.
Using the membership is easy. You just select which category you want to find on the menu bar in your Lifetime membership center.
If you like practically clean slates, then the "Any Study" basic pages are a great fit. There's also the opportunity to download 3-D mini books that then attach to a printed notebooking page. If you are not familiar with using 3-D mini books, then watch the video she has in that section.
Otherwise, you select the particular subject area and find the pages that will work for your studies.
You can choose to download ALL the files for that set in a ZIP file format. Or, you can find just the ones you want.
Plus, there's a web app which is sometimes included for 1 year with the purchase of the lifetime membership. (That's a whole different product which I love to help me create customized pages for our studies.)
Here's an example of a page I've used from that software in the past.
Do you use notebooking in your homeschool?
For which subjects do you see this approach working best?
Don't just take my word for how we found this to be. Visit the NotebookingPages.com post on the Schoolhouse Review Crew website to see what other homeschooling parents thought about this title and other grade level ones.