I have been, or can be if you click on a link and make a purchase, compensated via a cash payment, gift, or something else of value for writing this post. Regardless, I only recommend products or services I use personally and believe will be good for my readers.
I enjoy reading books that are fantastical in nature. So, the description of Immortal Voyage caught my eye when the opportunity to review it came my way.
About the book~
Before the time of the great pyramids, there was a place like none other, a city of glass and metal rising from the depths of the ocean. Shrouded in mist, the island of Hy-Brasil and its capital Atlantis lay hidden from the rest of the world by its people, a race of long lived, interstellar nomads.
What secrets would you keep to save your kingdom? On the Queen's deathbed, the sonless King Rowe is force into a promise to allow his five daughters to marry for love. A promise he wished he had never made, and one he will have to break, to save the kingdom from his squabbling, incompetent son-in-laws.
The youngest of five daughters, Jael, spent most of her time at her father's side learning to run a kingdom. Believed to be the King's favorite, Jael is shocked when he betroths her to a longtime friend of his, Prince Sarik of Hy-Brasil. Soon she will learn that world is full of secrets and one of them is her very own birth. Will the secret that bonds her to Sarik be the ultimate downfall of a kingdom?
About the author~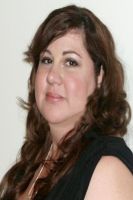 As a teen C.G. Powell was selected as a member of her school's newspaper staff. After her first article the editor decided the darkroom was a more suitable place for her skills…or lack of. Since then, she has traveled everywhere—thanks to her innate curiosity about the world and the Navy. In her life time, she has learned: aviation electronics, CCNA networking, Gemology and how to get bloodstains out of the carpet (you never know when you might need that). But her latest, all-consuming, endeavor is storytelling. When asked why, her response was "I live to challenge myself; I like to be pushed outside of my comfort zone and writing is one of those things that pushes my boundaries. Besides it was the only way to share all of the crap bouncing around in my head!"
My Thoughts~
I loved how the futuristic and primitive were woven together in the story. Until you actually pay a visit to the kingdom of Hy-Brasil that the reader realizes there are beings with advanced technology and completely different life spans compared to the humans who walk the rest of the earth. Camping in the wilds doesn't sound too bad with a few technological advances to keep you safe and warm.
The love stories that come up in the novel are fun rather than especially deep. There are a few scenes of a sexual nature in the novel. The majority are scenes of a married couple expressing their love rather than something more frivolous in nature. A few of them are ones where the characters have an intense attraction and shun acting on them leaving a level of frustration in the air. I mention this primarily for any readers who shy away from novels with mention of sex in it, as I like to be upfront. Those readers who enjoy a little steamy romance in their novels will most likely enjoy the writing.
Overall, this was a nice story to read over a few summer evenings. Unlike some of the books I've been reading, this is written as a stand alone work with no hint of a sequel to come. Yet, it is part of a group of books, Terra Stellar novels, that suggest a common 'out of this world' theme running through them even if the same characters do not make appearances.
Immortal Voyage is available through Amazon in Kindle Format for $2.99.
Disclaimer ~ I was provided with an electronic copy of this title to facilitate a review as part of a Promotional Book Tours blog tour. No monetary compensation occurred and all opinions are my own.