I have been, or can be if you click on a link and make a purchase, compensated via a cash payment, gift, or something else of value for writing this post. Regardless, I only recommend products or services I use personally and believe will be good for my readers.
Are you an active user of social media? Maybe you are on a variety of channels, yet feel like you don't have a handle on any of them. Or maybe you are a little on the older side (like me) and feel more comfortable with certain platforms (like Facebook) and less comfortable on others (like Snapchat and Twitter.) While you might feel compelled to be on ALL the social media channels for your business, just being somewhere does not translate to having a real presence on the particular channel.
Twitter is one that many who are a bit older (we'll say over 40) might have a harder time wrapping their brain around using effectively. It can be a real challenge to compose a message with the character restraint which only gets smaller if you include an image or link. And, for those who blog or have a business they are trying to promote, there is the temptation to drop links on Twitter and run. Sadly, I am seeing that more often and will admit to falling into that trap early on when I first joined Twitter.
How to Be An Engaged Twitter User ~ Do NOT Just Drop Links and Run
Seriously, do NOT just tweet with a link to your site and run. For one, it will not encourage your followers to be engaged with you. But, more importantly, your account will look like a spammer and you might wake up one morning to find Twitter has suspended your account.
Self-promotion is a good thing on any social media channel. However, you don't want to be that person who only sends out their own links.
How to Be An Engaged Twitter User ~ Share Content Your Followers Will Find Interesting
Yes, your content should be a (small) part of this. However, you can also share content which your followers may find interesting. If you are like me and have a lifestyle blog, the topics which could appeal to your followers is rather broad. But, if you are VERY niche focused for your account, then pick content from other sites and sources which fit your niche.
How to Be An Engaged Twitter User ~ Write Tweets with NO Links included
As I said, it has become a sad reality that many people have turned Twitter into a big link stream. However, you are completely missing the micro-blogging aspect of Twitter. If you want the tweet to potentially get some traction through retweets, likes and responses, then take a look at what hashtags are trending.
I've been trying to do this several times a week. Sometimes the tweet seems to just go out into the ether with no interaction. And, other times it gets a decent amount of interaction.
2 #StPatricksDay outfits on the blog. Not sure which I'll wear today. Or, maybe combine parts into a 3rd. #fashion pic.twitter.com/mwDXDJXi8k

— Laura O'Neill (@LauraOinAK) March 17, 2016
This recent one had retweets, likes AND replies. Considering the upcoming Presidential election has some very vocal individuals, I can't say I am surprised. (Note, I do not discuss politics for the most part, but couldn't resist trying to tweet with the #MyElectionFear hashtag.) Some of the replies were, shall we say, very interesting. You'll have to click over to see that, though.
I'm an #independent voter as I look at candidates NOT party. #MyElectionFear is that there is no good candidate on the ballot come fall.

— Laura O'Neill (@LauraOinAK) March 16, 2016
How to Be An Engaged Twitter User ~ Respond to the Tweets of Others
This is a BIG one. Those who are in 'share groups' where people drop their Tweet and expect a RT from you know that if you are not carefully your stream looks like one long RT stream. While retweeting isn't a bad thing, it soon becomes obvious when certain accounts are doing nothing but leaving their own links and RTing other bloggers.
When I am doing those kinds of share threads, I will occasionally find a tweet on a topic that evokes a response from me. So, I'll click the respond icon which will open the spot to write my response with any tagged accounts already listed to me. If they have hashtags in the original tweet, I might copy one or more of them along with adding my short comment.
Another way in which I now respond is to look at my notifications page and scroll down to find tweets tagging me. This page also shows recent followers, trending hashtags, and suggestions of who to follow.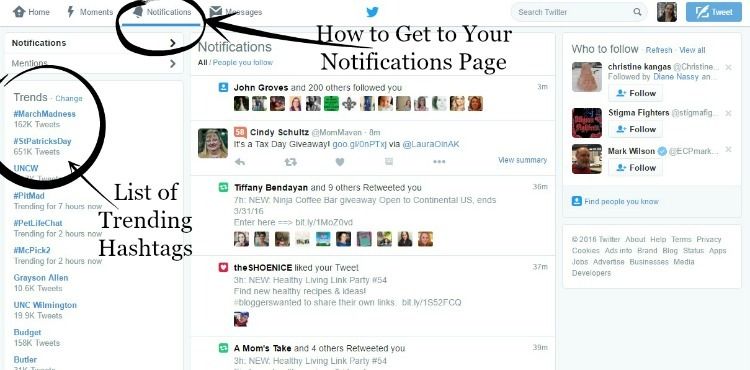 If the tweet notification is of someone sharing something from the blog, then I'll do at least a retweet and like for their tweet. Sometimes, I go a step further and do a tweet thanking the person for sharing. If there are several people sharing the same post in a short time frame, then a single tweet thanking everyone is perfect.
Occasionally, the tweet is not something that seems to need a response or maybe mentions something that borders on not being family friendly. Otherwise, it gets a response from me. Sometimes it will lead to a short conversation. When that happens you've now entered the realm of being an engaged Twitter user.
If you missed reading last year's post, head on over so you can make sure to have a fabulous Twitter profile!

Here are more helpful Twitter articles from a few of my favorite bloggers: